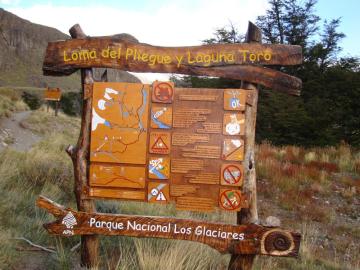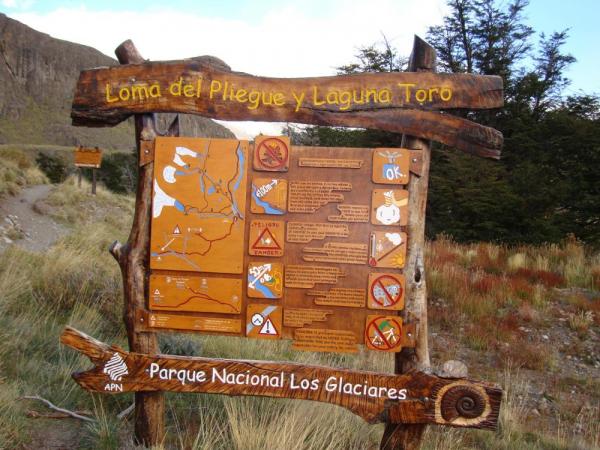 Today would take us from FTE to AEP, switch to EZE and then fly to MIA on the overnight. And we still wouldn't be home until tomorrow morning.
Our driver arrived a few minutes later than our original pick-up time for the trip to the airport, but there was a substantial cushion already built-in so there was no problem.
Another one of the fun things about travel is foreign airports. LAN was not checking-in any passengers when we arrived, but the line was already out the door, so we waited. Eventually (probably 45m - 1h wait) we received our boarding pass. One of the fun things during the wait was that we ran into David -- it was the end of the season in Patagonia and he was heading back to his family. We had purchased his photography book as a souvenir the day before and took this opportunity to have him sign our copy.
After our boarding pass wait, we got the opportunity to do the departure tax line -- that was only 15-20 minutes.
Easy flight back to AEP. We had roughly 4.5h before our departure from EZE and it seemed like most of that time was spent waiting for our bags to be delivered at AEP. The reality was it only took 45m or so, but it seemed much longer.
We took a taxi to EZE -- the shuttle buses are cheaper but we wanted the ease of the private service.
EZE allowed us to enjoy yet more lines. We arrived prior to when the AA counters opened up. Once they started allowing check-in our line (we were in First) was having technical difficulties and we waited another 15m or so.
Then the security line, which was only 20-30m. Then the immigration line - which was very long - nearly an hour. Fortunately we did have time in our schedule, but there was a bevy of passengers on a Lufthansen flight that were pleading with everyone to allow them through as their flight was boarding.
That all being behind us, we still have over an hour before we boarded so we headed to the Admirals Club for a bit. We also did a final bit of shopping.
The flight home to MIA was very smooth and the MIA customs and immigration queues were relative quick (very quick compared to the one at EZE).