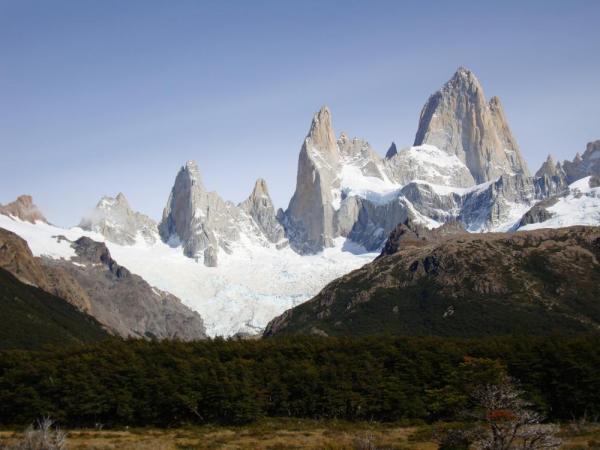 A responsible traveler should have at least a basic understanding of the local language and for Spanish that is more than just saying *un momento por favor*. We were not responsible travelers :(
Why does that matter? Well, if you are getting in a cab headed to the airport for a very early morning flight (and you wanted to get as much sleep as possible and thus didn't leave a time cushion) in a city with two airports, it would be good to be able to direct the driver to the correct airport. About 10 minutes into what should have been a 10 minute taxi ride, I look up and see signs to EZE -- that was very bad since we wanted AEP. My butchered Spanish coupled with the boarding pass got my point across and we were soon headed in the right direction, but by this time is was already 4:45 and LAN flights have a 40 minute baggage cutoff. We were getting nervous.
We checked our bags at 5:03am -- a full 2 minutes to spare. No reason to be nervous :)
Since we were flying LAN, it was a one-stop flight to FTE (we stopped in USH for about 20-30 minutes).
We landed on-time at FTE, collected our bags and meet our driver. We had roughly a two-hour drive from Calafate to Chalten. The drive itself was unremarkable -- there are some nice views along the way. The most memorable item was the lack of gasoline for the car -- as we pulled into Chalten our driver mentioned that he was happy we made it. There was an on-going strike and no gas was available in Chalten and when it was available it was limited to one fill-up per family.
We toured Chalten for about an hour and that let our driver find another car that would take us to our hotel.
We were staying in a beautiful hotel (Hosteria El Pilar) that was at the trail head. Very warm and friendly hosts -- my favorite aspect was the big square fireplace in the common room.
We took a short hike to get our legs stretched before dinner - about an hour each way to a wonderful viewing point that overlooked a glacier. At this point in our trip, I was amazed at the views of the glaciers (this beautiful view would be regulated to the second page of my *top views* in a few days, but for now it was awesome). While hiking we heard and then eventually found a woodpecker busy at work. Very fun bird to watch for a few minutes.
We had a leisurely start time of 9:30am tomorrow, which is when we would be meeting our trekking guide.