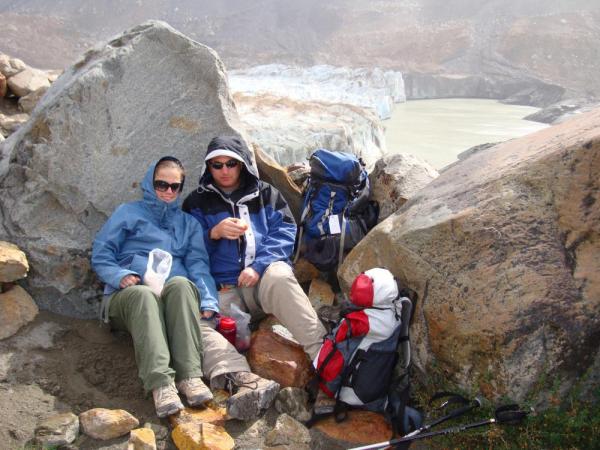 We set off about 30 minutes early today because we wanted to be in front of the other group of hikers -- they had a big 15-20 person group and you don't want to be caught waiting at the rope bridge.
Also we were carrying our crampons for the glacier hike, pretty cool accessories and they fit nicely into our packs.
After roughly an hour we arrived at the rope bridge. I should tell everyone, that I clearly misunderstood the definition of a rope bridge. (The Adventure Life site says, rope harness, but somewhere along the way I had converted that to rope bridge). So, Karen and I were expected a typical V-Shaped rope bridge that we would walk across while hold the ropes on each side. WRONG.
This was a *step into your harness, attach the primary and secondary clamps, and then hang upside down and pull yourself and your pack hand-over-hand to the other side* type of crossing. It was only 15m or so, but boy, the triceps burn was noticeable. I'll politely note that Karen did not enjoy being upside down less than 5m about the water. Only one person can go at a time and this is a fairly exposed part of the moraine, which is why we wanted to be in front of the larger group.
You then begin a long ascent along the lateral moraine (on the opposite side from the optional hike the day before). The trail takes your through forest and up and up and up so you can cross a river. Then it is back down, down, down to what historically was the gateway onto the glacier. I can't remember the exact ascent, but it was over 250m in my guess.
By this time, the other group had caught us and we let them cross the scree and loose rocks to get to the glacier. This part of the trek is not for the faint of heart -- while there is a *path*
across the loose rocks, they are as their name implies loose rocks and they can shift and move when you place your foot on them. We decided to give it a try and slowly made our way across without incident.
Once on the glacier, we donned our crampons and began to walk around to get used to the feel. David lead us to different areas and we were able to spend as much time on the glacier as we wanted. Eventually, we indicated it was time to head back and thus we started back.
After a long day, the ascent from the glacier to the stream crossing seemed much steeper on the ascent that it did on the descent earlier. We also had a good taste of the famous Patagonia wind while trekking on the moraine. At some points it seemed like we were literally going to be blown off the trail -- so much so at one point that I actually grabbed Karen's pack to make sure she wasn't going anywhere!
Since I love my wife, I'll just mention that we made it across the rope bridge -- no further comments necessary.
We made it back to the campsite and had a nice snack and brief rest. At this point, our legs assumed we were done, since we were at a campsite, right? Wrong. The day's activities don't end here -- rest is in El Calafate and that is about 2 hours further away.
Karen and I set off (because what else are you going to do). It was a leisurely pace across trails we had used the previous day and then a new trail that leads to town. We did have some wonderful views of the valley on our right hand side.
Finally, the trail opens up and provides a great view of the town -- spread out in all of its' color and quaintness. Very memorable. The descent into town took a bit longer as Karen's knee was not happy with her, but she continued to be *trekker woman* and sally forth.
The hotel in town provided lukewarm water in the shower, but at that point, it was still heavenly. David had recommended a local pizza spot for dinner and it was a fantastic place. We were sore, tired and hungry, but very happy and very content with the memories we were making.
The hotel bed -- another slice of heaven!