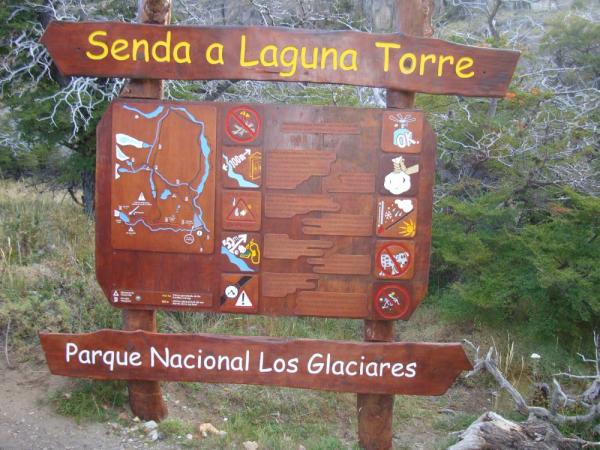 This morning would be the touristy part of our trip. No more trekking per se - although today's tour does have *multi-trek* in the name. A big tour bus picked us up in the morning -- I can't remember the exact time, but we had time to eat breakfast in the hotel and not feel rushed.
We had to make a few more stops to pick up other guests at other hotels. I think it took roughly 60 minutes to reach the park boundary. At the park entrance, the national park rangers board the bus and collect the entrance fee -- we had been told the fee was payable in Pesos, but clearly other people on the bus hadn't gotten the same message. Everything was sorted out and we had another 15-20 minute drive through the park to the boat docks.
We boarded the ferry, for what was going to be a 10-15 minute transit to the other side. Most people started out inside and moved up-top once we got going to get better pictures. There was a light rain failing and a chill in the air.
The Perito Moreno glacier is massive - there is no other term to describe it. The rain had picked up a bit as we made our way from the welcome huts to the glacier. Unlike our previous day glacier trek, where we had to carry and then fit our crampons, this tour had workers waiting to place the crampons on for you. Our tour was split into three groups.
Like I mentioned at the top, this is a more touristy tour and you follow your guide along a predefine route -- that didn't take away from the beauty of glacier in any fashion.
At the end of the tour, the guides offer up fresh glacier water (literally a chunk of glacier ice that is ice picked and placed into a drinking pitcher), whiskey or a combination of both. Nice little end to the tour.
The rain had picked-up even more by that point and we headed back to the welcome hut to dry out and eat lunch.
The second part of the trip entails re-boarding the bus and heading to another view point. The trails are laid out much like a national park in the US and are easily accessible by all as they are mostly ramps or defined walkways. Despite the rain, the views were amazing.
We ended up back in El Calafate in mid-afternoon and spent some time touring the city. We had an early dinner at a restaurant next door to the hotel and then settled into our hotel room to repack our gear for the trek home.