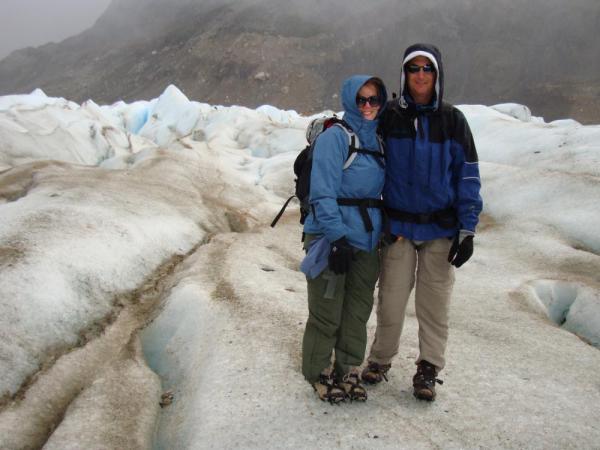 After a surprisingly restful sleep (remember this was Karen's first real night in a tent), we had a light breakfast and hoisted our packs onto our backs and set off.
David took us slightly off trail to explore a secluded waterfall that was picture perfect. It had Fitz Roy framed in the distance and we spent 20-30 minutes taking photos.
Later in the morning, David's excellent eye site allowed us to see an owl (I think it was a pygmy owl) resting on a tree branch. Neither Karen nor I had every had the opportunity to see an owl from only 10 feet away or so and it was cool -- we stayed for a bit to take photos and watch the owl rotate its head.
We stopped between the Mother and Daughter lakes for lunch. The wind was very calm and the location was very nice for a lunch break.
The afternoon hike to camp was beautiful and peaceful.
At this point, I should mention that Karen had tweaked her knee pretty good during the decent from Fitz Roy the day before. She varied between being in pain to being just uncomfortable, but she showed just how amazing she is by fighting through the pain and trekking at her pace.
Thus when we arrived at tonight's camp -- which is wonderfully secluded under a forest canopy - she was more than willing to let David and I do the optional hike while she rested.
After another round of fantastic snacks (by now Karen was an expert and knew that there would be dinner later), David and I set off.
This was a fairly demanding ascent to the old base camp -- I was working extremely hard, but as with everything associated with trekking, the view at the end is worth the work. The only down side was hearing from David and some of the other guides about how much the glacier has retreated over the years. From this lateral moraine we had a great view of the trail we would use tomorrow along with a clear indication of how far the glacier has retreated. The terminus of tomorrow's trail had historically been on the glacier, now trekkers have to scramble across 100m or so of the side of the moraine to get to the glacier. From this distance, it didn't look too imposing, but....... that is for tomorrow.
David and I returned to camp to find that Karen had napped and her knee was feeling better. We enjoyed a relatively early dinner and headed to our tent for the night. One of the many things I'll remember about the trip was the rolling wave-like sound of the wind across the tree tops. It wasn't a constant noise, rather it was truly like waves and you could hear the wind start on one side of the canopy and move across and then repeat.