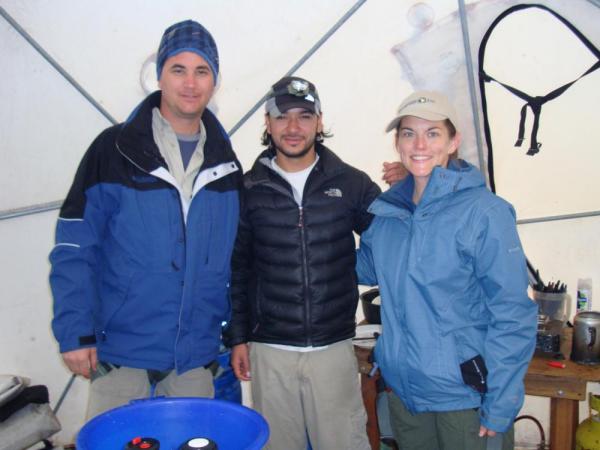 We had a very leisurely start to our first day of trekking. Departure time was 9:30, so we had plenty of time to eat a wonderful breakfast and get our gear situated. Since the next two nights would be in tents, we needed to split our gear and only take what was needed. The remainder of our gear was shipped directly to the hotel where we would stay on Wednesday night (today being Monday morning).
Our guide, David, arrived a little after 9am. Everything was situated and off we went. This ended up being a *private* trip although that was not our intention. Because of when the Spring Break holiday occurred back home, this was the only week that we could make this trip. Adventure Life arranged for a trip with a custom departure date, which is probably why it was a private trip. Although one of the things I love about travel is meeting different people, the fact that it was just Karen and I worked out very well (but I'm jumping ahead).
The trail head begins right outside of the hotel. For the first hour or so, we were on the same trail that Karen and I had waked the previous evening. It was still just as beautiful in the morning light as it was the eventing before.
Our first stopping point of the morning was the lookout over the glacier and the lake. This was the view we thought we were walking to the previous evening, but didn't actually reach. The previous night, we had arrived at what we thought was a wonderful vantage point to see the glacier and we turned around an went back for dinner. While this morning, as we walked right past the vantage point we had used as the turn-around, Karen and I figured out that we must have turned around a bit early. About 15 minutes later we understood that the view from the previous night palled by comparison to the view at this morning's vantage point. Just beautiful.
There were a few other trekking groups and our guide seemed to know every other guide -- which really isn't that unusual.
The highlight of our hiking day was the view of Fitz Roy -- it is a bit of an ascent to get there, but very much worth the effort. We had a relaxing late lunch on the shore of the lake at the base of Fitz Roy and simply enjoyed the beauty of nature.
After a nice full day, we saw the signs to camp. This was one of those cruel situations were the campsites for the tour companies are in a different spot than the public campsites. Our tired legs were not happy as we walked by tent site after tent site (while seemingly always going uphill) on the way to Adventure Life's site. It really didn't take as long as my legs thought it did.
Finally, we arrived and our tent was set-up. This was Karen's first night of hiking and then sleeping in a tent, so I gave her my two cents on protocol: change out of the hiking boots into something more comfortable, wash up a bit, rearrange your pack before you lose too much energy/motivation.
Snacks were awaiting us and we walked to the dinning tent. Great selection of snacks and drinks were laid-out. Karen probably won't like this being saved on a website, but,I mentioned earlier that this was her first multi-day guided trek, she thought the snacks were dinner. Silly girl.
David told us that the view from the lake typically provided some wonderful views, so Karen and I took our tired legs and headed down toward the shore. We found a nice spot on the *beach* and sat and enjoyed the beauty of nature for 30 minutes or so.