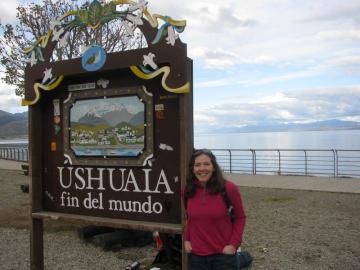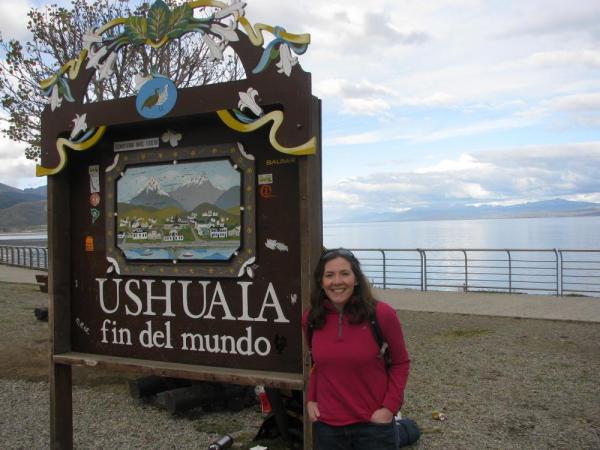 Our first full day on the cruise begins at dawn with ''early risers coffee'' on the deck. I'm excited at the prospect of our first trip on the Zodiac boat and make sure that Cory and I are near the front of the pack when the time comes for disembarkation instructions for Cape Horn. As a result, we're among the first to start the 160-step walk to the monument. Cory's an avid photographer in the most normal circumstances but here, at the southernmost tip of South America, he's relentless - so much so that we almost run out of camera batteries by the time we reach the famed Albatross!
The next few hours are passed easily: breakfast and lunch on the boat are scrumptious, and between meals Cory and I join some fellow cruisers for a viewing of the documentary ''Shackleton'' detailing the famed explorer's trips to the Antarctic. We decide to take another nap in anticipation of our afternoon excursion to Wulaia Bay, but our sleep is soon interrupted by the Captain's announcement that orcas - aka ''Killer Whales'' - having been spotted swimming alongside the boat. We rush out to catch a glimpse, and all I can think of are childhood trips to SeaWorld to see Shamu. Although the beautiful whales never jump out of the water, they come up for air enough for us to see their distinctive black and white coloring.
Our second disembarkation of the day is to Wulaia Bay, where Charles Darwin made contact with the Yaghan aborigines in the 19th century. Passengers are broken up into three groups and are led on a fairly easy hike that ends with a magnificent view of the ocean and our ship below. When the time comes to head back, a young guide - Pablo - pulls me and Cory aside and asks, with a mischievous grin, if we were interested in seeing a giant beaver that lives nearby. Of course we were! After discretely separating ourselves from our fellow passengers, Cory and I wait for our private, impromptu tour. As he leads us through the trees, Pablo tells us about his family, his tourism studies and his love of nature. ''Sometimes you just have to break away from the group,'' he says. ''But you can't tell anyone I've brought you here.'' The three of us sit on an enormous log near a damn and wait for the beaver to appear. After ten minutes of following air bubbles, we spot him, working diligently away on his masterpiece. We have to hustle back down the hill to the Zodiac boats shortly thereafter - where a whiskey and hot chocolate is waiting - but the sight was well worth it.
That evening we play Bingo and I win the last prize of the night, a joke for having the ''worst'' board. After a good laugh, we turn in for the night, eagerly anticipating the next day's adventures.