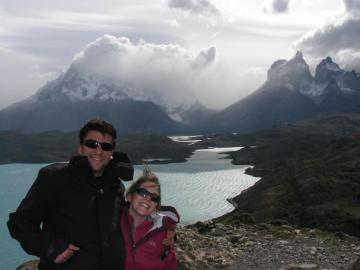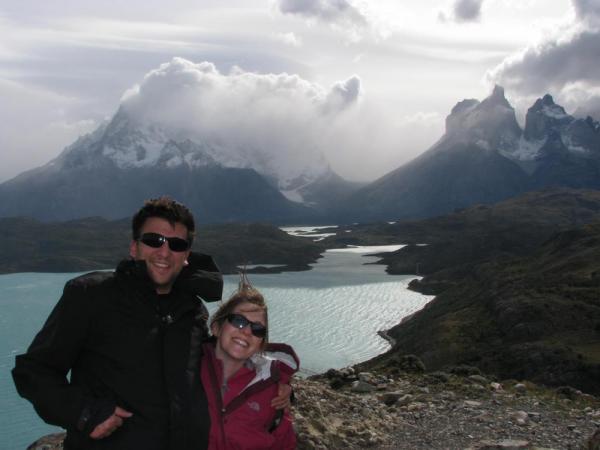 During our first breakfast at EcoCamp, Cory and I learn that we will be sharing our guide with another couple, Doris and Richard. We realize we've been a bit spoiled - this is the first time on this trip or any other we've taken with Adventure Life that we've had to share a guide. At first I'm concerned, because Doris and Richard are a sprightly couple in their 70s - how will Rafa be able to accommodate the interests and abilities of us all? But it doesn't take me long to realize that my fears were completely unfounded.
Our morning activity is an easy walk around the Lazo Sector Laguna Verde. Doris and Richard have walking sticks and are more than able to keep up, and we spend an enjoyable couple of hours becoming more familiar with the terrain of Torres del Paine. The famous Patagonian winds are in full force and although Rafa has promised Cory and I a chance to hike the Mirador Toro later in the afternoon, those plans are contingent on safety, and it's looking like they may have to be aborted. After lunch, we hike to the peak of our morning excursion, and the winds are exhilarating, but not to be underestimated. As we turn away from the beautiful view, Cory and I hear a crashing sound and turn around to witness an avalanche from across the ravine. The sight is magnificent, and Rafa tells us that it is the largest he has ever witnessed. Our quick-thinking guide even snapped a picture of Cory and I and Richard watching the snow come crashing down, and it becomes my favorite image of the trip so far.
Shortly after lunch our driver comes to retrieve us and we hear the good news that it's safe enough for us to hike Mirador Toro. We briefly split up from Doris and Richard, who are taken on a tour of a nearby lake, and begin the hike. It is challenging, but not too difficult - Rafa says that he wants to toughen us up after the opulence of our cruise - and we reach the top easily. The winds are still extraordinary, and we have strict instructions to sit down immediately upon reaching the summit. The view and the day itself have been so exhilarating, and even though we've just arrived in the park I'm already sensing that I'm not going to want to leave. When the time comes to make our way back down, Rafa leads us to a relatively smooth path and instructs us to just run. It seems like a crazy - and somewhat dangerous - command, but we soon learn that the winds are strong enough to temper the gravity of the descent. It's so much fun sprinting down from the peak and we are back at the bottom in no time at all. As we walk over to meet the van, Rafa makes what he thinks is an off-hand comment that comes to define the rest of our stay: Cory and I made the fastest time to the top of Mirador Toro of anyone he's ever guided. We quickly take it as a challenge.
Our return to EcoCamp is seamless and restful. After a wonderful dinner, Cory and I retire to the common room for a glass of wine before bed and we literally have the place to ourselves. It doesn't take long before we retire to our room and fall into an easy sleep.