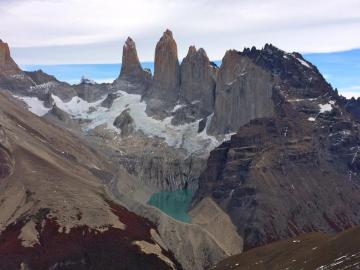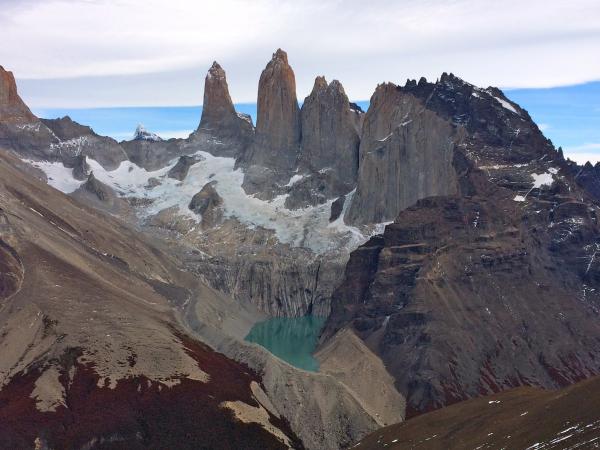 This is the second time we used Adventure Life to assist us with booking our South America travel and they did an awesome job! We initially worked with Kevin to customize our itinerary from the "End of the World" tour and then we worked with Franny to finalize all the logistics. They were both very quick to respond, patient with answering our questions and creative with offering suggestions for customization.
We decided to go in early April, which is the low season in Patagonia. We were prepared for the weather to be a little cooler, but it was actually quite pleasant AND we were surprised with how beautiful the fall foliage is there. That was something we did not expect. The other bonus was that it was much less crowded compared to peak season.
All of the local affiliates were prompt and professional with picking us up and taking us to our next location. Every detail was taken care of so we just had to look for a sign with our name. This was especially helpful because no one in our group is fluent in Spanish.
Listed here are a few highlights of the different parts of our trip.
Ushuaia
We arrived in Ushuaia in the evening due to a delay in our flight out of Buenos Aires. It is a really neat coastal/mountain town that would have been great to explore for a day or two. My recommendation is to book a full extra day to explore the city and nearby area before your cruise.
Australis Cruise to Cape Horn, Wulaia Bay, Aguila Glacier and Marta Island Sea Lion Colony
We thoroughly enjoyed our time on the Australis cruise and it was the perfect way to introduce us to Patagonia. We chose to stay in rooms with twin beds to save some money for elsewhere in the trip and we were happy with our decision. The rooms were neat and clean, with large windows to enjoy the endless scenery. Our group of four (2 couples) was assigned to a private dining table and had the same server, Cesar, throughout our stay. He was friendly and attentive and quickly learned what all of our dining preferences were.
All of the excursions were well organized to keep everyone safe and at the appropriate pace. The guests were split into two groups, English speaking and non-English speaking, which helped keep the size of the group seem smaller than it actually was (about 120 total guests on board). Most of the excursions were fairly easy or we were given options for difficulty level when available. Our advice to future travellers is to bring rain pants and wear them on ALL excursions! We had them with us on the ship but did not wear them on our first sunrise excursion to Cape Horn and it started raining and hailing while we were on the island. We learned our lesson quickly and wore them for everything after that. Also, we would recommend bringing a small dry bag backpack or case for your gear that absolutely cannot get wet (cameras, phones, etc).
Ecocamp at Torres del Paine
We LOVED our time at EcoCamp in Torres del Paine!!! Everything about it was totally our style! We stayed in the Suite domes so we could take advantage of having our own bathrooms and wood stove to keep us warm. They were so cozy and the windows had views facing the park. The dining area was set up with a couple of combined domes to accommodate all the groups and there was more than enough food to keep us full throughout the day. Usually one of our guides would dine with us and sometimes we sat with some of the other guests as well. We did not mind at all because we really enjoyed getting to know the other travellers, about where they were from or other travels they have been on. EcoCamp does a great job of making guests feel like they are at an exclusive, but not pretentious, adventure camp!
Our guides were fantastic. Chaura, Henry and Felipe were the 3 guides in charge of us throughout our stay. Each day we had a choice of 2 different excursions: an adventure/challenging excursion and an easier/leisurely excursion. The excursions are scheduled by day and if you are there long enough you will have the chance to go on most of them. The first day we went on the hike to the 3 summits of Cerro Paine. It was a long and tiring hike but it was so worth it for the unobstructed 360 degree views of Torres del Paine's Towers, Condor's Nest and Almirante Nieto, as well as Nordenskjöld Lake, the Southern Ice Field and all the way to the Argentinian plains. It was absolutely incredible and the best part was there were literally no other hikers on this trail. We were 5 guests and 2 guides and that was it!
The next day our group of 4 split up for the excursions. One couple went on the infamous 16 mile Base of the Towers hike. It was completely different terrain and views from the Cerro Paine hike, because the majority of it was on what the guides called "Patagonian flats" (aka rolling hills). The only significant climb was on the rocks of the glacial moraine when we were close to the viewpoint at the base of the towers. When we arrived the wind was very calm and you could see the reflection of the towers in the glacial lake below. It was absolutely beautiful and completely worth the effort! We had our packed lunches and got to enjoy the serenity for almost an hour before heading back down. The other couple went on the Laguna Azul + Patagonian BBQ excursion to look for pumas, guanacos and other wildlife. They got awesome photos of the Paine waterfall and panoramics of the park fully reflected in a lagoon. Incredible! On our last day of excursions we all went on the Grey Glacier Catamaran trip. The weather was fabulous that day and we had a great time cruising up Grey Lake all the way up close to the Glacier. It was a great way to spend our last day at EcoCamp. So much fun!!!
Perito Moreno Glacier - Big Ice Trekking
The final segment of our Patagonian adventure was in El Calafate to see Perito Moreno Glacier. We chose to do the Big Ice Trekking adventure to give us the most amount of time on the actual glacier, which ended up being 4 or more hours in addition to a small boat ride and additional time hiking along the front and sides of the glacier. Wearing the crampons and being on the ice felt like we were walking on the moon. It was such a fun experience. We all could not stop smiling. Truly a bucket list adventure that everyone should experience at some point in their lives.
It has now been 3 months since our trip to Patagonia and we continue to think about it often. It was an incredible experience and we have no hesitations recommending it to other adventure lovers. The landscape is incredible and the people of Argentina and Chile were friendly and welcoming to us. You cannot go wrong booking through Adventure Life. They are a top notch company!