This Patagonia Discovery Trek will take you to the wilderness of Chile and Argentina, home to world-famous national parks, pale blue glacial lakes, curious wildlife and mesmerizing glaciers. In small groups of 4 to 14 travellers, and accompanied by our naturalist and expert guide, you will experience the best of Patagonia: eagles and condors will put on a show gliding above soaring ice-tipped peaks, native orchids and songbirds will complement your walks through pristine beech forests, you will get up-close with iceberg-calving glaciers and peaceful grazing guanacos will welcome you as you walk through the pampas. Welcome to Patagonia!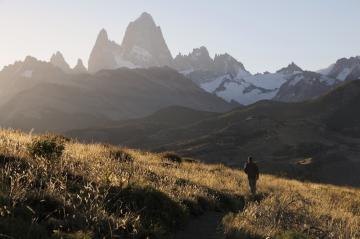 Get up-close with famous Perito Moreno Glacier
Trek through spectacular Torres del Paine National Park
Climb up to Fitz Roy & Cerro Torre base camp
Travel through pampas dotted with guanacos
Admire native orchids and amazing bird watching
Full Itinerary
Expand All
Day 1: Punta Arenas
On arrival into Punta Arenas, make your own way to the group hotel. This township, founded in 1500s, is the gateway to the Straits of Magellan, and was originally established as a prison colony and later the biggest commercial and supplying center of all vessels traveling between the Pacific and the Atlantic Ocean. The afternoon is at leisure to explore the town. You will have a briefing in the afternoon to meet your guide and learn about your upcoming adventure.
Day 2: Puerto Natales
This morning after breakfast, drive across the pampas to Puerto Natales. Set on the shores of Seno Última Esperanza, this city is the gateway to the famous Torres del Paine National Park. The afternoon is at leisure and this evening you may like to sample King Crab in one of the seafood restaurants.
Day 3: Balmaceda Glacier & Serrano River
This morning leave Puerto Natales and journey towards Torres Del Paine National Park and its fabulous scenery. Board a boat and travel down the fjord, pausing at the Balmaceda Glacier en-route. Then change onto Zodiacs and continue along the Serrano River before reaching Torres del Paine.
Day 4-5: Torres del Paine
Day 6: El Chalten & Los Glaciares National Park
1 Breakfast, 1 Lunch, 1 Dinner
Today leave Torres Del Paine and Chile as you cross the border into Argentina, driving across the pampas to El Chaltén. The village of El Chaltén is in the heart of Los Glaciares National Park and it is from here that you make your day trips.
Day 7-8: Fitz Roy & Cerro Torre
2 Breakfasts, 2 Lunches, 1 Dinner
Over the next two days enjoy daily walks to the base camp of Fitz Roy and Cerro Torre. Mount Fitz Roy is found at the northern end of the park and is part of a range of bizarre peaks including the needle like rock pinnacle of Cerro Torre. For a climber it looks to be one of the most unclimbed peaks in the world – in fact, it was only scaled for the first time in 1974. To the south runs a great chain of massive glaciers that basically follow the line of the Chile/Argentina border. The dramatic rock spires beckon and our days here will be a highlight of the trip. The beautiful valleys hold crystal clear streams and are home to a multitude of bird life. During the short summer, the beech trees and the flowers bloom profusely and we are here at the best time to enjoy it.
Day 9: El Calafate & Perito Moreno Glacier
1 Breakfast, 1 Lunch, 1 Dinner
This morning depart El Chaltén for the drive across Patagonia and the arid Argentine pampas to El Calafate, (approx. 4 hours). The township, was founded in 1927, is best known as the 'national capital of the glaciers' and is the gateway to the Patagonia Los Glaciares National Park including the famous Perito Moreno Glacier. After a short stop in El Calafate, we will continue our journey entering the southern area of the National Park to the famous Perito Moreno Glacier. Back in El Calafate, you can enjoy a farewell dinner!
Day 10: El Calafate
Today, your trek will end in El Calafate, where you can continue your adventure at your own arrangements.
Photo Gallery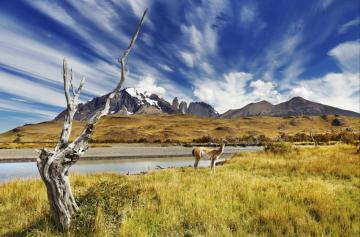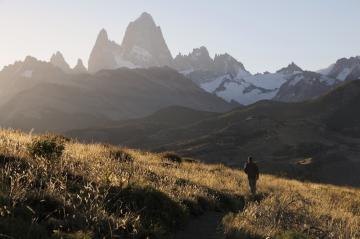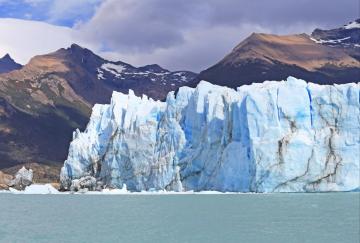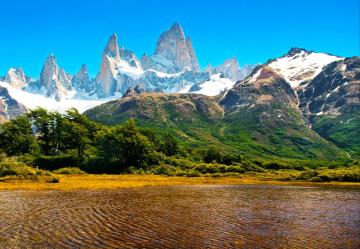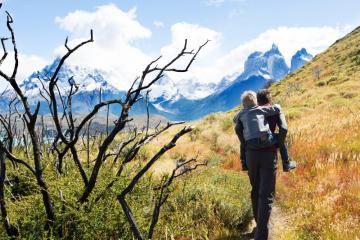 9 Breakfasts, 6 Lunches, 8 Dinners
9 Nights Accommodations
9 Days Locally Hosted Guide Service
Park Entrance Fee: All guide fees and National Park entrance costs
Accommodations as listed
Meals as listed
Ground transportation as listed
Professional, bilingual guide service as listed
Excursions and activities as listed
Complimentary Parka
Rubber boots will be provided for you for the duration of your cruise. It is recommended, however, that you bring your own if you require a special size.
Arrival Transfer
Departure Transfer
International Flights - International or domestic flights to or within
Airport Departure Tax - Airport arrival or departure taxes
Optional Excursions - Optional excursions not included in the itinerary. Optional activity surcharges
Gratuities
Travel Insurance
Personal Expenses
Flight costs (please request a quote)
Additional excursions during free time
This is a very personal matter and the amount you wish to give the Russian crew is totally at your discretion. A single contribution can be made at the end of the voyage to be distributed evenly amongst all of the crew. As a guideline, the ship suggests US

$

7

per traveler per day. Additional information will be given on board.
Inquire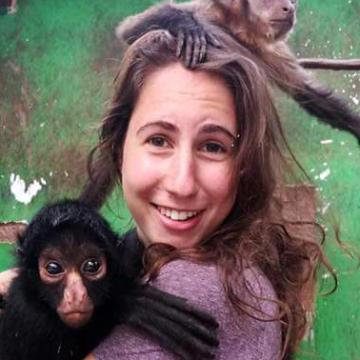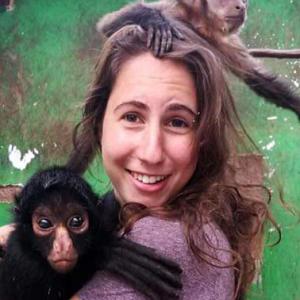 We Love to Talk Travel
Call
+1.406.541.2677
or
Chat Now
The trip might have been the absolute best of our lifetime (thus far). We particularly want to commend our guide Peter in the Guilin area-he was so incredibly attentive, energetic, enthusiastic-and absolutely dedicated to ensuring that our meals were 100% vegetarian.
Jack Charney
When to Go
Good to ideal period to travel, and many people choose to visit at this time.