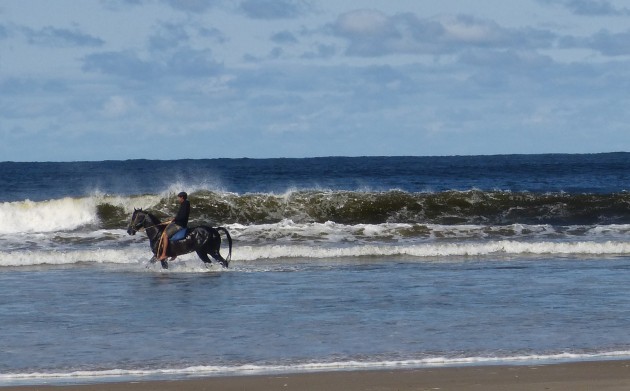 The sound of the ocean woke me at 6AM. The waves were pounding the beach so loudly that as I opened my eyes I would have thought the water was only a few feet away. In reality, I was cozy in our cabana at
Pueblo Barrancas EcoLodge
, tucked into the trees at least 100 meters from the beach. Ten stilted, quincha-roofed cabanas and 20 wall tents are hidden throughout the 15 acre private property. Pampas grass swayed overhead as we navigated the lodge's trails, blocking the ever-present wind and perfecting the intimate coastal atmosphere.
We took off at 10AM with Denver, our surf guru from Estorer Surf Shop. Denver took us to La Aguada, a long shallow beach just in sight of the La Paloma lighthouse. John tucked his long board under his arm and immediately ran into the water, grinning from ear to ear. I, on the other hand, tightly gripped my body board and stared at the massive waves in complete terror as Denver told me what to do. He nicknamed me "Poncho", after the famous surfer Poncho Sullivan, in hopes of instilling some confidence. After working my way into the surf for 30 minutes, swallowing about a gallon of seawater and being thrown about by the incredibly strong waves, I finally was able to catch one! Fun? Yes. Graceful? Most certainly not!
John surfed for several hours, and while he was waiting for the next set a horse came galloping through the water! Denver explained that they train horses nearby for endurance races in Saudi Arabia, and one of the big training exercises is to take the horses into the deep surf, and push them to run through chest-deep waves. Only in
Uruguay
!
We ate dinner at the lodge's Pueblo Bar, where we sat next to the open fire and watched our filets of lenguada (sole) sizzle on a cast iron grate. We finished our day exhausted, and completely enraptured by the sand, surf and sun of La Pedrera.