Getting to Mashpi does not require nearly as many forms of transportation as it does getting to the Amazon, but it is certainly no less of a journey. Head north of Quito in a comfortable van, taking in the changing scenery. Try to avoid making the trip on a Friday evening, when the Quitanios are also getting out of the city to enjoy their weekend. Along the way, you'll see stall after stall of flower vendors - Ecuador is one of the top exporters of roses, after all. Slowly the towns begin to thin and crop up less and less frequently, and in smaller and smaller sizes. You will take the pan-American highway for some of the journey, winding through the rolling hills on smooth pavement.
Eventually, though, you will turn off the main route and head off the beaten path - literally and figuratively - en route to the Mashpi Reserve, a private and secluded 3,000 acre property in the cloud forest. An hour and a half of bumping along dirt roads leads you to a gate straight out of Jurassic Park. Stop to stretch and use the facilitiies because there are stil a few miles of hard scrabble dirt road to go.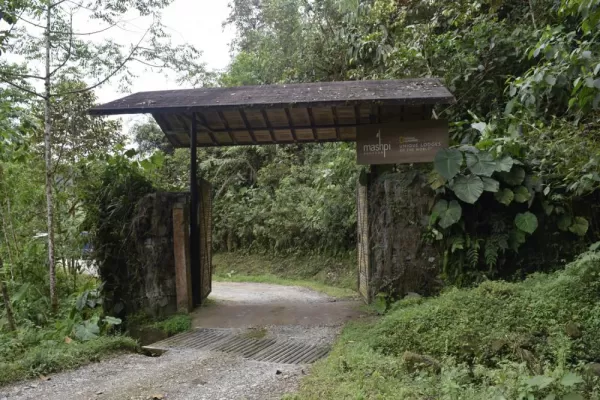 The feeling of arriving at the Mashpi lodge is somewhat miraculous. You will pull up to an unassuming covered patio area that leads into the open floor-plan lodge. You may be indoors, but everywhere you look you can see the forest. Two-story windows in the dining room create a light, airy atmosphere and reinforce the feeling of being integrated into surrounding environment.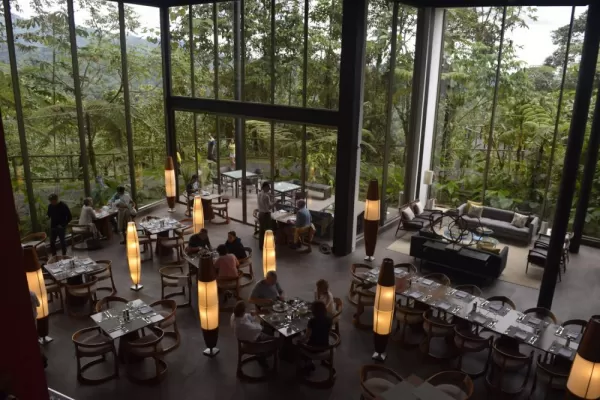 Throughout your stay, that feeling will not abate. From the floor-to-ceiling windows in every suite, to the dragonfly canopy ride that takes you sailing across the treetops, everything about Mashpi is intended to crelate a deep engagement with the cloud forest and its creatures while maintaining the highest level of service and luxury.