After spending some time in the Amazon, but before heading to the cloudforest, I had a full day to spend in Quito. My only regret from my whole adventure is that I didn't get to spend more time in this incredible city.
Situated at over 9,000 feet, Quito is among the highest capital cities in the world. The urban spread is also nestled against volcanoes, including Pichincha – an active volcano which serves as the western border of the city.
The morning started with a ride out of town, as we headed to the Pululahua Volcano Reserve. The reserve is a dormant volcano crater that has filled in and is now about 5 km wide, and over 300 meters deep.  Because of the crater has its own unique ecosystem, the area is protected but does have some resident farmers who were grandfathered in to the protected status. You can take a 45 minute hike down into the crater, but I opted to enjoy the views from an observation platform up top.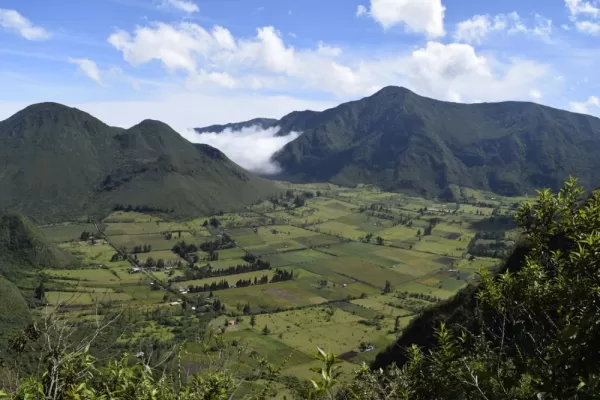 From here, we headed back southward towards town but stopped at the center of the world on the way. Mitad del Mundo marks the equatorial line. The cute, kitchy museum is a fun stop for families – kids and adults alike can play some fun games that illustrate the special forces particular to where the north and south hemispheres meet. Don't forget to check out the live guinea pigs, as well.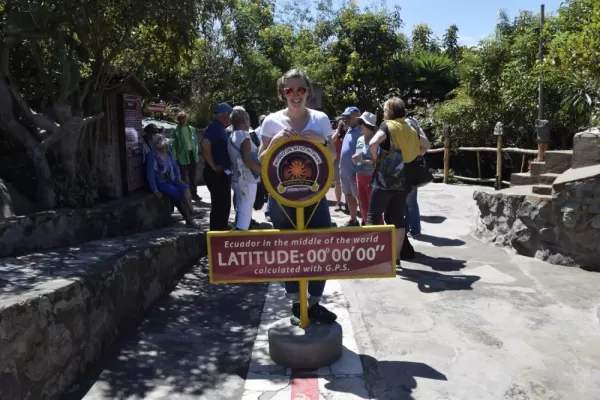 Continuing on, we ended up in the Old City of Quito. This was by far my favorite par of the tour. The colonial architecture, plazas full of Quitanios enjoying their afternoon, and the local shops were so much fun to explore – and my guide Gabriel did a fantastic job of explaining the historical or cultural significance of each of our stops along the way.
The day ended at the far end of the Old City, demarcated by El Panecillo, a hilltop crowned by the Virgin of Quito. The perfect place to take in views of my new favorite city, and a fitting place to end my tour.