Settle in and make yourself at home….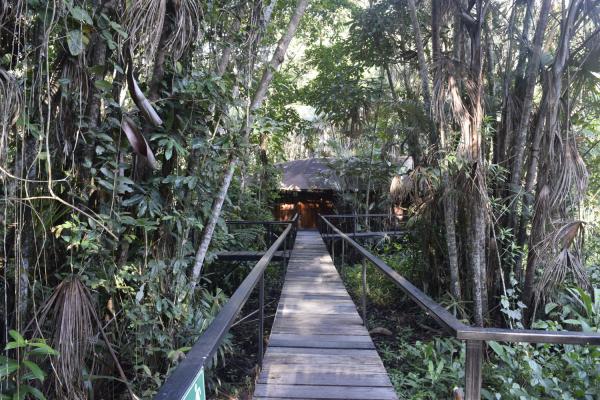 The rooms are dispersed through the jungle, set up in pairs of two adjacent rooms (although most do no connect internally). Each has its own porch with hammocks,  and all of the cabins and main building are connected by a series of walkways and some raised boardwalks.  
Meals are taken in the main lodge building, which has an upstairs library and bar area to relax at the end of the day, and a third-story bird house you can climb up to get an even better view of the surrounding area.  
The food is plentiful and delicious – incorporating many local fruits, vegetables, and flavorings, but also offering more international standard fare. The kitchen is able to accommodate special request with advance notice. Breakfast and Lunch are served buffet-style and dinner is a plated meal with two choices – typically one meat option and one fish or vegetarian choice.  
Included, too, will be almost all of your activities  (the parrot clay lick is an added cost because there is an entrance fee and this particular activity is very weather dependent). Each day, including the day you arrive, you will have the opportunity to go on light hikes, nature walks, and canoe rides at various points throughout the day.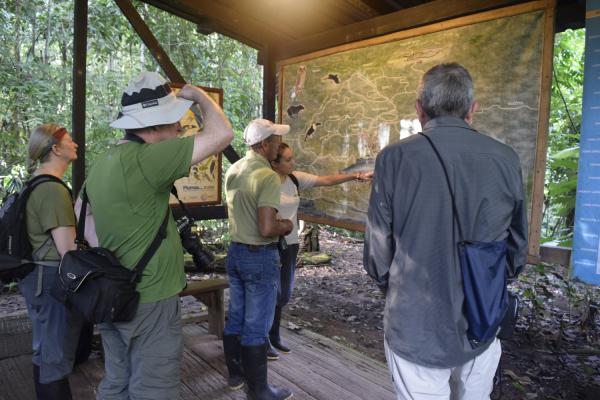 Morning excursions start early to take advantage of the cooler temperatures and because this is a peak time for wildlife activity. You'll make it back for a mid-morning snack or lunch and have time to relax before your afternoon excursion – which may be hiking, canoe rides, or visiting one of the canopy bird-viewing spots.  Returning for dinner, some evenings end with a night walk or paddle to try to catch some of the more elusive nocturnal species.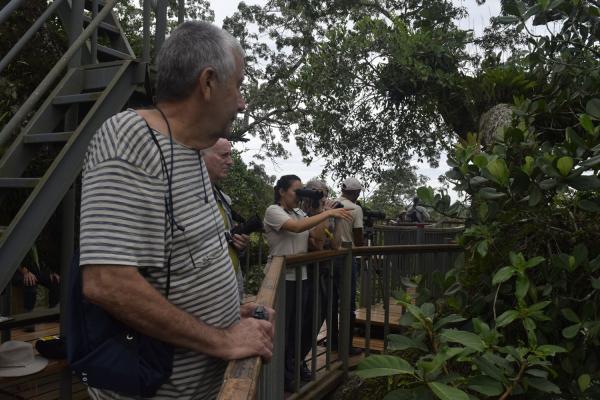 For your explorations, you will be in groups of no more than 6 visitors paired with 2 guides. For the duration of your stay you will spend your time with this little group. If you have your own group or prefer to have a private experience, this can also be arranged. One of your guides will be a bilingual naturalist, many of whom have trained in ecotourism and spent many years in the region. Your other guide will be a "Native Guide," most of whom are local residents who grew up in and around the Yasuni National Park. Together these guides will help to reveal hidden creatures in the forest and explain a number of biological, cultural, and historical facts to help you learn about this rich and diverse place.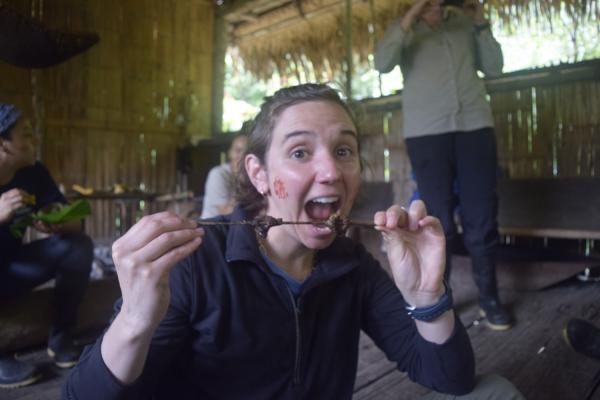 Sacha Lodge is the perfect escape for anyone wanting to experience jungle wildlife in a comfortable atmosphere. It is peaceful, welcoming, and the guides not only bring excitement to the experience of exploring the jungle, but a deep love for what they do and for preserving the Amazon for future generations of residents and visitors.