Tagus Bay on Isabela Island...known for its graffiti?  Apparently early boats, like 1830's, carved their names then others followed suit. I didn't see the old stuff...just white paint on dark rocks.   I have to say, having been surrounded by such scenes of nature and beauty and wildlife, with so little human interaction beyond my own boat...it was very jarring and disturbing to me.  I do not understand the delusional self-important need some individuals have to mar such a place with the declaration "I was here!"   My camera was fogging horribly anyway, so I took very few pictures of the docking area.  We climbed up a stairway and back into natural beauty.  *Phew*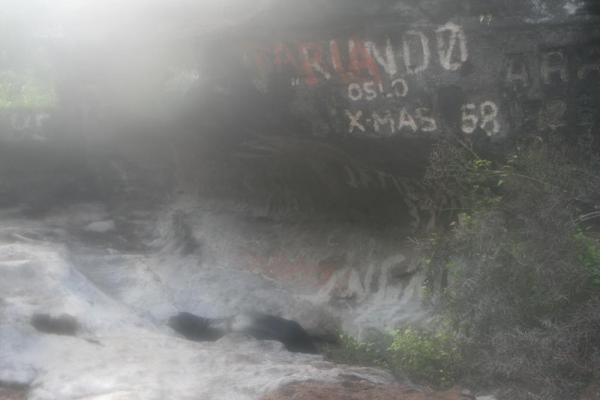 My camera dried out and we hiked up past Darwin Lake.  It's a saltwater lake with twice the salinity of the ocean.  It's actually a 'tuff cone', meaning it was a chimney from off the main volcano.  (Our group figured out the pattern.  If you aren't sure of the name of something, try "Darwin", "Galapagos" or "Lava".  It got to the point with us that we would see something, like a rock, and it became the "Endemic Darwin Galapagos Lava rock".  We think we are very clever.)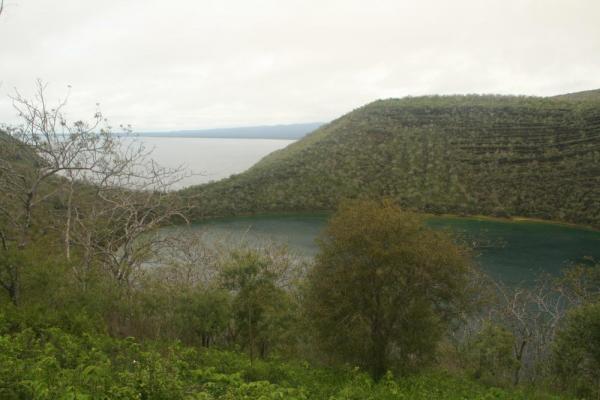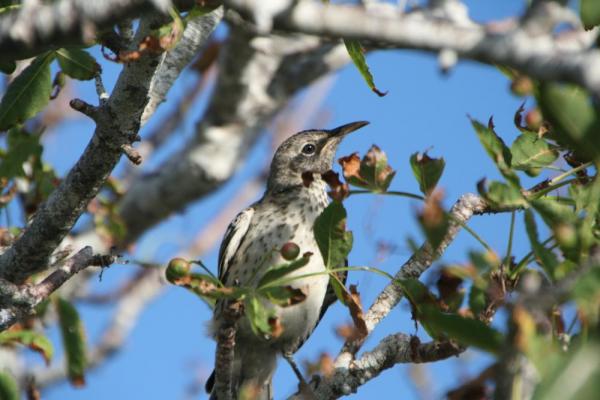 The mockingbirds came over to see what we were up to.
We stopped on one of the lower slopes of Volcan Darwin, where we had some peeks between the rain of other volcanic rises.  On a clear day, I guess the volcano is pretty spectacular.  Ya get what ya get!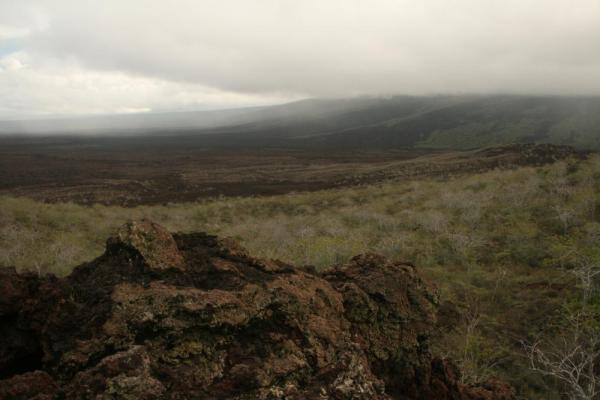 Then we made our way back and headed to Espinosa Point on the close by Fernadina Island. In the dingy, we got more amazing wildlife sightings.  Flightless cormorants sunning themselves.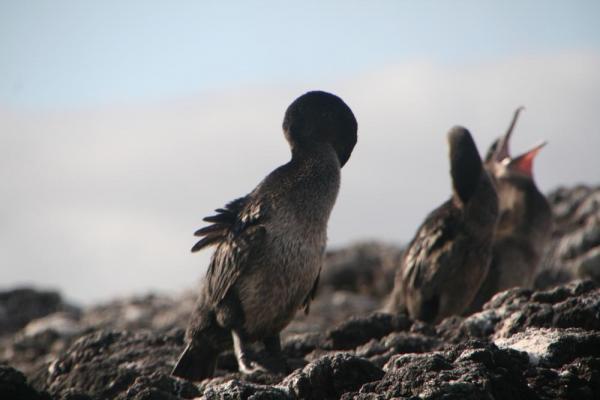 The female will lay an egg with a male and nurture the chick part way to maturity.  She then leaves the male to finish rearing it.  She then mates with a second male and parents another chick.  This doubles her reproductive rate.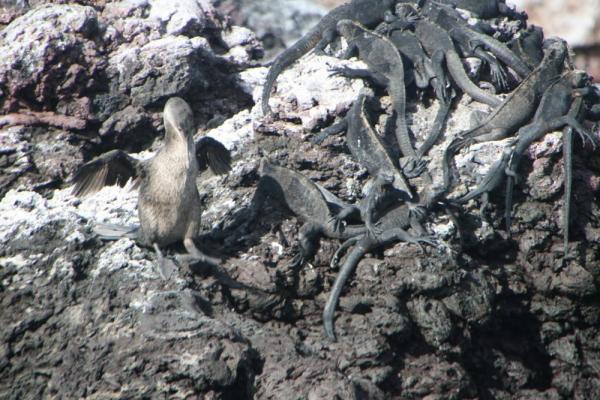 Penguins and these endemic cormorants are the only flightless sea birds in the world.  Their wings are a third the size they need to be in order to fly.  Their plumage isn't waterproof, so that is why you often see them drying out in this iconic pose.  My artistic inspiration for today!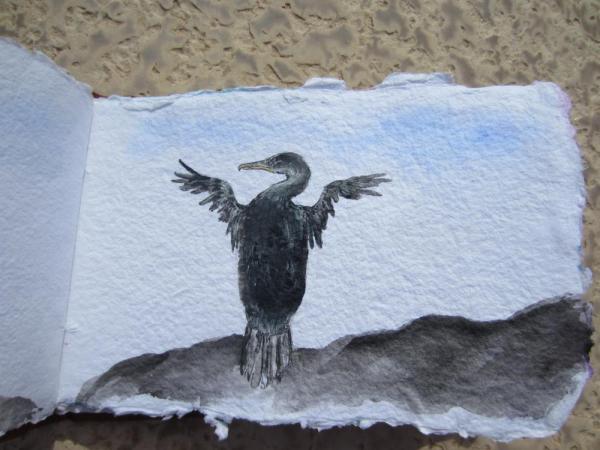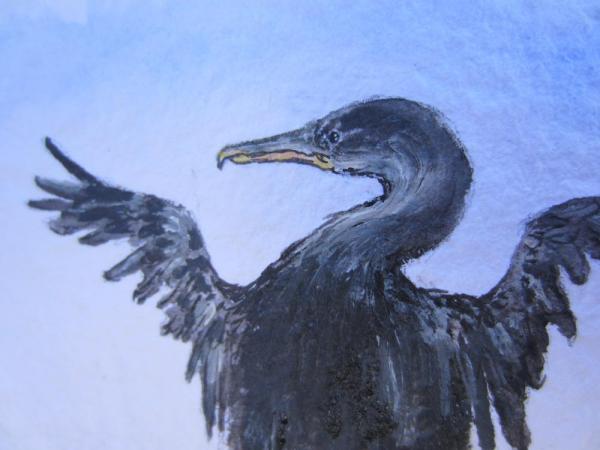 Fernandina Island is the youngest of the main islands, and unlike other parts of the Galapagos, no introduced species have made their homes here.  Our first view is black lava flows, that upon closer inspection, is actually piles of marine iguanas on black lava flows.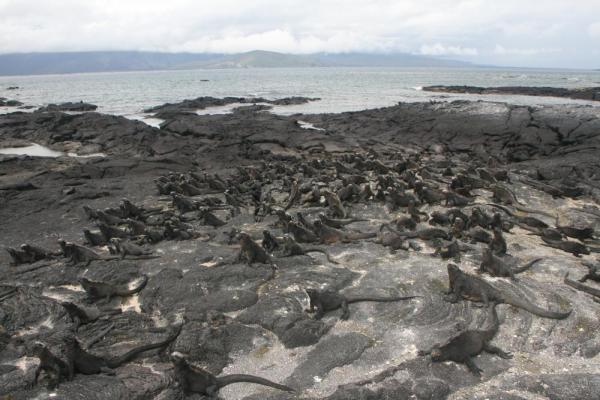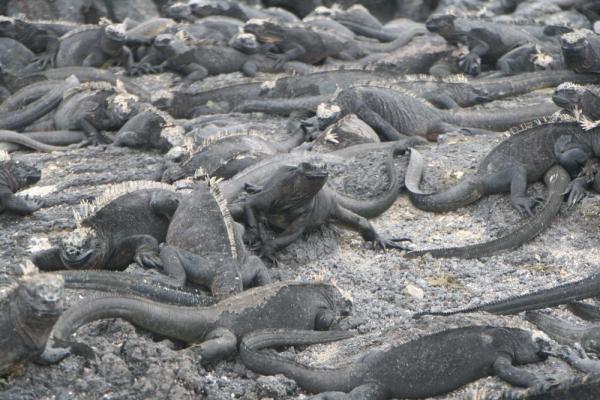 More were coming in from feeding at sea.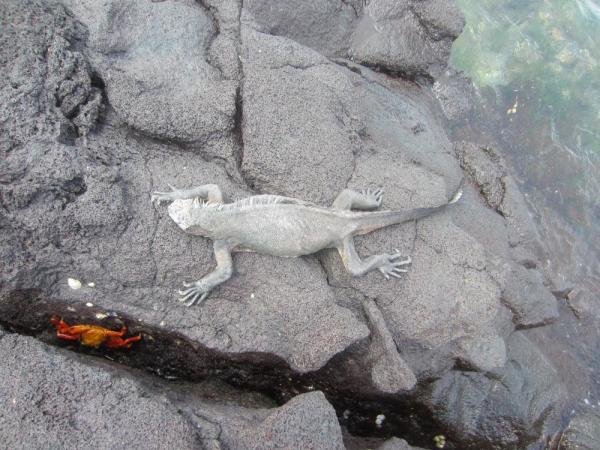 Their skin blanches white when they get cold.  This guy needs to warm up!
They 'sneeze' salt from their nostrils, and climb over each other like they don't exist.  Lava lizards scurry among them, grabbing flies and posing like they belong.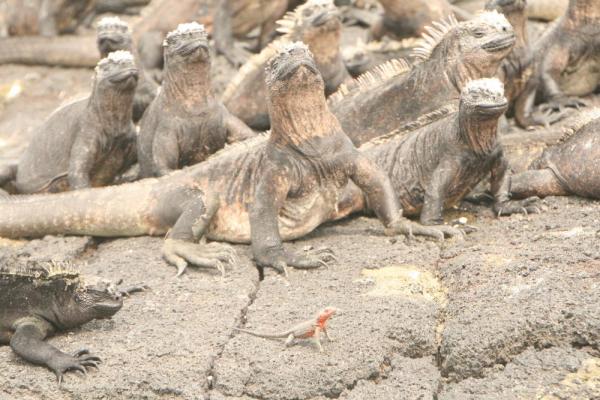 More photos in the album!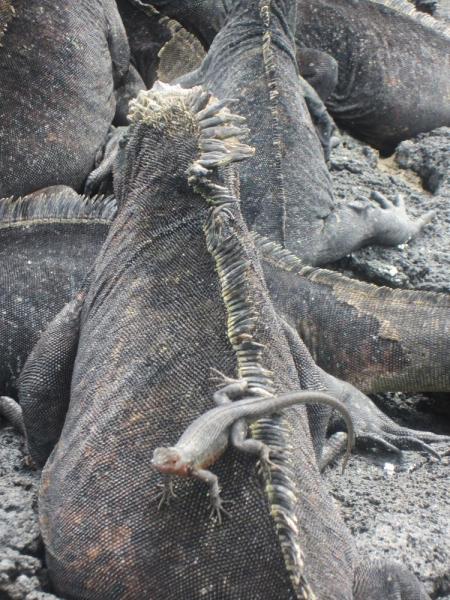 We hike past a tree containing a few molting Sally Lightfoot crabs.  They are vulnerable until their shells harden up.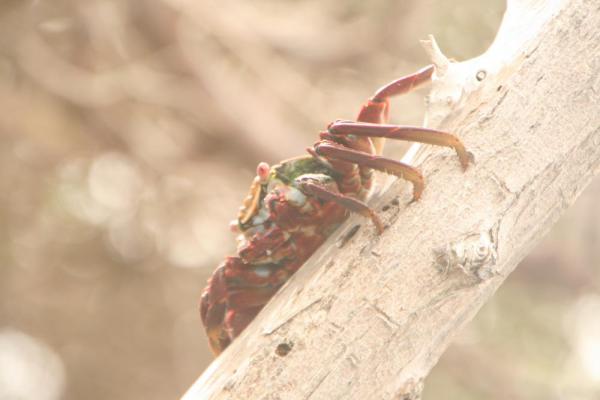 We rounded a turn and came onto a scene that really was a 'This Is Galapagos' moment.  The first thing we see is a medium size tide pool with a heron fishing along the edge.  Then, on further observation, we notice a sea lion hunting from below.  Pelicans land on the surface to take advantage of the sea lion pushing the fish upwards.  The frigates see the commotion and start swooping down from above.  The heron snaps at the pelicans.  The pelicans lunge at the frigates.  The sea lion ignores all of them and just keeps fishing.  I loaded a lot of these photos onto the album...I literally cannot pick favorites.  I will insert a few here as examples.  It went on for many minutes, I assume until the food supply was gone, then the crowd dispersed.  I could almost hear Sir David Attenborough narrating what we were seeing!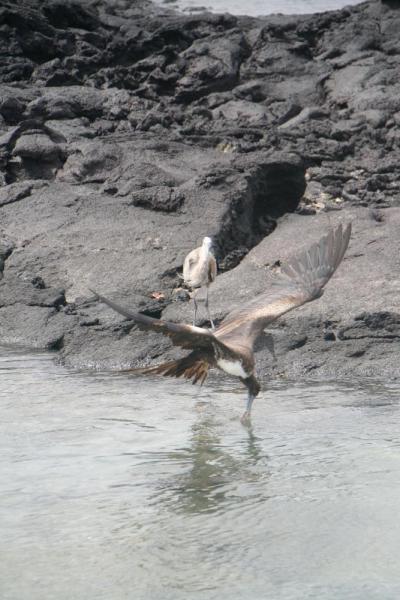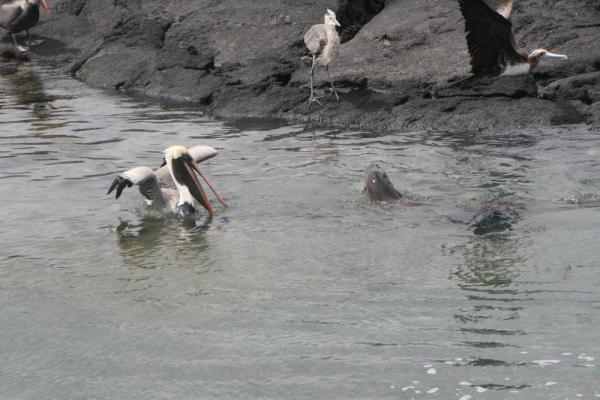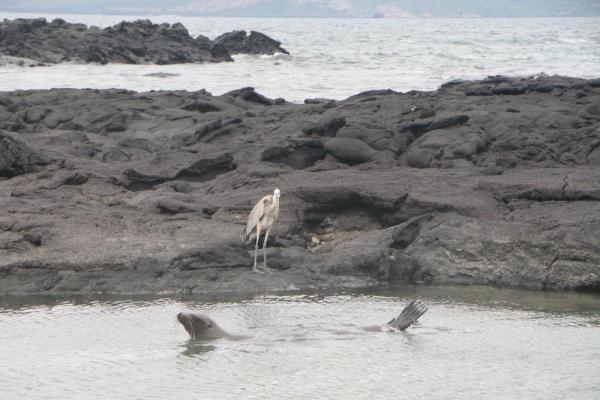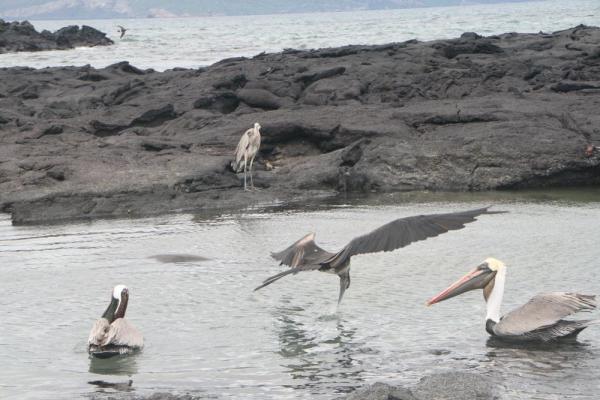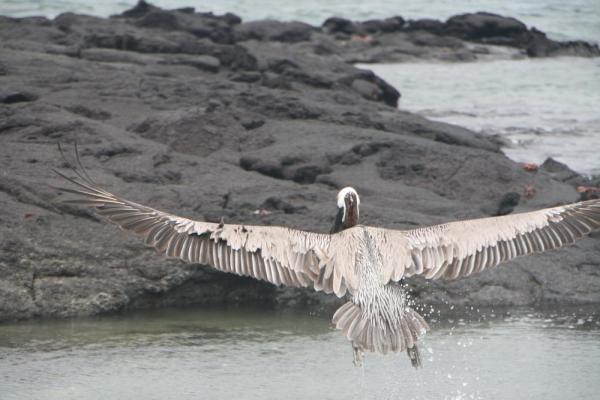 We walked on to another little cove, where a male sea lion hollered at the females lounging around.  By then it was raining pretty good, so my camera was put away and I just took it all in.  
Snorkeling highlights:  sea turtles, swimming iguanas, stingrays, garden eels, starfish, white tipped reef shark, and a little fish that tagged along at the small of T's back.  I tried to show him, but as he spun around the fish would hide!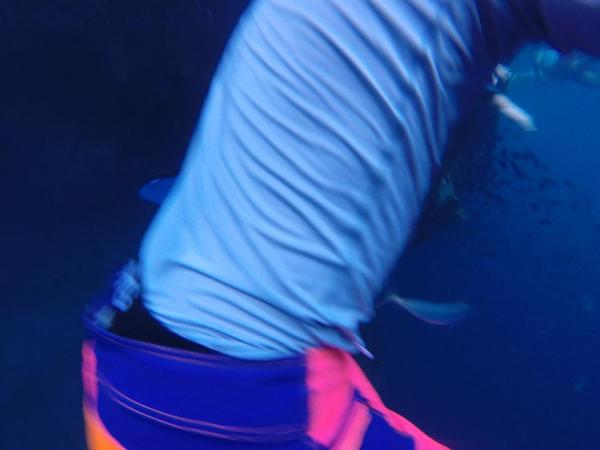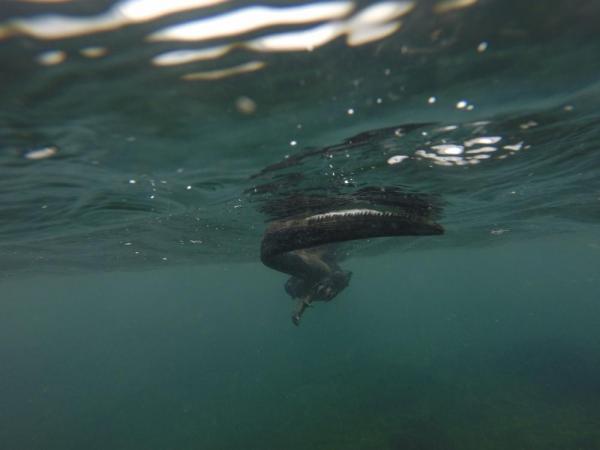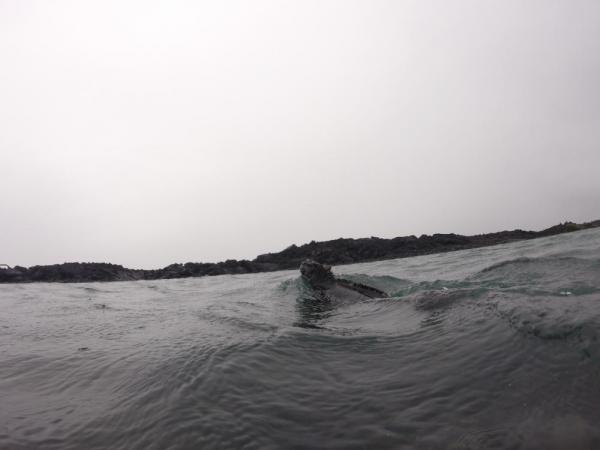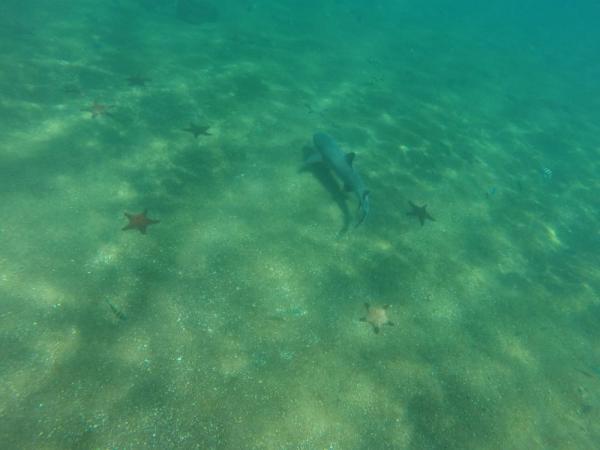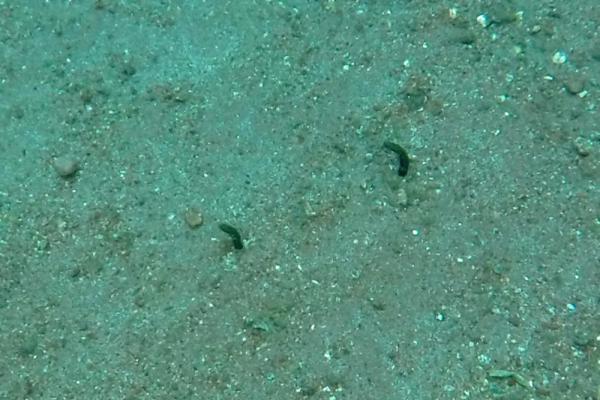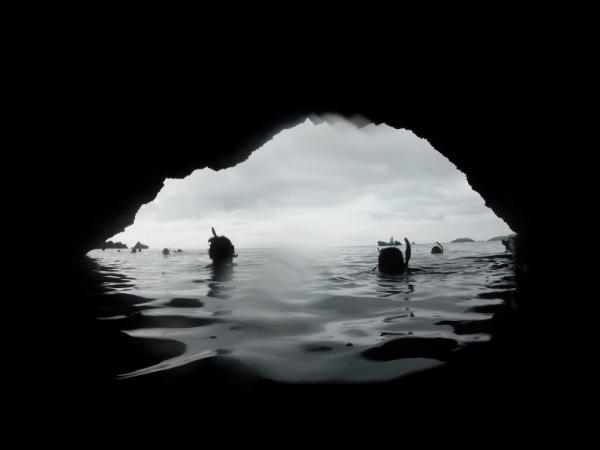 We re-boarded the boat, had dinner and crossed the equator.  (The captain was nice enough to turn around and cross it again, as my flash unfortunately washed out the screen for others.  Sorry...)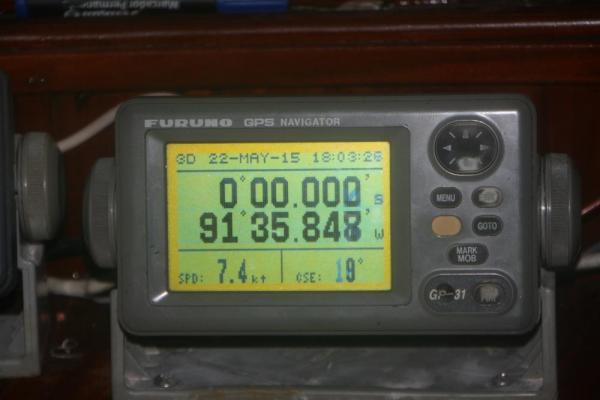 The engines roared to life, and it got really rough.  I was sitting in a white plastic chair, and was suddenly bucked right out of it!  We watched the sea buffet the shoreline and knew we were in for a rocky night.  This was our longest voyage, over 14 hours.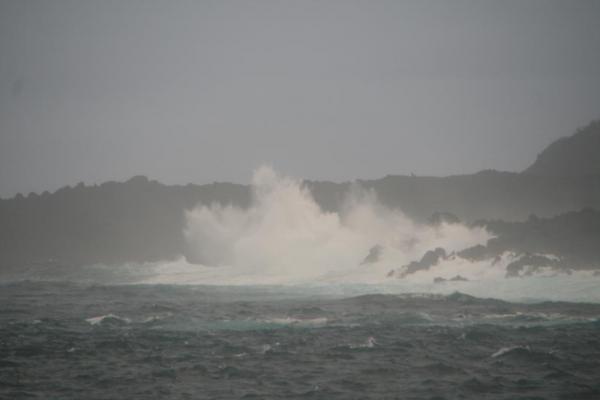 There hasn't been a volcanic eruption here in 33 years, and it occurred two and a half days after we went by.
Bummer.
Overall, an amazing, spectacular day!  Check out the album for more!