When you are planning a trip this big, it is good to have information. The islands have a lot to offer, and choices are always tough.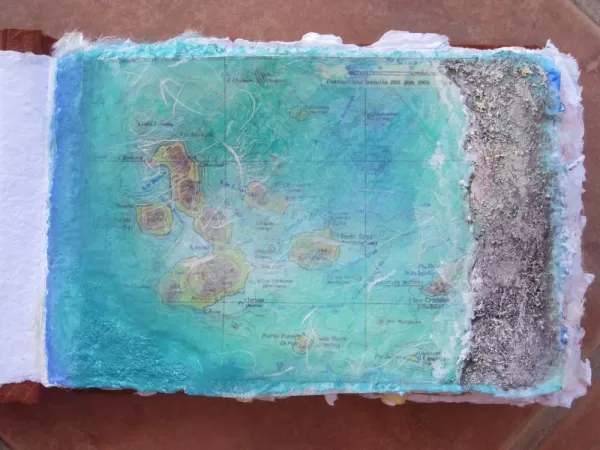 My trip was the end of May, 2015.  We were in a "mild El Nino event", so the weather isn't typical for every year.  We had rain most days.  When it was rainy or overcast, it was quite nice.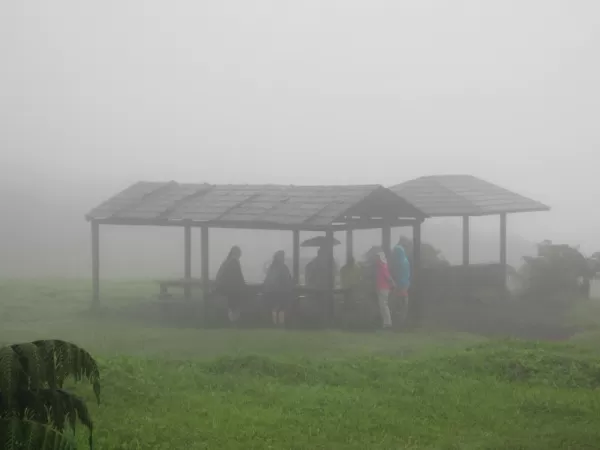 The sun on the equator is brutal.  Picture...wrapping a wet, warm towel around your neck and standing under a heat lamp.  All while the temperature gauge says 82 degrees.  So consider this while you are packing.  I am not going to give you a standard packing list, they are everywhere on the internet.  I will just tell you what I observed from my own trip.
THINGS TO CONSIDER WHILE PACKING
We were on an 8 day cruise on the Guantanamera.  We had wet and dry landings and snorkeling everyday.  With that in mind, our favorite item we brought?  AN UMBRELLA.  Yes, many of our fellow travelers had plastic ponchos, which we used sometimes.  But the umbrella was genuis in the hot blazing sun, as well as the rain.  It was more comfortable than a hat, which after awhile, felt like it was holding the heat in and baking your brain.  (I now understand why all the shops on the islands closed for siesta in the afternoon.  They needed to!)
Another wonderful item?  Powdered Gatorade, and Tang.  We added it to our water bottles to rehydrate and flavor our water.
Duct tape.  I repaired my shoes with it, and another traveler brushed up against a cactus.  The best way to remove small spines is to press duct tape against the skin and then pull it off.
Obviously, sunscreen and dramamine.
I took too many clothes.  Even though I pared way down to stay within the 44 pound weight limit for the flights to the island.  We ended up wet a lot anyway, so the entire group on the boat would hang our t-shirts on the upper deck and re-wear them the next day or the day after.  I brought two pairs of pants, and I only needed one for the plane rides.
I was happy having an extra pair of flip flops.  The crew on the boat have you dump your shoes in crates as you enter.  The floors are constantly wet and it was nice to have dry feet.  (I brought a total of three pairs of shoes--flip flops, tennis shoes and water shoes with velcro straps.  The water shoes saw the most use off-ship.)
We brought bug spray, but really wished we had a topical cream to treat the bug bites when they itched.
My brother showed me this little trick to help protect my camera from the rain.  I took a gallon ziplock bag, and modified it.  (Depending on your model you might have to do it differently, but this is the basic idea.)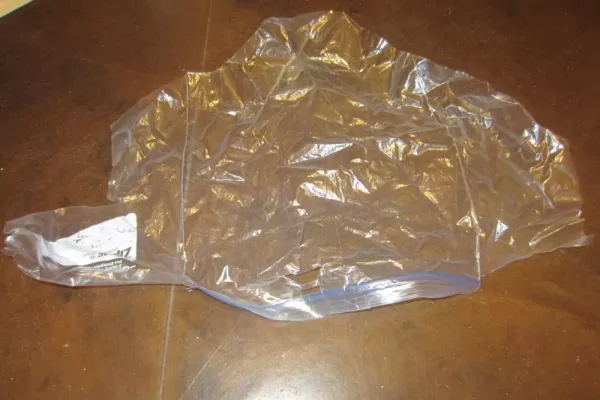 With the sensor on the back of my camera, I had to cut a square around it because it would sense the plastic and turn off.  I reinforced it with packing tape.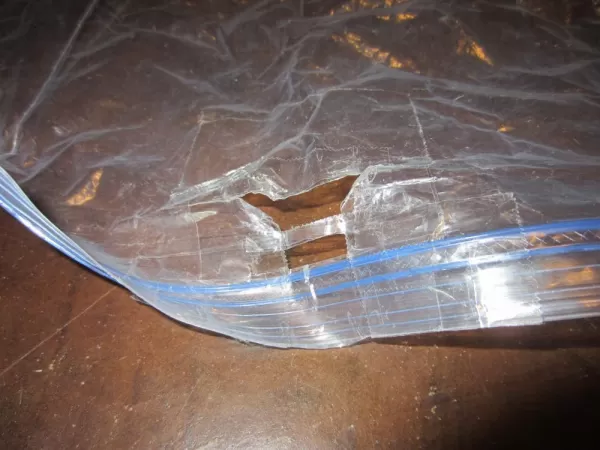 Then, when the weather turned, I just removed the eye thingie and lined up the holes.  I reset the eyepiece and it held the plastic in place.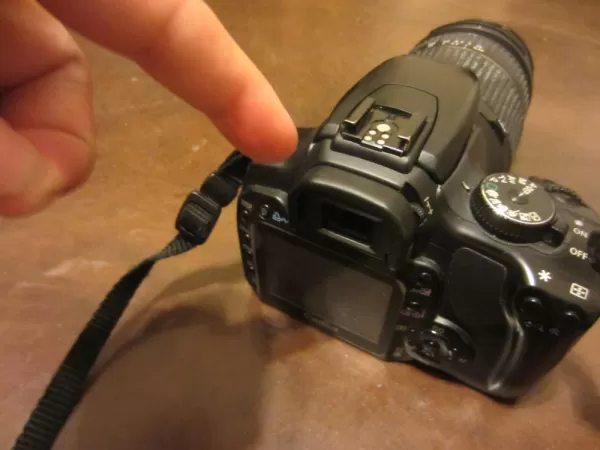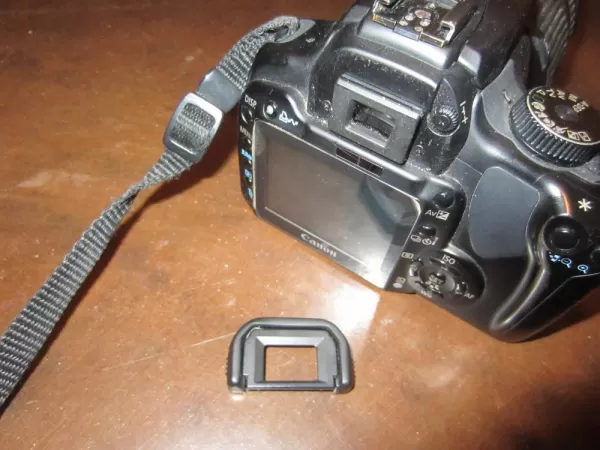 The ziplock strip actually worked to protect the back of my camera pretty well because it curled out.  And my hands were able to move around freely underneath to change settings.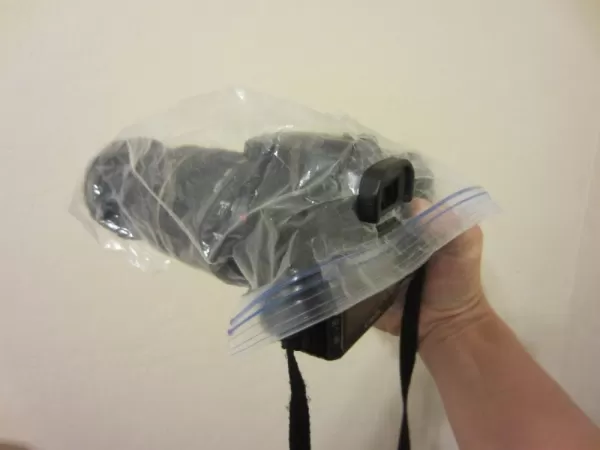 It won't work in a sideways downpour, but for the frequent light showers we got, it let me continue shooting photos of sea lions without worrying that little droplets were invading my camera body.  Also on the subject of cameras, the temperature/humidity change caused my lens to fog up.  I was glad to have a good cloth in my bag.  Even then, once or twice I had to pause and remove my polarizing filter and allow it to dry, as condensation was building up between the glass plates. 
I purchased suitcase sized Ziplock travel bags to compress my clothes.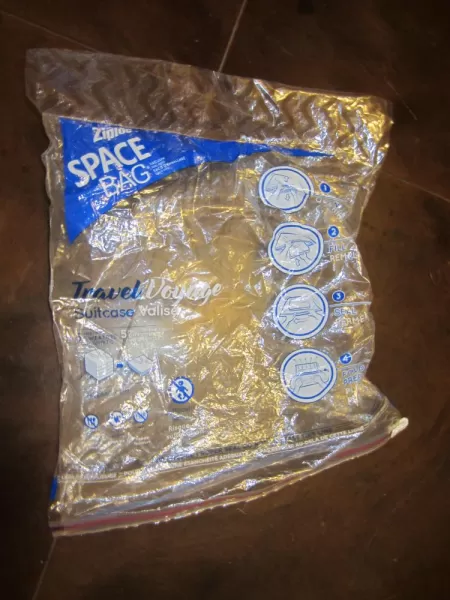 But they were also the perfect size for the daily excursions.  I slipped them inside my backpack and filled them with my camera, a small towel, anything I needed for the day and sealed it up.  Then I could set it on the floor of the dingy and it didn't matter if the floor was wet, the waves splashed over, or any water-related invasion...I knew my stuff was safe.
You will be very sad if you don't have some sort of underwater camera, even if it is just one of those disposables.  Well, maybe several disposables.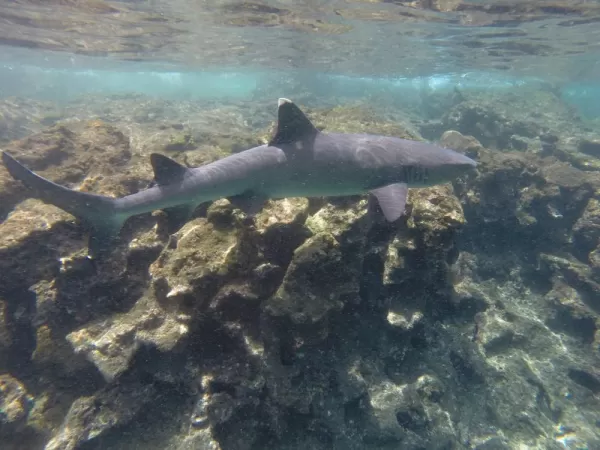 PREPPING
Do yourself a favor, and prep your body.  While each excursion was labeled as "easy", and they were, one at a time...the accumulation of the excursions can wear you out.  Up at 6:30, breakfast at 7, shore excursion with a hike, snorkeling, lunch, another hike, maybe another snorkeling session...get up and do it again the next day.  You get the idea.  While you are excited to go, it can wear you out.  Also, this whole 'wet' and 'dry' landing thing.  This is what that can mean:  A wet landing means driving the dingy as far up to the beach as you can (often in a healthy amount of surf) while everybody bails off or jumps back on.  A dry landing may mean revving the motor of the dingy so it presses nose-end to a slippery rock or concrete steps, while your guide grabs you by the arm and you launch in and out of the boat.  All while carrying cameras, maybe some snorkel gear, your backpack...  Again, not so difficult it can't be done, but easier if you have stronger legs.  Work out a little. 
Practice snorkeling a little, as well.  You don't want to be eye to eye with a sea lion, with water in your tube,  and unable to clear it out easily.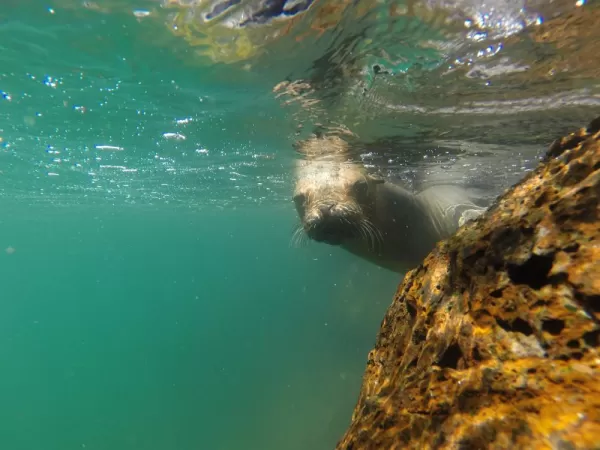 Not many locals speak English.  I grabbed a small travel sized Latin America Spanish book, and it was helpful on multiple occasions.  Learn  your numbers, so that when you ask how much something is, you will understand the answer.  The rest can be done by gestures.
Most places only take cash, and there have been counterfeit bills of $100's into the country, so they won't take them.  That means carrying a lot of small bills around.  We found a few places that took credit cards, but don't count on it.  We always felt pretty safe, but kept a close eye on our stuff and our pockets, especially on the crowded busses!
None of these things are deal breakers.  Go.  It will be fabulous.