There are many things to consider about HOW you travel in the Galapagos.  It seems like each island has its own unique flavor, with specializations that aren't available anywhere else.  For example, albatross only nest on one island.  Some of the best diving are by the islands wayyyy on the outskirts of the archipelago.  So experiences vary.  We chose a cruise, and then followed it with four days on Santa Cruz, one of the inhabited islands.  So we have a little insight into both. 
Galapagos cruises are expensive.  However, I think it is the best way to see a variety of islands.  Many are just too far out to comfortably do on a day cruise.  It was nice to have everything arranged.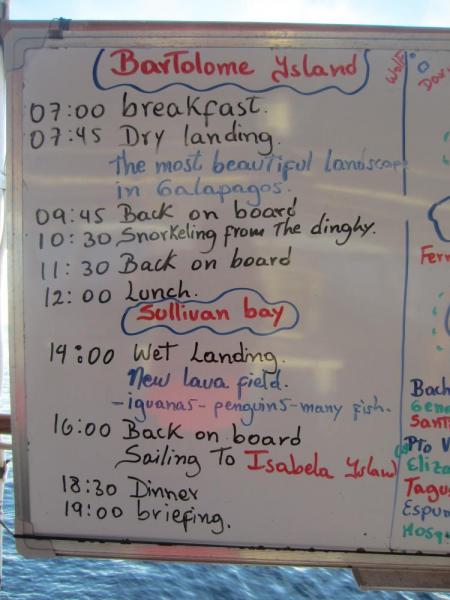 (Unless you don't like the itinerary.  The parks service has kind of set it up where you can't see "everything" in an 8 day cruise.  And a dive boat can't touch land, so there is no way to dive and do shore excursions in the same trip. Always sacrifices there.)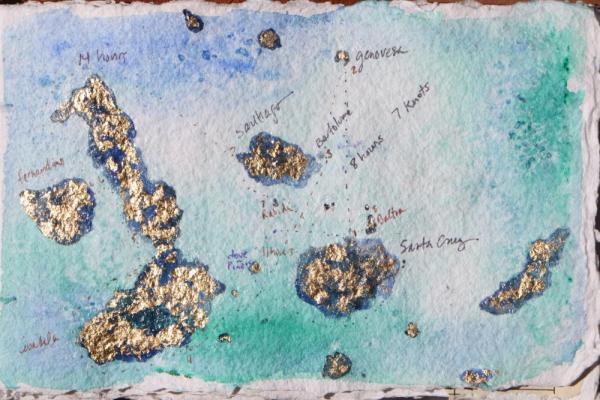 There was a consistency, for example, having the same guide all 8 days from airport pickup to airport dropoff.  (This can also be a disadvantage, if you don't click with your guide.  We were lucky...ours was informative and seemed to love his job.)  We chose the Guantanamera, and were happy with our choice.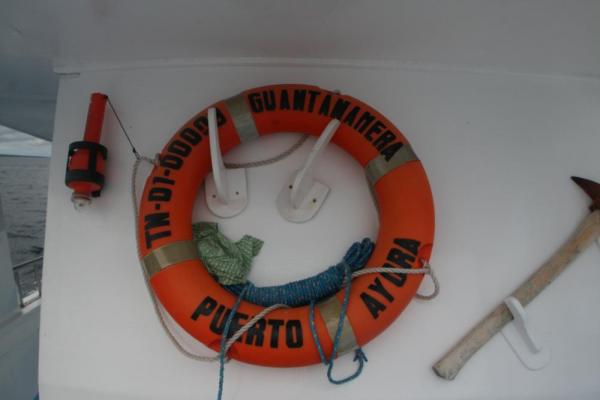 What we enjoyed about staying on the island and doing our own thing was just that--the ability to do our own thing.  It was nice to not have a set schedule.  I heard from fellow travelers that they were able to grab last minute deals from the local guide agencies.  You can design your own trip.  (I suggest maybe finding some overnights, or two or three day mini-cruises to some of the further islands.)  You can choose your own food.  You can go at your own pace.
Do your homework, however.  We booked a scuba day with Academy Bay and had a good experience.  Our dive guide had us review skills, even.  They seemed very concerned about our safety as well as our enjoyment.  We were turned away from a few shops because they were going to Gordon Rocks, notorious for difficult currents and conditions--many require either Advanced Diver cards or a minimum of 100 dives.  A friend we met from the ship was allowed to do his "Introductory dive" there by another dive shop, (meaning he was not certified and had no experience) which was completely dangerous and unethical in my opinion.  He spent 25 minutes in the water, and actually experienced what it was like to run out of air in the tank.  He used the guides' secondary respirator, but what an uncomfortable position to be in!  Know who you are placing your trust in!
CONDITIONS ON THE BOAT
Negatives, or mixed bag:
Advantage of a live-aboard:  traveling to your next destination at night.  A two hour, one way boat ride sucks up a lot of your day, especially when the rule is: Off the islands by 6 pm.  Disadvantage of a live-aboard: traveling to your next destination at night.  That means, right after dinner, the engines fire up and the boat tears across often very rough seas...which means trying to sleep in a narrow top bunk with the sensation of being in a washing machine.  One of our nights was an 8 hours trek at 7 knots, another 13 hours, and it gets tiring to be thrown around that long.  Sustained sleep was always a luxury.  Once we arrived, even at two am, the anchor would drop. So it was hard to stay asleep once you got there.  Other conditions onboard: Everything is damp.  Always damp.  Bed, clothes, toilet paper, you will not feel dry the whole time.  The floors are always wet.  I managed to slip on the ladder and got a spectacular bruise.  The swamp cooler tray hung over my bunk, and I would often come back from dinner to a puddle on my bed. And the thing turned on and off at random.  Odors.  Musty, or oily, or just swampy.  Small spaces.  My husband and I learned that one person had to get ready for bed while the other just waited outside, enjoying the view or just hang out on their bed.  If we both tried to move around in there, it was frustrating.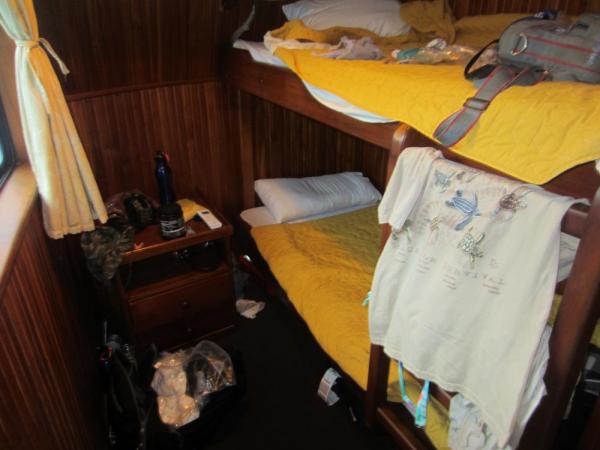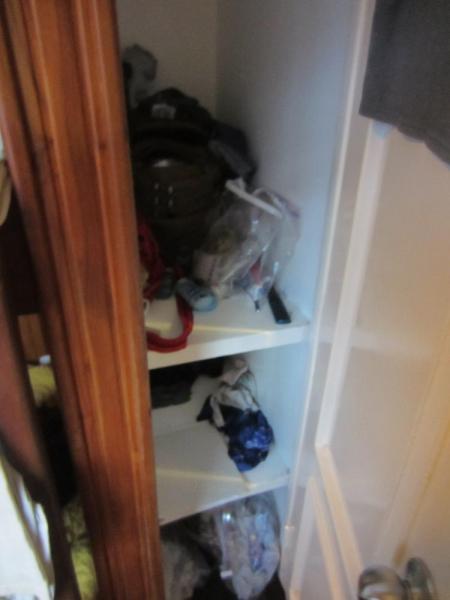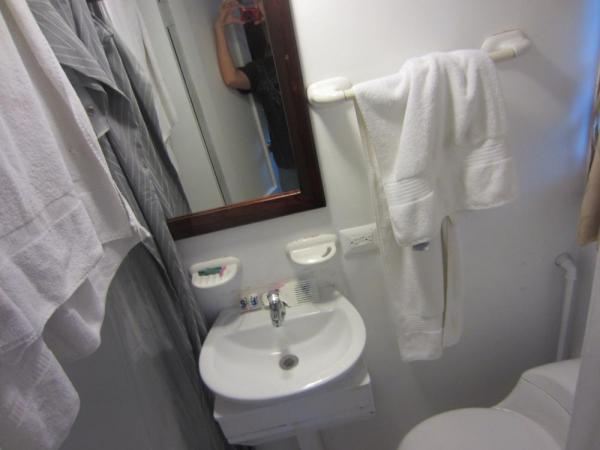 The bed was...firm.  Obnoxiously firm.  I consider these problems as UNIVERSAL to small boat travel. I would not hold them against the Guantanamera.  Except maybe the swamp cooler.  And the mattress.  None of these things were deal breakers.  Just the price of admission.  And good to know in advance, if possible.  I ran on sheer adrenaline half the time, from all the cool stuff I was seeing!!!
As in most of Ecuador, toilet paper goes in the trash, not the toilet. 
Positives:  Our group of 16 became fast friends.  They were all enthusiastic, sarcastic and had wonderful travel stories to share.  Once the guide offered an extra snorkel time at 6 am, and we all jumped at the chance!  They followed the guide's directions, which made his job easier, and he reflected that back by trusting us to do a little more.  They were on time, not making the group wait for any individual.  (Hopefully, that is the norm, but I doubt it, making this a possible negative to a live-aboard.)  The crew knew little English but were friendly, engaging and helpful.  They work very hard...make sure you budget for their tips.  Many nights I found half of them playing cards with crew members, multiple languages echoing with the laughter.  Plenty of basic, decent food.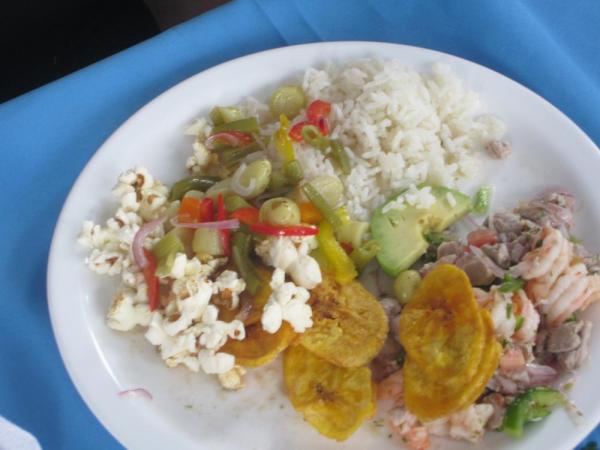 (Also a possible negative, if you are picky or have very specific food needs.)  No light pollution.  The stars were breathtaking.  Swallow tailed gulls, the only nocturnal feeding gulls, glowing green in the boat lights, clicking and swooping down for fish.  Waking in the morning, throwing the curtain open, anticipating a new view.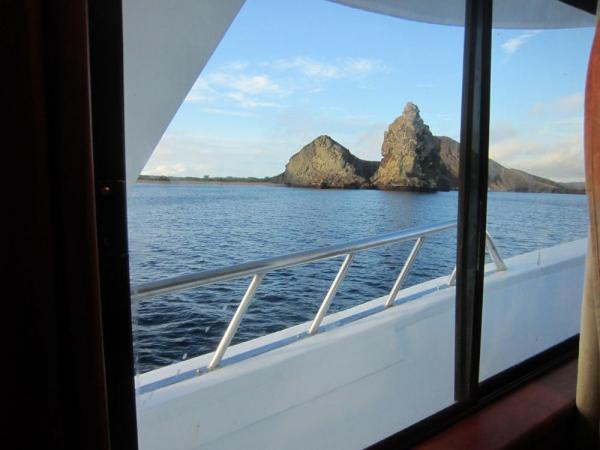 Stepping out and looking overboard, to discover penguins feeding all around the boat.  Whale sightings.  A blue footed booby that hitched a ride. Dolphins.  Frigate birds riding our breezes for hours at a time, like kites attached to the roof with invisible strings. 
Magical.