In one of my many previous careers, I was a program director at an outdoor education center.  In that role, I have built high ropes courses, inspected high ropes courses, and trained high ropes course facilitators.  I have put thousands of 5th thru 8th graders through these courses, with specific goals in mind.  So, as you might imagine, I have a hard time removing myself from that role as I step onto ziplines and ropes courses in my personal life.  I find myself examining the equipment, looking for flaws in the course construction or holes in their systems.  So I was keen to see how the ropes course would go at El Porvenir.   I was pleasantly surprised when we donned top-notch equipment at El Porvenir, and downright impressed when the staff began a very specific, and very detailed training session.  I was also pleasantly surprised with the quality of construction and the backups involved with the course itself.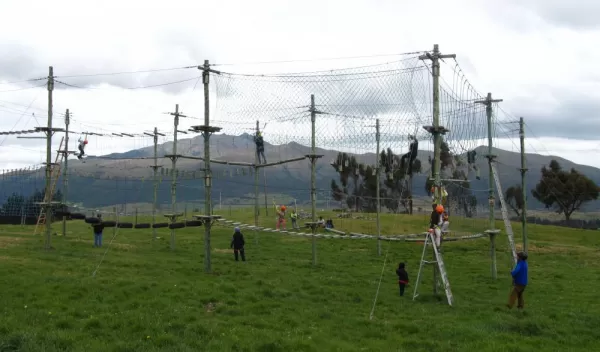 The key to any ropes course is to always be attached to the safety system with at least one safety line coming from your harness.  So as you move from element to element, from one safety cable to another, one should only move one of his/her two lines at a time.  Any good ropes course is going to have systems in place to make sure the very excitable participant doesn't unhook both at the same time.  At Porvenir, this turned out to be our very first lesson in Spanish.  We had to specifically request, "Jorge, permiso para cambiar uno?"  Or, "Miguel, permiso para cambiar uno?" Then we had to specifically receive an answer. "Kevin, cambio uno."  Or, "Jennifer, cambio uno."  ("Jorge, permission to change one?"  "Kevin, change one.")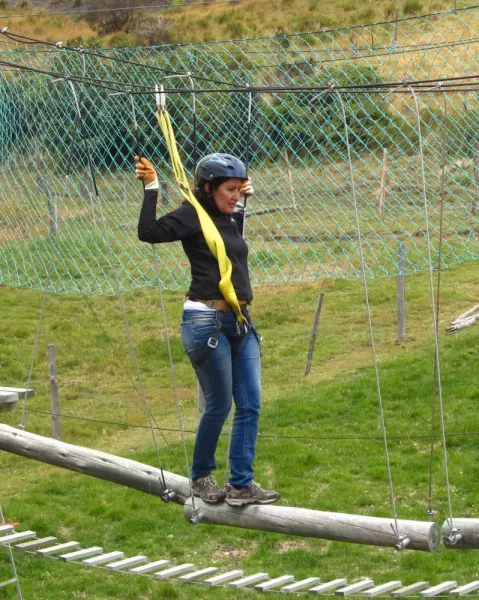 What might have been the most impressive part of this course's design, though, was the thought that went into the placement of elements.  Some courses are just thrown together willy-nilly.  This one built from easy elements to more difficult ones and gave participants options to choose harder routes or easier routes, based on their comfort.  Of course, I had to try them all, but our friends from the Quito office were able to make different decisions based on their own fears, or lack thereof.  There is a lower course for the kiddos, just high enough to induce some fear, but not so high as to cause the mental breakdowns that will leave a child hugging the pole for an hour with no hope for movement.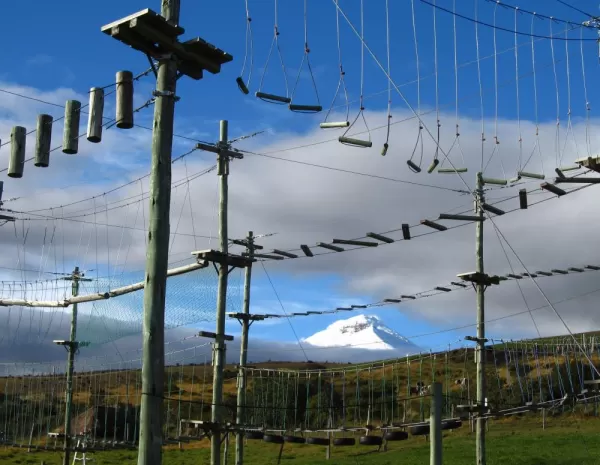 Of course, the views of snow-capped Cotopaxi in one direction and storm-covered Ruminawi in the other direction, with green pastures and high alpine paramo all around, certainly helped to make this an amazing experience.