We arrived in Buenos Aires mid-morning and immediately hit the ground running. We were met by our energetic and fantastic guide, Jose. We very quickly felt like we had known him for years. Although we were sleep deprived after a red-eye from Houston, not to mention still reeling from the stress-inducing delayed inbound flight that nearly caused us to miss our international flight - we had 6 minutes to catch our connection, we knew we had to make every moment in Buenos Aires count. We were welcomed to the home of one of our colleagues from our local office. They spoiled us with homemade empanadas, (I ate far too many thinking this was the main meal, whoops!) delicious meat, salad and of course wine. Franny and I were stuffed but couldn't say no to ice cream to top it all off. We were SO happy to spend this time with familiar and welcoming folks. It was the most perfect welcome to Argentina we could imagine and left us with a lasting impression of Argentinian hospitality.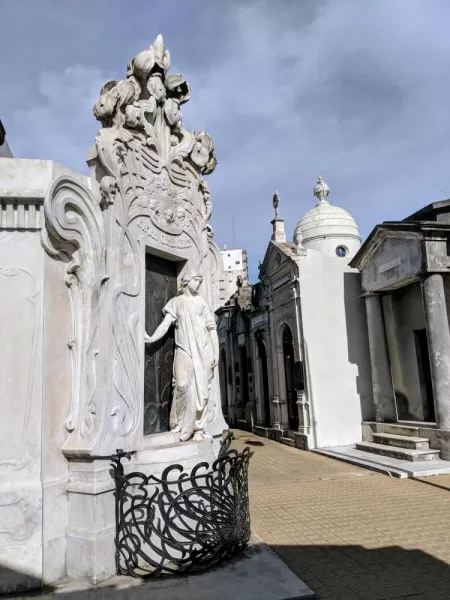 After we couldn't possibly eat another bite and before we managed to fall asleep, Jose took us out for a city tour. We drove from place to place, walked a little here and there but with being jet lagged and having full bellies we became progressively sleepier and sleepier. We did, however, make it to quite a few districts of Buenos Aires before we couldn't walk another step.
We saw Palermo, known for its public green spaces, impressive sculptures, museums and even a planetarium. Although we didn't do much exploration on our own I was impressed with the number of people who utilized these green spaces smartly designed into the city itself. We visited the affluent district of Recoleta, the neighborhood of the embassies and diplomats. We had the chance to spend some time at the Recoleta Cemetery, the impressive, large cemetery where Eva Peron is buried. We also visited El Ateneo Grand Splendid, a beautiful theater turned bookstore.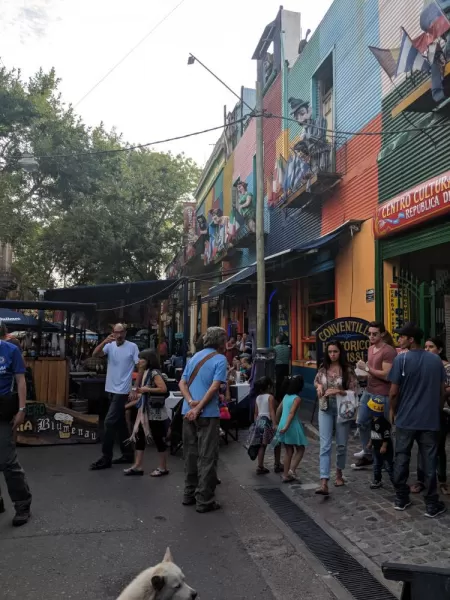 Our final two stops and my personal favorites were La Boca, meaning 'the mouth' (in this case of the river), and San Telmo. La Boca, where many early working-class Italian immigrants had settled, was full of color and street art. We didn't spend a whole lot of time here, but I would have loved to explore the restaurants if I had more downtime. On our way to San Telmo, we drove past the stadium for Boca Juniors, where a match was going on and saw in full force the popularity of the team. Fans were everywhere! San Telmo is a very artistic, bohemian feeling neighborhood. We were lucky enough to visit on a Sunday when there was a street market, with lots of local vendors of all sorts.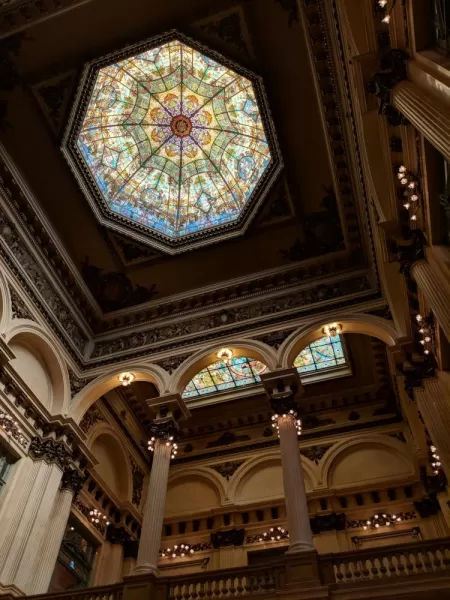 During our limited downtime, with only a few hours to fill, we decided to visit the Teatro Colón opera house. We had heard from a handful of travelers we ran into that is was a must see. We waited in line and purchased our tickets for the guided tour. Tours departed every 15 minutes. The inside of the opera house was as ornate as we could imagine. Every surface was covered in Carrara marble imported from Italy. The tour cost approximately $25USD and was a great way to spend an hour. The opera house still holds all sorts of shows, opera, and theater. Next time I'm in Buenos Aires,seeing a show here will be on my list!