I didn't initially sign up for kayaking on this trip. But I'm glad I was talked into it and I was lucky enough to snag the last spot. I had done some kayaking, but I certainly had never done anything like this. One Ocean was fantastic and supplied all of the gear we could possibly need - dry suits, booties, PFDs, kayaks, paddles and my personal favorite new discovery, pogies - neoprene mittens that kept our hands warm even when splashed by the Antarctic waters.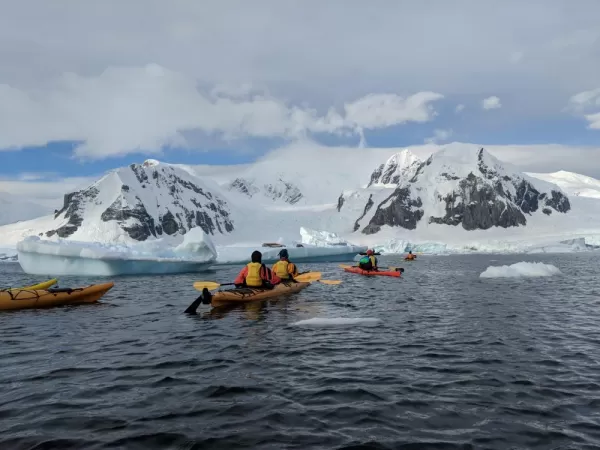 Our kayak guides were spectacular. Between the three of them, they had a ton of polar kayaking experience and made everyone, while at different levels, feel comfortable and confident. We had two guides with us in the water at all times and the third was navigating the zodiac, nearby in case anyone needed to get in, but far enough away that it never disrupted our peaceful, quiet experience of seeing Antarctica from a paddle-powered boat.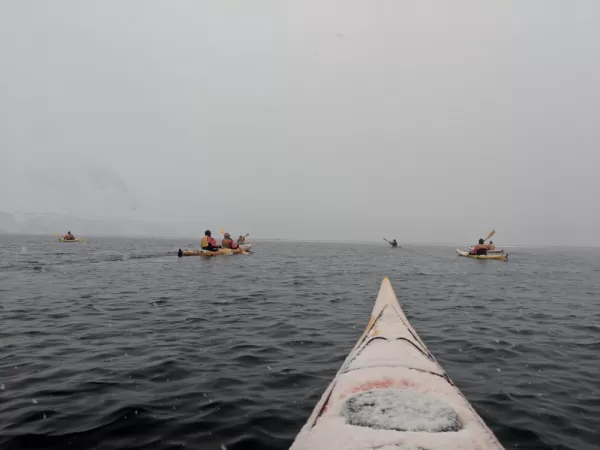 Each morning we would meet early in the library and our guides would give us a briefing of the paddling options for the day, both morning and afternoon. Each person would decide if it was something they'd like to participate in OR if they'd rather take part in the excursion offered to the rest of the passengers, usually a landing/hike or a zodiac cruise. Since there were limited kayaking spots, 16 to be exact, and there were people on the waitlist who would have loved the opportunity to kayak in Antarctica, we were encouraged to kayak as much as possible so we didn't squander our chance. But we still had the option, and I even chose the land excursion over kayaking a few times because I wanted to hang out with the penguins.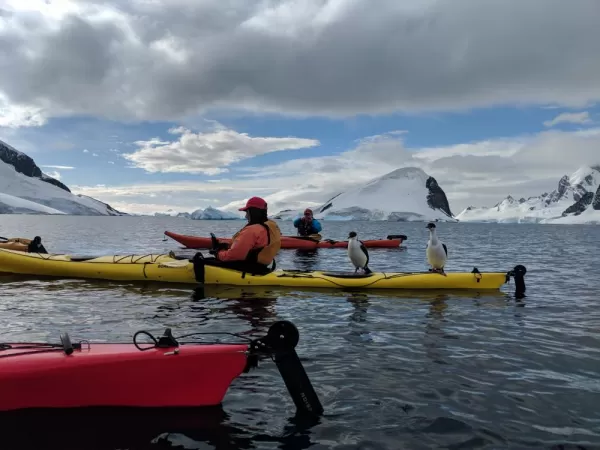 Experiencing this amazing place from a kayak was truly a once in a lifetime opportunity. We had all different weather types, sunshine, snow, pancake ice, & glass-like water. By far, the best part of kayaking was the wildlife. We saw countless whales, mostly humpback, eerily close to us. They would breach sometimes as close as 15-20 feet away and disappear beneath us. It's pretty surreal and slightly terrifying to know there is a creature 45-feet long underneath us. We also saw playful fur seals, who would come right up to our kayaks to investigate us. One member of our kayaking group even had a pair of juvenile cormorants, aka shags, land on his kayak and hitch a ride for at least 30 minutes! I loved the opportunity to kayak with the same folks every day. We quickly bonded as a group and our cohesiveness was undeniable. Franny and I made some lifelong friends from the experience.