A surprise excursion for us was our day on the Beagle Channel and the visit to Harberton Estancia. I didn't really know what to expect, Franny didn't really know what to expect, and so we came prepared for anything! We met at the Ushuaia port in the morning and got on our small ship of about 40 people. We left the dock and made our way out onto the Beagle channel. It was the tour bus version of a ship. We had a local guide who explained what we were seeing through her microphone. We first made our way to rocks in the channel that housed lots and lots of imperial cormorants, often confused for penguins because of their black and white coloring, except they, of course, can fly. We also stopped at a giant rock covered in fur seals. We made our way around the beautiful Les Eclaireurs lighthouse and our guide told us the fabled tales associated with it. We were even lucky enough to spot a couple of whales very close to our ship in the Beagle Channel.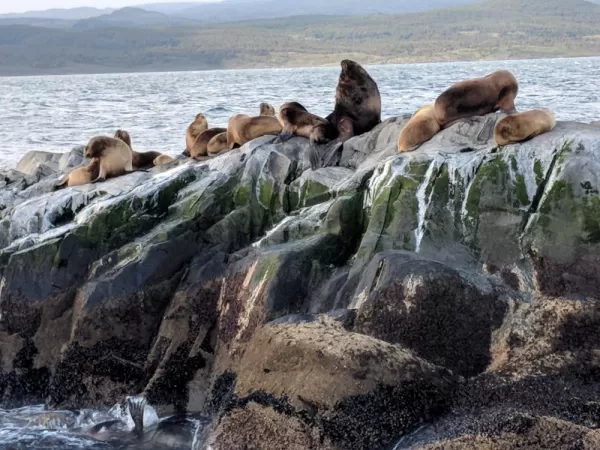 After all the initial excitement we settled into our seats and motored for close to an hour. Occasionally our guide would announce something over the loudspeaker while pointing off the one side - we saw Puerto Williams, Chile the southernmost 'town' in the world. While Ushuaia is the southernmost 'city' in the world. Once we arrived at the Estancia we split into two groups. Our group got on a smaller covered boat and rode for about 10 minutes to Martillo Island to go see our first penguins! It was very windy but the sun was out and it made for some glorious penguin sightings. We saw Magellanic penguins, Gentoo, and TWO King penguins. We felt pretty lucky about those. They were tucked in with the Gentoos but they stood out pretty easily with their beautiful yellow accents. Our guide told us the king penguins, usually spotted on the other side of Tierra del Fuego in Chile, probably had gotten turned around and followed some of the Gentoos or Magellanic penguins to Martillo.
After we had taken more than enough photos of penguins we motored back to the estancia and toured the grounds on our own. We ate a lunch of traditional Argentinian stew and empanadas at the restaurant and finished the day with a tour of the marine museum. It mostly consisted of whale and seal bones. We were surprised to find out that there were scientists living on site running the museum and doing whale research. After the tour was finished our tour group got on a bus and made the 90-minute drive back to Ushuaia. It was great to see the landscape both by water and land. The mountains of Patagonia did not disappoint!