The combat sport of Muay Thai is present throughout Thailand, with training gyms and arenas throughout the country and touristy t-shirts and replica Muay Thai gear being sold at just about every market. It is the national sport and cultural martial art of Thailand, which can be traced as far back to the 16th Century. 
Know as
the art of eight limbs
because of the combined use of fists, elbows, knees, and shins. These eight points of contact mimic weapons of war. The hands become the sword and dagger; the shins and forearms are hardened in training to act as armor against blows, and the elbow to crush opponents like a heavy mace or hammer; the legs and knees become the axe and staff. The body operates as one unit. A fighter's knees and elbows are constantly searching and testing for an opening while grappling and trying to spin an enemy to the ground for the knockout.
Although Muay Thai has progressed over the last 100 years with international influences, more standardized rules and match structures, traditions remain. As seen in the performance of the Wai Khru before each fight -
see photo below
.  Wai Khru can can be translated as "war-dance saluting the teacher", as the dance shows respect and gratitude to the boxer's teacher, their parents, and to their ancestors.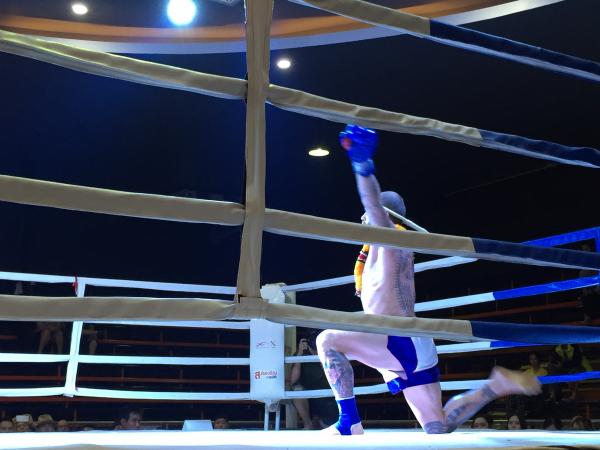 The Chiang Mai Boxing Stadium is a newly built, modern stadium (with A/C) offering fights three times a week. Each night there are anywhere from five to seven fights from youth fights (a little more on the mellow side), and both men and women. We took the opportunity to get ringside seats so we could be close to the action. We were rewarded with three knock outs!