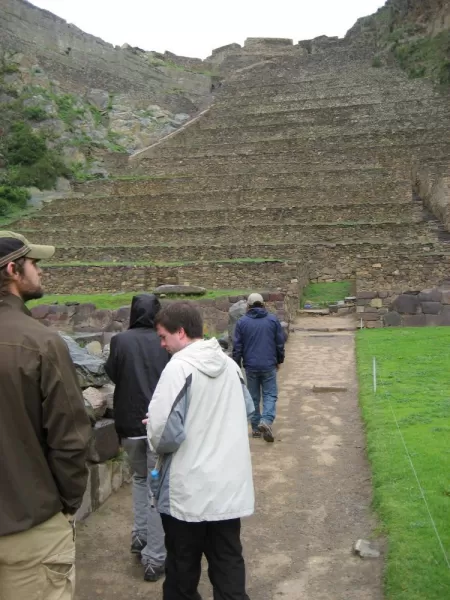 Last night when we checked into the hotel - the local tour office brought us our tickets for the bus ride to Cusco. They also had us fill out an evaluation of the Titicaca experience which I thought was great since its fresh in your mind at that time.
I'm feeling tired and sick to my stomach from the altitude but surprisingly the bus ride is not that bad. We stop every hour to visit different sites along the way and the attendant brings us our choice of juice, water, coffee or coca tea after each stop.
When we arrive into Cusco, we're met by our driver who's holding a sign with our name on it. He takes us to the Taypikala Hotel where we met our guide, Ayul. He gave a rundown of what to expect for the next few days and gave us some great recommendations for where to eat.
We went to the main square and were rained on a bit along the way. Good idea to bring a light rain jacket. Exchanging money ended up being more of an ordeal than I expected, but with Ayul's instructions we figured it out. The money exchangers wouldn't take anything below a $20 bill so we ended up keeping our $1s, $5s, and $10s for tips along the way. The local currency is the Sol and I would suggest getting several one's to use as tips and for street vendors along the way. They don't break a $50 very easily.