Let me start by saying that I hate city tours. You know the type: worst case is a bus of noisy tourists and a loudspeaker that you can barely hear, best case is a private guide whisking you from one museum and architectural wonder to another with a detailed spiel and photo stop.
Forget what you know and imagine that your best friend knows everyone in the city and is taking you to meet them... that's the best analogy for this day, billed as a foodie tour, but really a chance to wander town and meet new best friends. When we first met Anine, dubbed "the hugger" by several of her friends that we encountered along the way, she declared that we must start at Table Mountain. Never mind that we had only hired her for half the day and that we were planning to do Table Mountain on our own in the afternoon.... no, the weather was coming in and she was worried the cable car might close, so off we went together.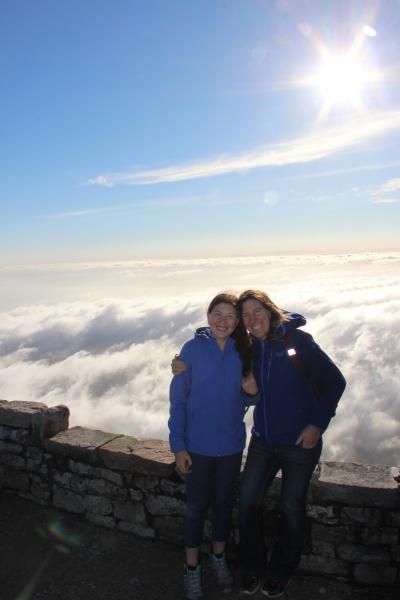 Anine never seemed in a rush... she escorted us around Table Mountain on a gorgeous walk as we admired the views and the adorable dassies, rodent like hyraxes whose closest relatives are manatees and elephants.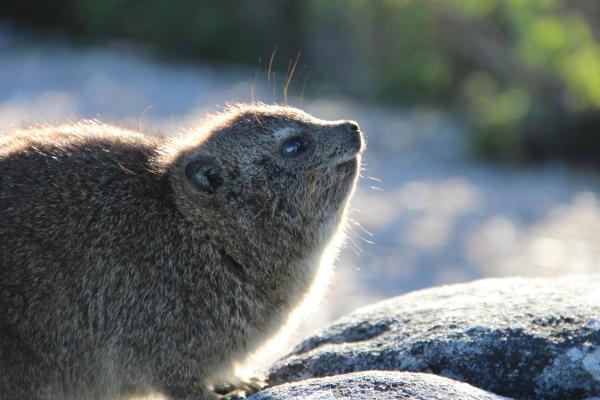 When we had gotten all the photos we wanted, she took us back down the cable car and off to Truth Coffee. This has to be one of the greatest coffee shops on the planet. The theme is steampunk,  which is exactly as you might imagine -
Mad Max
meets
Charlie and the Chocolate Factory
. The giant roaster is one of the largest in the world - shipped in pieces from Germany, and then decked out to fit the theme that all the staff also adhered to in full costume of top hats and glossy metal. Truth takes coffee seriously, offering two-day barista classes to anyone who wants to serve their organically sourced coffee. A 'latte artist' (yes, a well deserved title) drew elephants, puppies and kittens into our foam - much more lifelike than I could draw on paper - and the handmade croissants rival the very best in Paris.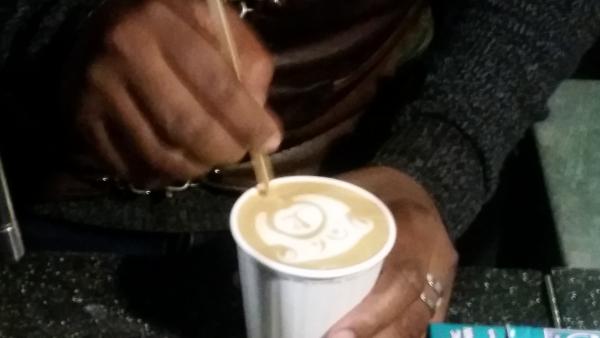 From here we wandered past the District Six Museum. Anine asked if we would like to stop in, never mind that this wasn't part of the 'tour' either. This tribute to the 60,000 residents forcibly displaced when bulldozers destroyed their homes in the 1960s-80s in an Apartheid effort to clear prime real estate for white developers is lovingly looked after by Joe, one of the residents displaced, and another friend greeted by Anine's hugs. After the museum we stopped into Haas (
rabbit
by translation) for 'bunny chow', an earthy, fruity curry served in hollowed out bread.
From here we walked down to the transit terminal. As Anine explained, this was not on any tourist track, but rather a daily stop for locals commuting in from the poorer suburbs. Here you could get a giant platter of traditional African cuisine for 35 rand (~ 3 dollars) from one of the food trailers that lined the walkway. We met one of the chefs here who explained how he made
pap
(a cornmeal side dish similar to mashed potatoes),
chakalaka
(a spicy onion, pepper, vinegar and chili chutney),
samp
(unhusked maize) and beans, spinach, cabbage and beef. We got a chance to try everything, and the flavors melded together beautifully .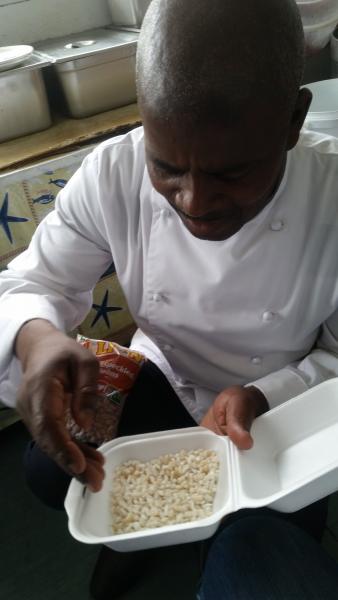 While we were there, a local man by the name of Brian stopped by to buy lunch. He approached me by asking "Are you a Democrat?" and introduced himself. He had been imprisoned in Robben Island for 10 years during the same time as Nelson Mandela, also for political crimes. He only had 2 front teeth left, explaining that the others had been kicked out during beatings in between time in solitary confinement and hard labor. I shook his hand and thanked him earnestly for sharing his stories... With a wide grin, he wished us goodbye.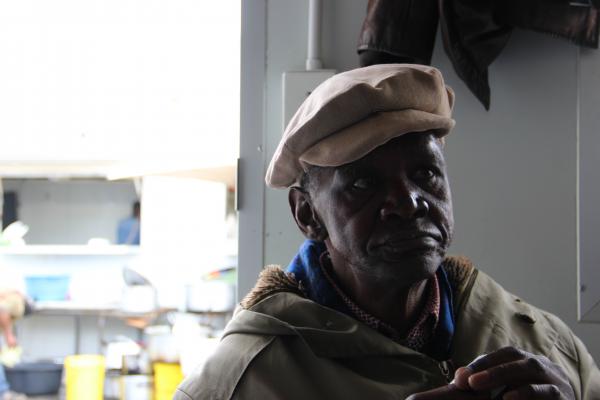 From here we headed into BoKaap, the brightly painted, delicious-smelling Islamic district of Capetown. We stopped first at Monkey Biz, a beading cooperative where over 400 (mostly female) artists display their intricate beadwork- especially whimsical animal sculptures- for sale. A red-haired ball of energy explained the history of the cooperative and how it functions today. MonkeyBiz buys the sculptures immediately from the artists so that they don't have to wait for payment. Each sculpture is signed so that artists who are able to generate a higher demand for their pieces can also earn higher compensation.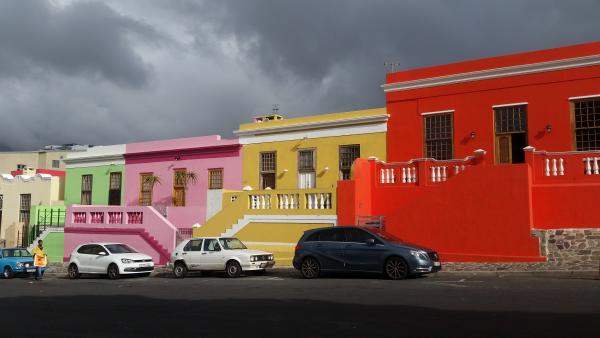 Next we walked across the street into the delicious-smelling Atlas spices where we picked up some incredibly inexpensive spices and a local candy consisting of a dried apricot dipped in sugar and salt. From here we ventured into Heritage Square where the oldest vine in the southern hemisphere has grown since 1771, even during decades of neglect. I did a brief wine tasting, and then we visited You Bet It's Ice Cream where the owner shared his organic creations including
Springbokkie
- a combo of Peppermint Chip and Amarula Liquor ice cream. 
Just when we doubted our bellies would hold much more, we strolled a bit further and then ventured into House of H. Anine told us the history of this funky restaurant housed in a converted parking lot: Heinrich (H) was an assistant chef at an up-and-coming restaurant who had ideas of how to handle some of the issues of dining out- specifically service problems such as split bills, complaints about wrong charges, etc. In his restaurant, House of H, you are given a plastic card as you enter that you take to each ordering station. As you select organic salads, desserts, grilled items, etc. directly from the stations, your card is swiped based on what you order and you check out at the end. Everything is fresh and the atmosphere is warm and quirky. Even though we were already getting full, Anine ordered a giant plate with a huge variety of salads. They were so delicious that we nearly ate them all!