Today we woke early to drive to Cape Canopy tours in the mountainous winelands, about 75 minutes' drive outside of Cape Town. It was pouring rain, par for the course this time of year, especially in the higher elevations. The guides greeted us with coffee, hot chocolate and rain jackets. After our safety briefing, we loaded into the 4WD vehicles for our 30 minute "African massage" over incredibly bumpy terrain up the mountain.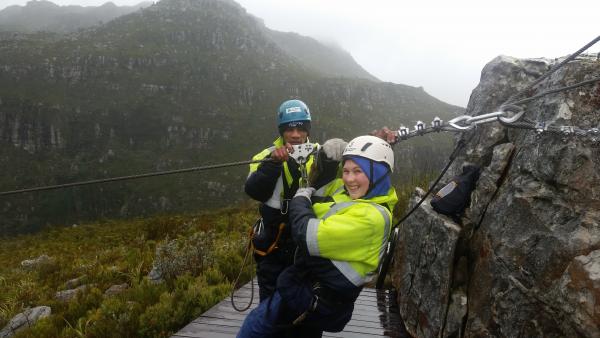 We zipped down 11 lines, the longest of which was over 1000 ft and the fastest reaching speeds of about 35 miles an hour. Midway through, the guides surprised us with a break for cookies and hot chocolate. After the adventure, we had a 1 km hike up to the vehicle and another bumpy ride back to the lodge where they were waiting for us with hot pies for lunch. Hailey opted for spinach and feta while I tried my first springbok: absolutely delicious - more similar to beef than venison with very little game flavor. 
Next we drove the incredibly scenic, winding pass through the mountains to Franschhoek where we stopped by the Huegonot Chocolate Shop for a brief tasting. The chocolatier gave us information about how chocolate is produced and then demonstrated, with unfathomable quickness, how to create filled chocolates.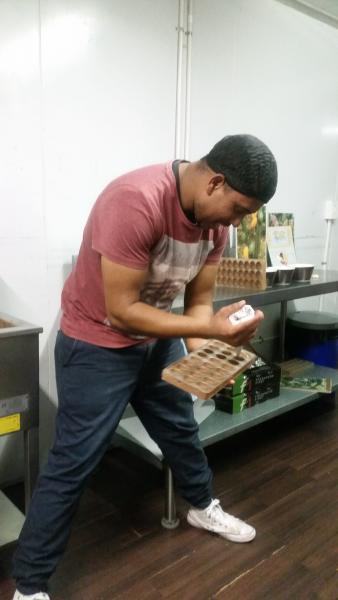 We tasted a few chocolate varieties and they sent us out with some chocolates of our own - nice, but not nearly as nice as our incredible reception at Franschhoek Country House and Villas.
I don't know if I've ever been to a hotel that was quite as charming. Staff met us in the parking lot with huge smiles and escorted us to our spacious villa with a separate living area, a delicious fireplace to dry our clothing (still soaked from the zipline), and lavender bath salts and shampoo in the bathroom. We were just getting settled when the staff returned with a glass of champagne for me and sparkling cider for Hailey.. oh, and there's complimentary wine in the cozy lounge. I couldn't be more comfortable- sipping my syrah by the fire with soft music playing. I think I want to move in!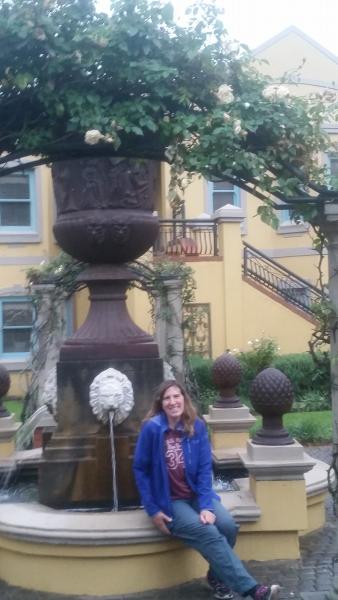 Sorry, I have to rave a bit more....returned to my room and discovered our classic French villa is equipped with a modern sound system with a full entertainment system. Michael Buble is playing in our suite with rose covered walkways and a bubbling fountain in the entryway.
We had dinner in the gorgeous wine cellar off a scrumptious tasting menu. We had originally planned to head into Franschhoek for dinner tomorrow, but we still need to make it thru the other half of the menu so we will be coming back tomorrow night.... If I don't make it back on the plane, you know where to find me!