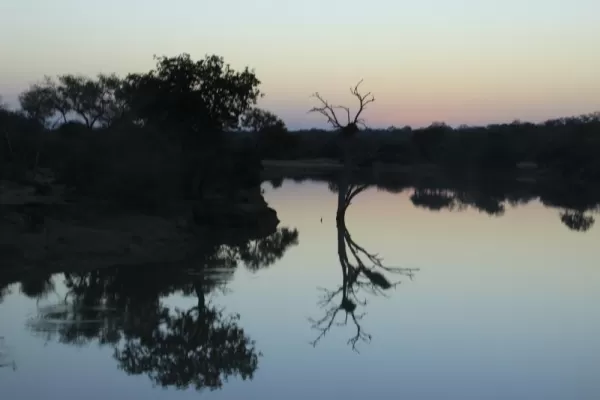 Today was probably the best day of our trip so far. We started out on our first game drive at 6am while it was still dark. The sunrise was breathtaking as we headed north to track some leopard cubs that Craig and Moses had spotted prints of the night before. We found the cubs shortly after daylight though mom was away hunting. Craig knew this set of cubs- two males and a female that were only 8 weeks old. The female was just like her mom in personality- totally unfazed by the vehicle. We initially spotted her under a tree branch and later she climbed on top of the branch, hanging out in a sleepy pose about 8 feet from us. She looked like a stuffed animal posed so perfectly.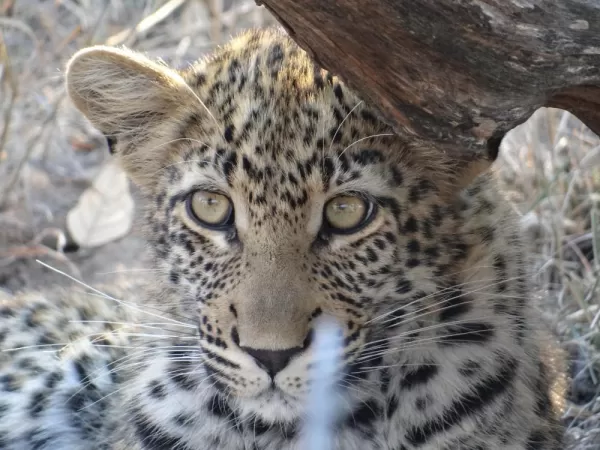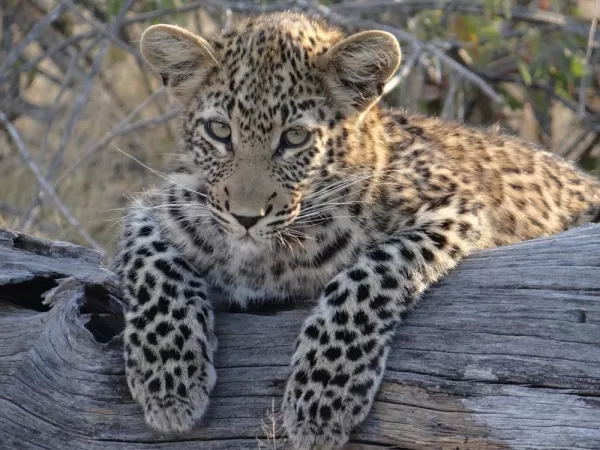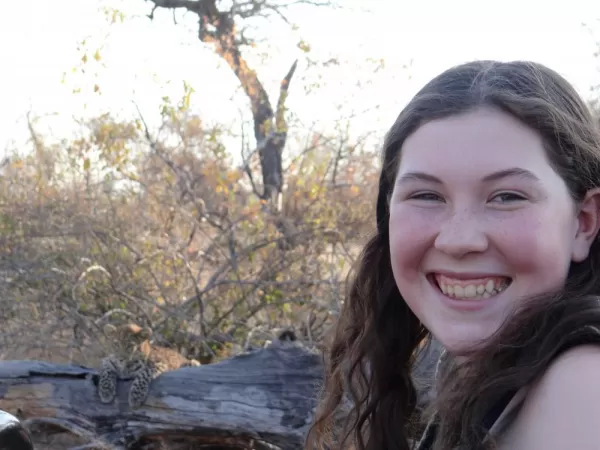 I worried about her lack of fear, but Craig said she knew the vehicles weren't a threat but that he had watched her previously dash up a tree when a hyena came into the area - a great sign that she knew how to stay safe. The cub's brother that we spotted was a bit more skittish. We saw him from a distance and didn't approach once we noticed him move a bit into cover, a sign that he wasn't completely comfortable with the vehicles. 
After our incredible sighting, we headed back to Thornybush Waterside Lodge and were surprised again as we rounded a corner- this time with breakfast in the bush. It was so tasty - eggs, breakfast meats, mushrooms and tomatoes all grilled over an open flame. Wow!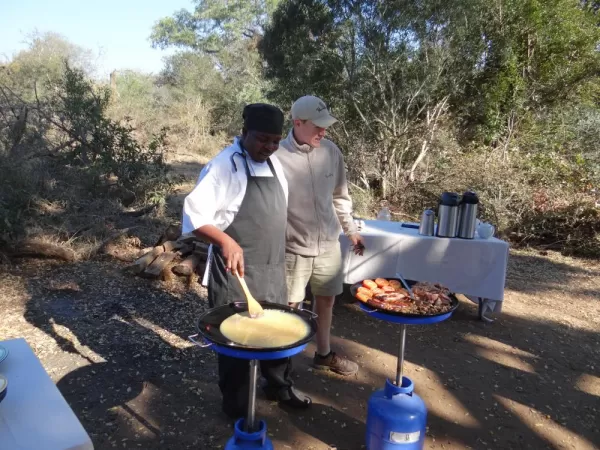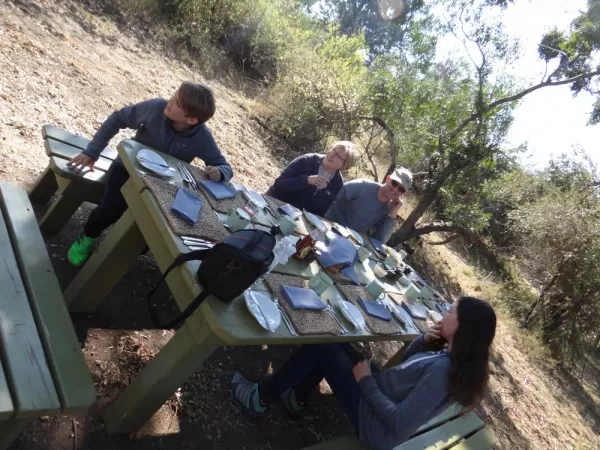 After breakfast, I asked Craig how the walking safaris that the lodge had mentioned when we arrived worked . He found out we were leaving the next day and offered to lead one on the spot. Technically the minimum age is 16, but he made an exception for Hailey and the 15-year-old girl we were traveling with since both had shown enough maturity to listen to commands and follow instructions. I felt a bit nervous walking out into the bush, straight across the reserve where the lions, leopards and hippos we had seen walk around unpredictably. However, Craig reassured me as he immediately set very strict rules- we walk single file, quietly, obey his instructions even if they don't make sense at the time and never run (prey runs!). He carried a high caliber rifle and though he's an expert marksman (they have to pass this training every year), said he's never had to use it, even when bluff charged by a hippo about 10 feet away.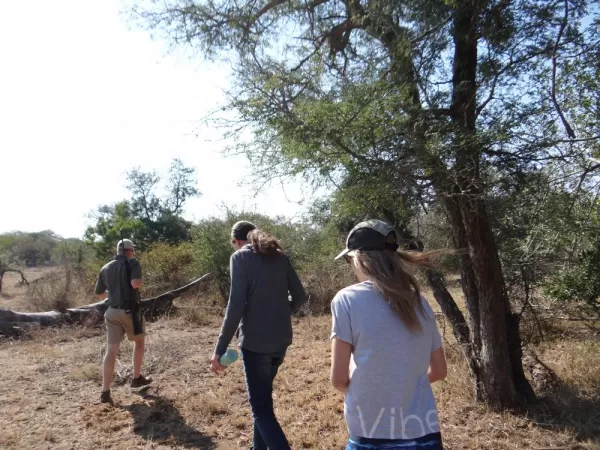 As we walked, Craig pointed out prints of various animals and picked up the dung of nearly every herbivore (most herbivores don't have a lot of dangerous microorganisms in their dung) explaining how you could tell the animal and even some of the uses of the dung. Apparently you can pour water over elephant dung and drink the liquid to ease an upset stomach, though I can imagine my stomach would only feel better as it wouldn't have anything left in it if I tried that.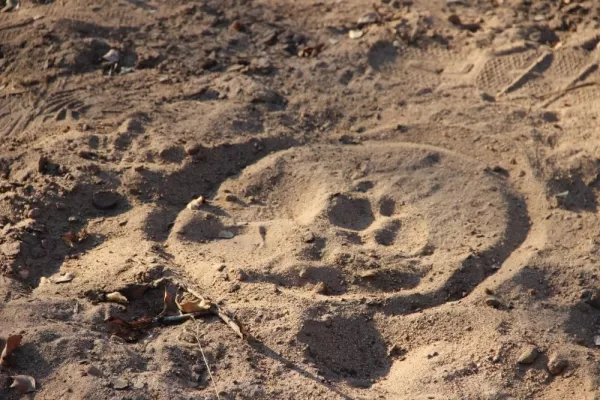 On the way back to the lodge, we rounded a corner and encountered three hippos, including a baby, at the edge of the watering hole by our lodge. Craig immediately had us get into the shade and warned another group rounding the bend from the lodge that couldn't see the hippos and would have crossed directly into their path. It was a tense moment, but the hippos were not fazed by our distance and we continued on our way with Craig able to report this as an 'ethical encounter' that didn't impact the behavior of the animal. They have to include detailed reports of every such encounter and he could have lost his job had anything gone even a bit wrong since he had two underage hikers with him.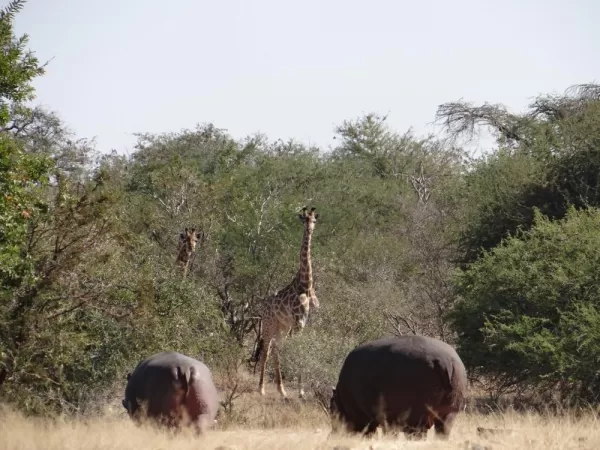 This afternoon we headed to a dusty riverbed where 2 lionesses, mom and daughter, each had a set of 3 cubs. I think they were 6 and 8 weeks old, respectively. We were able to observe the cubs for a long time as our presence wasn't bothering them in the slightest. They frolicked in the river bed while moms watched nearby. I got a bit uneasy as one of the mothers walked right alongside our vehicle, close enough to touch, when her cub called out for her. Craig reassured us that the wildlife see the vehicle as all one object. As long as no one gets out or stands up, we are not seen as a threat and they ignore us completely.