Today was another great day! We woke early to raft the class V Zambezi whitewater below Victoria Falls. I had a restless night of sleep debating the judiciousness of taking my 14 year old on this world famous whitewater stretch. I spent most of the night up reading the statistics and safety records- overall deciding that our odds of coming out safely were actually better than a typical highway trip in Montana (maybe not much consolation). 
Rafting is operated in the deep gorge beneath Victoria Falls. After a safety briefing with jokes about the crocodiles and flipping rafts, we headed to the top of the gorge for the steep climb straight down into the gorge. The walk takes ~ 20 minutes over rocks, stick ladders, and roughly made stone 'steps'. It could quite easily be the most dangerous part of our journey.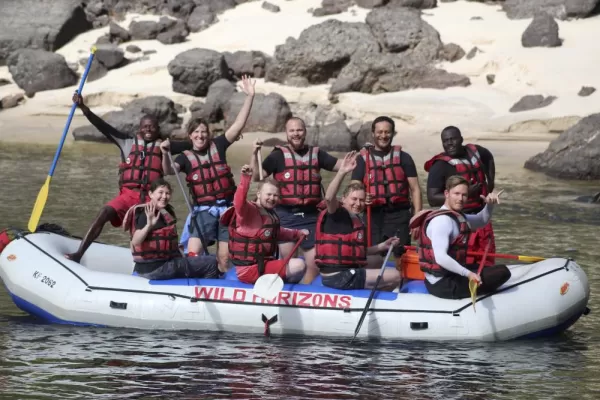 Once in our rafts, we got serious about our paddling training. I was prepared for the commands, but our guide, Colgate, definitely pushed us more than most. Hailey and I were teamed up with 6 men and Colgate yelled at them to paddle harder, make swift transitions and paddle together. He had us jump into the river and get back in quickly. Then do it again. Fortunately, the water was very warm! We might be able to handle the Yale crew team after this.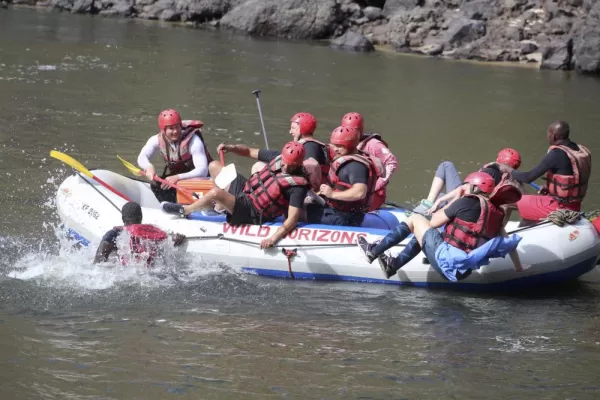 I was thankful for the training though as the water was also much swifter and more technical than any I had done previously, including other Class V. We dodged giant whirlpools constantly as we navigated thru Rapids known as the Washing Machine, the Mother, and Oblivion. The sheer force of the water required quick turns and very precise paths to avoid flipping. Colgate was brilliant, but the first 4 rapids were definitely more stressful than fun due to the high water. This section had only been opened up a few days prior due to the high water. As it was, we were only doing rapids 11 to 20 as the first 10 were still unaccessible due to water levels.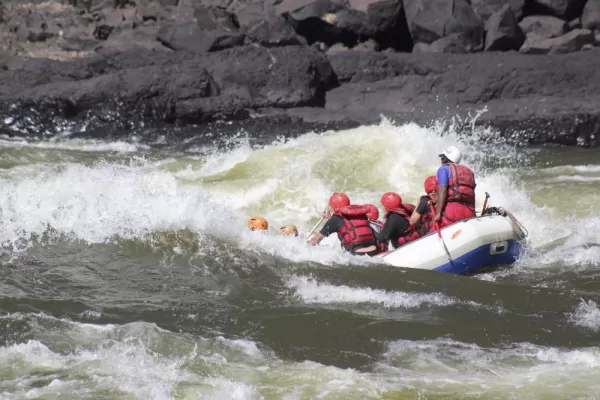 After portaging around one unnavigable rapid, we started into the less technical, fun section of the river with larger waves and fewer whirlpools. It was in this area that we spotted a couple small crocodiles. We manged to complete the whole run without anyone falling in or any flipped rafts- hooray!.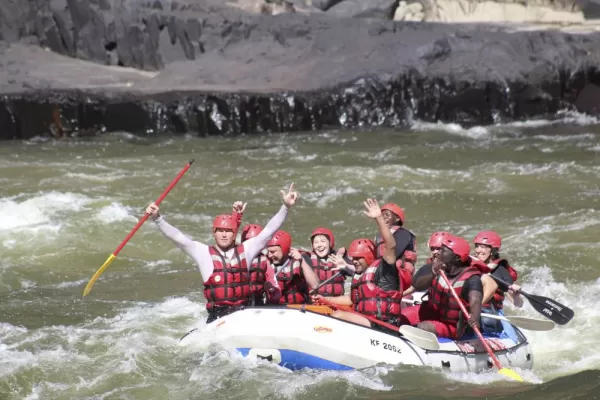 After that came the biggest challenge, hiking back up the steep gorge where lunch waited for us. At the top, a handful of local men were gathered selling their carvings and asking us to trade our gear for their handicrafts. As I sat eating, I realized that I would be using my fancy zip off REI pants a lot less than they would and trade them for a wooden bowl. The shoes I had worn were old with holes starting to form in the soles. However, the men there had shoes in only the loosest definition with soles that had only half a shoe covering the top. I didn't feel right offering my holey shoes in trade, but they were quite grateful when I left them behind. 
I arrive back at the hotel barefoot for a quick shower and change before we headed to the elegant Victoria Falls Hotel for tea and scones. From there, our transfer driver met us to cross the border to Livingstone where we had splurged for our last night on the elegant Livingstone Express dinner train. The 5 course dinner was unappetizing- cold cucumber/ salmon soup, cold pureed butternut squash in jars that looked and tasted exactly like baby food, salty lamb for the main course, and champagne yogurt for dessert- our $2 plate of food at the Capetown train station had tasted MUCH better.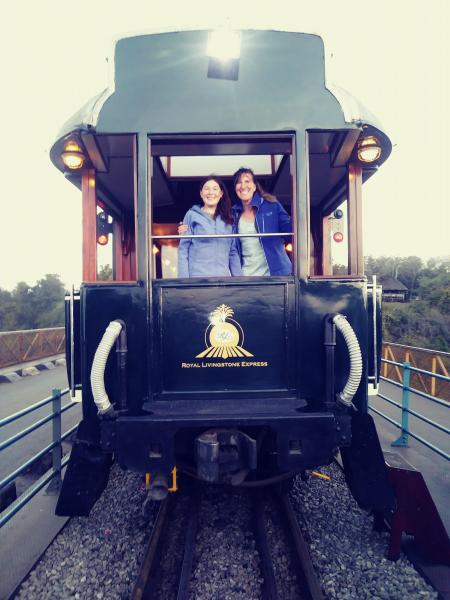 That said, the train ride was really lovely. A Livingstone local gave a fantastic historical talk and we were able to disembark on the bridge separating Zambia and Zimbabwe. We got off and walked around, snapping gorgeous photos of the falls at sunset and even getting a chance to pull the steam whistle.
After the train ride, the staff rushed us to our transfer vehicles as the border between Zambia and Zimbabwe closes (really???) at 10pm and we would have missed our flights out if we didn't get back to the right side in time...