Moment of truth. My biggest fear getting prepared for this trip was the self-drive portion. How well would I do on the "wrong" side of the road navigating big city traffic? Speaking of navigation, how does that work....is Google Maps still my friend? (in short, mostly yes). And of course, what about all the notorious crime I've read about? Yikes. I gathered info from everyone we encountered - transfer guides, hotel concierges, activity guides, online blogs, etc. Their advice all echoed similar guidelines: lock your doors, avoid driving into townships, keep valuables out of sight, and plan your trips during the day. Armed with this information, we received our rental car at the hotel and set off for Hermanus, whale capital of South Africa.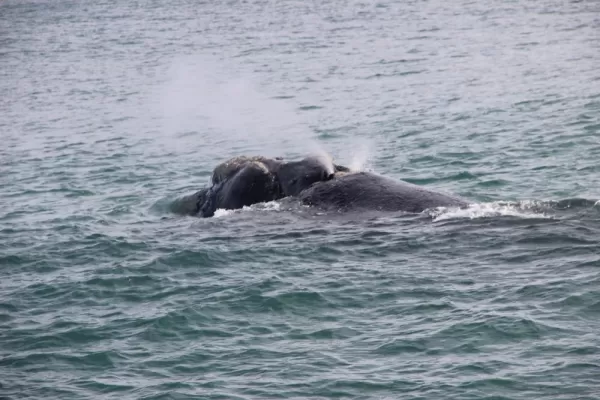 Along the way, we inadvertently broke nearly every rule when our navigation system steered us directly to a dead end in the middle of a township (not the place we wanted to hear "you have reached your destination") and I tried unsuccessfully to roll down my window to ask a passing cop for help (but rolled down every other window in the car instead).  Thankfully, we found our way safely back to the highway and had a good laugh about the ridiculousness of two lone females from Montana navigating the South African countryside.
Fortunately that was all for our navigational adventures and we arrived in Hermanus with a few minutes to spare. Though Hermanus is known for the best land-based whale watching in the world, it was early in the season (June to December) for the whales arriving from Antarctica so we opted to take a whale watching cruise to increase our odds of seeing them. 
We would have been thrilled to see just one whale, but we had a glorious day! We spotted at least 3 Southern Right Whales, including one who decided to hang around our boat for 30 minutes or so, lazily swimming along the surface and lightly fluttering her tail. In addition to the whales, we spotted seals and dolphins- a great day indeed!