The Sahara Desert plays a major role in Morocco. When people think of the Sahara, they think of vast orange sand dunes as far as the eye can see. The reality in Morocco is that there are only a few smaller seas of sand dunes, Erg Chebbi and Erg Chigaga that are found within the greater desert area, which is semi-arid. Technically, the dunes aren't even part of the Sahara Proper. They are apart of the pre-Saharan Steppe. These dunes are surrounded by hundreds of miles of black rock desert in all directions. While driving through the desert, our guide educated us on the landscape and how it used to be a savannah, similar to what is found in East Africa. It was hard to imagine this hostile black landscape as once teeming with large mammals.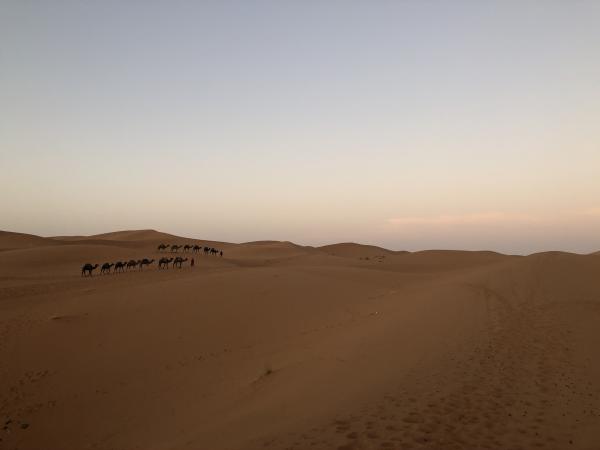 The sand dunes at Erg Chebbi are beautiful! They rise up from the flat expanse, shining in the sun. I imagine finding this place 30 years ago, before Morocco became a country rich in tourists. Before the hundreds of hotels, ATV's and camel trek operators. It's still stunning and a worthwhile experience, but could use a little regulation. 
We did a sunset camel ride across the dunes for two hours until reaching our camp. As we crested the top of the dunes, we could see the other side where our camp was. Stretching as far as the eye could see were identical camps from one end of the horizon to the other. There must have been at least 100 camps, each with 10-16 tents. It wasn't exactly the remote, secluded experience we were expecting. The stars were almost entirely obscured by the sand pollution caused by motorized vehicles tearing up the dunes. Generators ran all night long, providing electricity to the camps.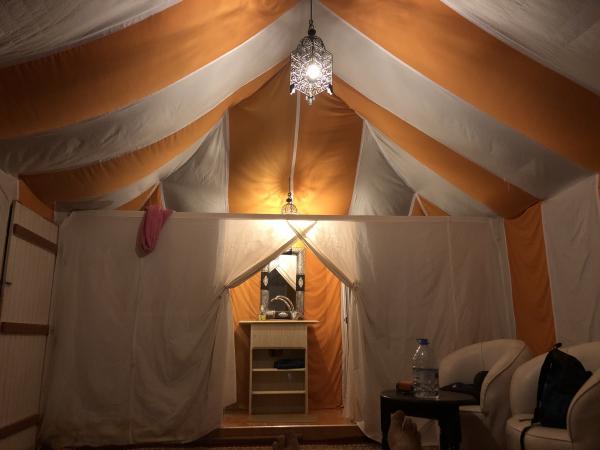 Perhaps there are part of Erg Chebbi where travelers can pay a pretty penny to avoid the overcrowding, but they won't be able to escape the sand pollution. It clouded the sky all the way back to Marrakesh. That's the inside scoop you won't find on most travel blogs.