For many travelers, Alaska has come to be defined by its spectacular wildlife. Images of lumbering brown bears, breaching humpback whales, or bald eagles snatching salmon from a stream have come to symbolize the wild spirit of the United States' largest state. Alaskan wildlife is diverse and truly wild: look out on your
cruise
or
tour
for some of Alaska's most famous inhabitants.
Bears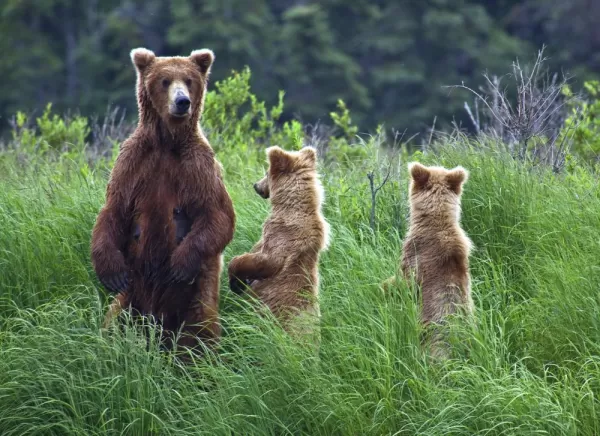 Alaska is home to both black bears (
Ursus americanus
) and grizzly bears (
Ursus arctos horribilis
). Nearly 98 percent of the United States' grizzly bears live in Alaska. They are found throughout the state, but are salmon hungry, so some of the best places to look for grizzlies are in salmon country in the southwestern region of the state and along the coast of the Gulf of Alaska. Black bears, which actually range in color from blue-black to cinnamon brown to even a rare creamy white, are usually spotted inland, in forested areas. Unlike the larger grizzlies, which are adapted to plains habitats, black bears are excellent climbers, with curving claws well-adapted to scaling trees. Kodiak bears (
Ursus arctos middendorffi
) are a sub-species of the grizzly and found only on the Kodiak archipelago. At 1,500 pounds, they are the largest recognized subspecies of brown bears. In sea ice of the Arctic region, the lucky traveler might have the chance to spot the elusive, brilliant white polar bear (
Ursus maritimus​
). All bears should be observed from a distance of
at least
100 yards (90 meters).
Moose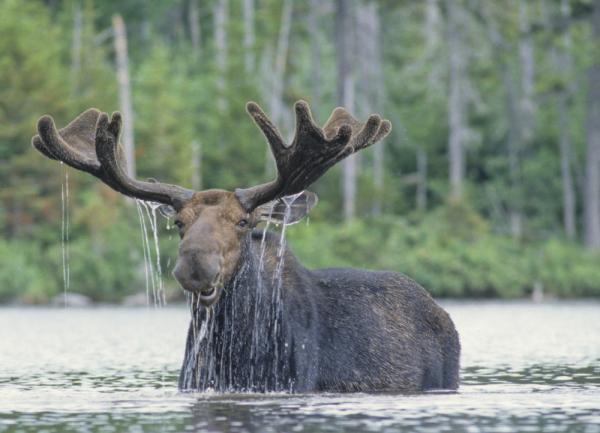 Moose are found throughout the state, except in the extreme north. As the largest extant deer species, moose are striking figures on the vast landscape. The Alaskan subspecies of moose is the largest of North American moose: a bull can weigh up to 1,600 lbs (725 kg). Their mass, combined with their unique palmate antlers, makes the moose an impressive animal and a favorite for wildlife enthusiasts. Travelers have spotted moose wandering within city limits, along highways, railways and in the state's numerous parks and reserves. Kenai Peninsula has a moose refuge, and this wildlife sanctuary is an excellent place to observe these large, horse-sized deer. Be sure to keep your distance: these massive animals can run as fast as 35 miles (56 km) per hour!
Whales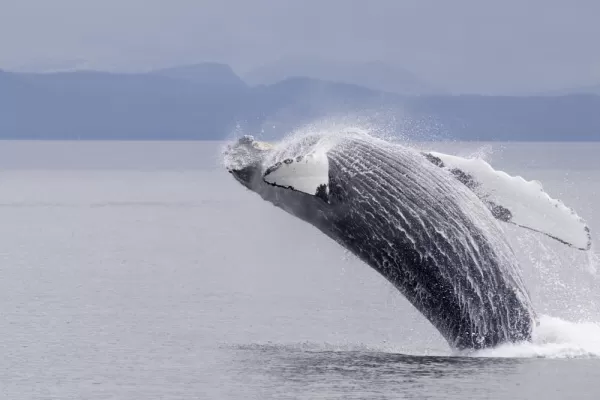 Whales are so common in Alaska that some sight-seeing tours market a "whale sighting guarantee." While we wouldn't necessarily go
that
far - sometimes it just doesn't work out - large populations of multiple species do converge in Alaskan waters each summer, feeding on the nutrient-rich waters off the coast and providing plenty of opportunities to observe their fascinating behaviors. Humpback whales spend the summer feeding in the Gulf of Alaska, and can be also be spotted throughout the
Inside Passage
, in Glacier Bay, Prince William Sound, and in the waters around the Kodiak Islands. Distinctive black and white orcas are also commonly spotted in large groups in Southeast Alaska, where resident pods feed on the state's famous salmon. Smaller belugas are found in Cook Inlet and the Turnagain Arm near Anchorage, while bowhead whales feed in Alaska's icy Arctic waters in the northern region of the state. Look for whales throughout the summer: while these majestic marine mammals are active in Alaskan waters from May through September, your best chances of spotting them will be between June and August. 
Other Marine Mammals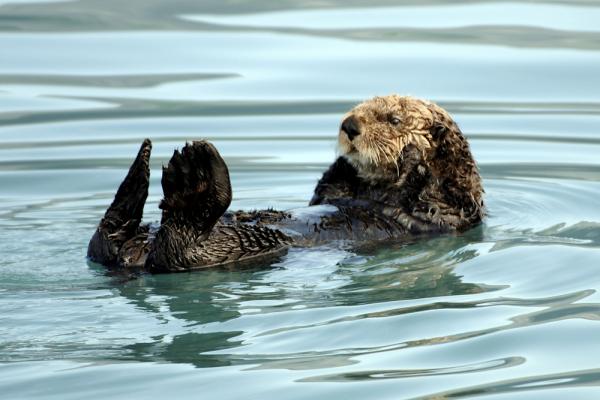 Whales aren't the only marine mammals that make their homes in and around Alaska's waterways. Sea otters are a universal favorite for their playful manner and curious personality. Adult sea otters reach roughly 4.5 ft (1.3 m) in length, and are frequently seen in kelp beds and along the coasts of Prince William Sound. A variety of pinnipeds can be found in Alaskan waters, including Steller's sea lions and Harbor seals. The state's Bering and Chuchki coasts are the only places in North America to view the Pacific walrus. These huge animals can weigh 4000 lbs (1800 kg), and both males and females grow the distinctive tusks, which they use for fighting and maneuvering their massive bodies out of the water. 
Birds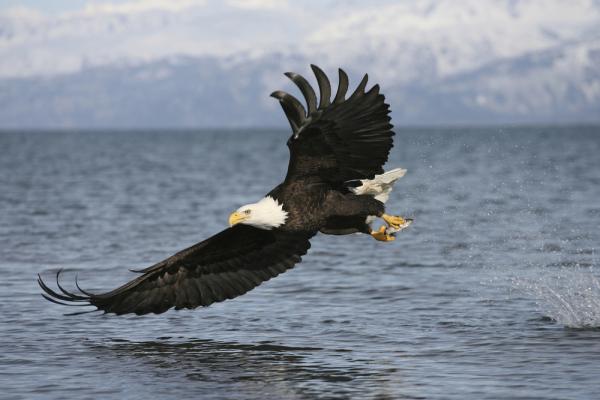 Thousands of birds nest, breed, migrate and inhabit Alaska's coasts, prairies and mountains. In June, the wide variety of songbirds have nothing but praises to sing as they busy themselves with courtships and preparing for new hatchlings. Iconic bald eagles circle the coasts and streams where salmon are abundant, while golden eagles search for small rodents inland, particularly in and around
Denali National Park
. Other popular birds are Alaska's loons, owls, swans, puffins, and the state bird ptarmigan, which has the curious ability to change its plumage between white in the winter and brown in the summer months.
These are just some of Alaska's wild inhabitants which you are likely to see on your trip. Wherever you go in Alaska, keep an eye out for the state's amazing wildlife, and remember to keep a safe distance from all wild animals: maintain a minimum of 25 yards (22 meters) from most wildlife, and 100 yards (90 meters) from larger wildlife such as bears. When in doubt, stay farther away and ask a ranger or your guide. 
Ready to create your adventure? Our
Trip Planners
are here to help!