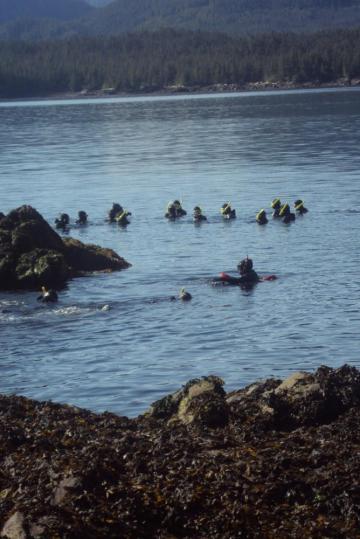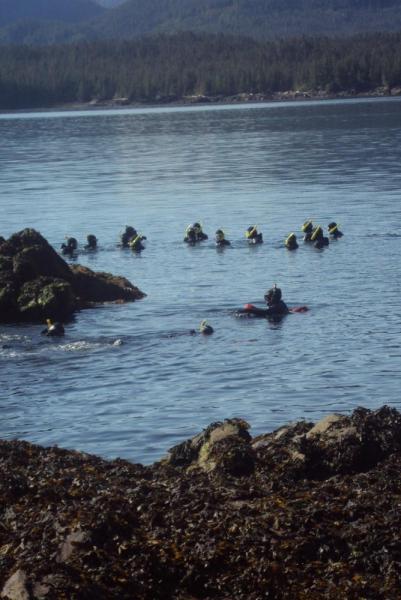 Our morning flight north to Alaska is only about 2 hours. Today is gorgeous with bright blue sky, crystal blue water and bright sun. Even the locals have spring fever as they are excited to see the sun.
Ketchikan is a small seaside town that caters to fishermen and cruises alike. We spend the day previewing activities to do here prior to embarking on cruise.
You can rent a skiff with Ketchikan Outdoors and skiff about the sea to spot wildlife. You can also snorkel. Yes that's right I said snorkel. Snorkel Alaska suits clients up with 7 mil wet suits and then drop you off in 50-65 degree water. Spend the next two hours exploring the deep blue where you will see star fish, sea cucumbers and much more.
This afternoon we have lunch at the Cape Fox hotel where we have a presentation from Joe. Joe is the former mayor of Saxman village, a local native american village near Ketchikan.
He explains the history Tlingit indians. I am in awe of his vast knowledge the history of this surviving culture.
After lunch we explore Creek street. It looks like a ghost town. However only hours early, the 700 plus people from the Norweign Pearl flooded the streets.
Right before we board the boat, we get to board the Aleutian Ballard, one of the boats used on the Discovery Channels the 'Deadliest Catch'. We learn about the crew and their former lives as seamen on the show. They have turned the adventures into educational activities for cruisers who want to learn about the fishing industry.
Then we are off to our boat. We are exploring this new itinerary on the Safari Quest. This boat operates with American Safari Cruises, InnerSea Discoveries sister company. This is a 22 passenger boat and there are a total of 15 passengers on board. It is gorgeous. I get my own king bed! And my own bathroom and closet. I won't know what to do with all the space.
As we watch the town of Ketchikan disappear in background, my mates and I get to know each other a little better. It is going to be a fun week with this gang!
Captain Dan Blanchard, owner/operator of American Safari Cruises and InnerSea Discoveries is a treat. He will be known as "Capn Dan" the rest of the week.