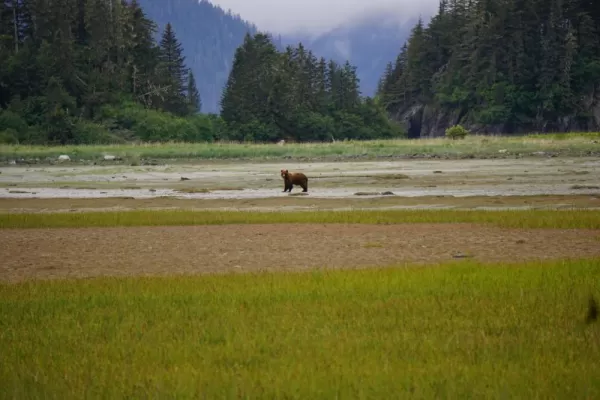 June 2, 2015 -- Today I saw a bear. A brown bear. Big brown bear.
Ranger Jenny
, who we'd dropped off at the Bartlett Bay ranger station that morning, would have been so excited.
Our little group was doing a meadow hike in Fern Harbor. Mostly, we were looking at flowers.
"What is that?" I said, pointing to a brown spot moving in the distance.
"It's a bear," someone else said, peering through his telephoto lens. "A big one."
Our guide Dani stiffened. "He's far enough away from us," she said after a moment. We watched him. Clearly, he hadn't gotten wind of us yet.
Then the bear went into the woods. We went back to looking at the flowers.
"There he is again!" someone shouted. The bear had emerged from the other side of the woods and was ambling across the meadow parallel to us – still quite a distance away.
We watched him for about 20 minutes, nervously chattering away to sooth our fears. Because even though he was far away, it was still a bear. In the wild.
Cameras clicked. Dani was kind of quiet. She had the bear spray ready.
Then the bear did turn toward us. But he still didn't see, smell, or hear us yet.
"Okay, everyone, get in a circle," Dani commanded. We did. She shouted, "Hey bear!"
He stopped. Sniffed. Looked at us. To him, we looked like a big black blob.
"Hey bear!" Dani shouted again.
He turned and started loping back to the woods where he'd come from.
Amazing how our bear-scaring tactic worked. Some in our group were relieved that he was gone. Others of us wanted to see more of him.
But all of us thought it was pretty cool to see a bear in the wild.