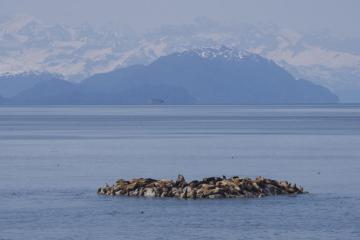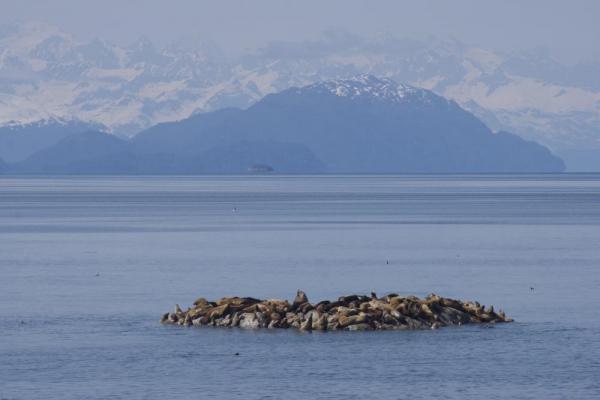 May 31, 2015 -- Our cruise up Glacier Bay had been full of sunshine and wildlife. We passed a couple of small islands where hundreds of sea lions of all shapes and sizes were hauled out, basking in the sun.
We heard 'em before we saw 'em. Grunting and barking to beat the band, the sea lions were nosing each other and awkwardly flopping their big fatty bodies over the rocks. In the water, they looked graceful as they glided over and under the surface – popping their heads out to get a look at what was going on around them.
Ranger Jenny told us that the largest ones can weigh up to two tons. And there were some big guys hauling out on Marble Island that day.
We continued motoring up the bay. "The first person that sees a bear or moose gets a Junior Ranger badge," Ranger Jenny said.
And then we saw them – two young moose walking along the shore. No antlers, but moose for sure. We watched them awhile and continued to scan the rocky shores for bear, and higher up, we spotted a few white mountain goats.
"While we've been looking at the moose and mountain goats, probably about three whales have passed us by on the other side," one of the passengers remarked.
I turned around to look. So did the guy next to me. About five minutes later, we spotted a humpback whale.