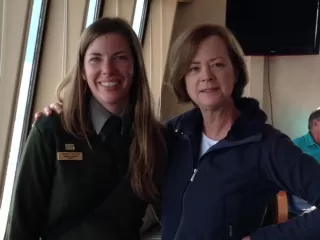 May 31, 2015 -- I woke up on the first full day of our cruise to the whirring of the ship's engine and water gently sloshing on the side of the Wilderness Explorer. We were making our way to Bartlett Cove in Alaska's Glacier Bay National Park and Reserve.
While we were docking on this foggy, gray morning, looking out the window of our cabin, I saw a young woman standing outside. Dressed all in green, she had a backpack and was wearing rubber boots and a wool hat. Bouncing up and down on her heels, she was eagerly awaiting our arrival. It was 8 a.m.
The young woman in green was the forest ranger who would stay with us on the ship for the next two days. Because cruise ships of any size can't go into Glacier Bay in Alaska without a forest ranger on board.
Thank God for that, because Ranger Jenny knew everything about the park and its glaciers, plants, and wildlife. And I mean everything.
She was probably very happy to get away from her post at Bartlett Cove for a few days. There was a lodge and a few buildings there and a very small town nearby. But not much else.
But, hey, you don't become a park ranger in Alaska unless you like these remote, beautiful places.
My husband Richard and I ate lunch with Ranger Jenny that first day and I discovered that she had lived for a short time in the same town in Central Illinois that I'd grown up in. We were both from Normal. Her mom still lives there and she goes to visit three or four times a year.
Who'd have thought that there would be another Normal girl on this small cruise ship in Glacier Bay? Turns out there were two.
Another passenger, Gayle, was also from Normal. She and I had graduated from the same high school. Her parents still live there as well.
So, yes, it is a small world. Even in the majestic expanses of Alaska.