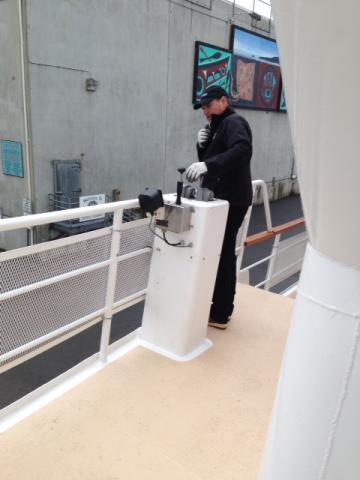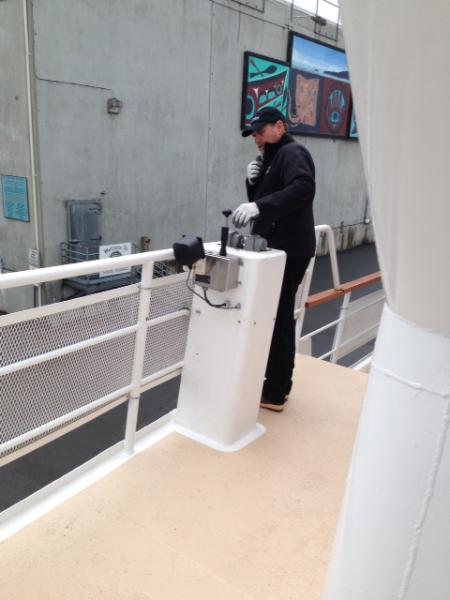 June 6, 2015 -- We had to leave the ship today. As we were disembarking, the whole entire crew was standing in line to say goodbye to each and every one of us.
By the time I got to the end of the line, there were tears in my eyes.
"I'm crying," I said to Captain Clark.
"No, not you – the stoic one?" he said.
Yes, that's me. I sit back and observe. Don't always show emotion. But I was crying. Why?
I connected with these people. They were great.
That morning, I'd watched Captain Clark as he'd maneuvered our ship toward the dock. I was up on the third deck, next to the wheelhouse. He was guiding the ship to the dock from a post outside of the wheelhouse.
Everything seemed to be going well.
"Shit," I heard him say, as we approached the dock. "I've lost power."
Now, I've been on boats enough to know that this is not good. We were easing into the dock and he had no way of slowing us down.
But, Captain Clark quickly directed the deck hand, Kent, to secure the front line as the ship was gliding toward the dock. No easy feat.
But Kent did it. Pulled the line through the hole in the bowsprit very quickly and secured it to the cleat. Others helped in the back. We bumped the dock a little, but it could have been a lot worse.
Maybe I had a tear in my eye when I was leaving because I realized that these people were looking out for my safety and well-being the whole time I was on the ship. Okay, they were concerned with everyone's safety and well-being – including their own. But we were all a team. One big family. And I was leaving that family.
Later that night, sitting in a nice restaurant on Sitka's shores with some of my new-found friends from the cruise, we saw the Wilderness Explorer sail out of the harbor. Taking her new family to see the wonders of Southeast Alaska.
On the trip of a lifetime.
Wildlife we saw on our cruise:
Humpback whales
Marmot
Sea lions
Sea otters
Seals
Bald eagles
Red squirrels
Killer whales (orca)
Moose
Bear
Puffins
Cormorants
Jellyfish
Starfish
Gulls
Gnats
Mosquitoes