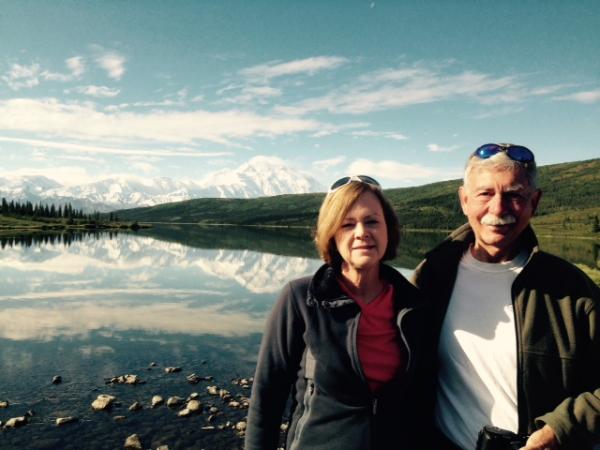 June 9, 2015 -- Today, the great mountain showed her face to us. Denali – the tallest peak in North America, rising 20,320 ft. above sea level, is rarely seen in its entirety by visitors to Denali National Park and Preserve.
But as we rounded the corner on our way to a morning hike near Wonder Lake, Denali (or Mt. McKinley as it is officially named) and the entire mountain range surrounding her were in view. This, according to the Kantishna Roadhouse Desk Manager and Dog Musher Emmit, is a sight only seen by 5% of the visitors to the park.
Wow, did we feel lucky. We only had one full day in Kantishna – the farthest you can go into the park by bus. The sun was shining and Wonder Lake was calm. So everyone in our group got the signature Denali reflection-in-the-lake shot.
"When you get royalties for your photos, I want a cut!" our trail guide Abby said.
Clouds didn't roll in until about noon, so we had a full three hours to gaze and marvel at her beauty while on our hike. It was mesmorizing.
"There are about 50-100 people climbing the mountain right now," Abby said as we made our way down to the braided river formed by melting glaciers from the Great One and her neighboring mountains.
Good for them, I thought. No desire to do that.
We ate our lunch by the river and then started our two-and-a-half mile trek back toward the trailhead. As we came out of the first forest, I looked back at the mountain. The top was no longer visible.
Wildlife we saw in Denali National Park:
Moose
Goats
Magpies
Brown bears
Caribou
Brown eagle
Ground squirrels
Common snipe (bird)
Snowshoe rabbit
Bald eagle
Mosquitoes