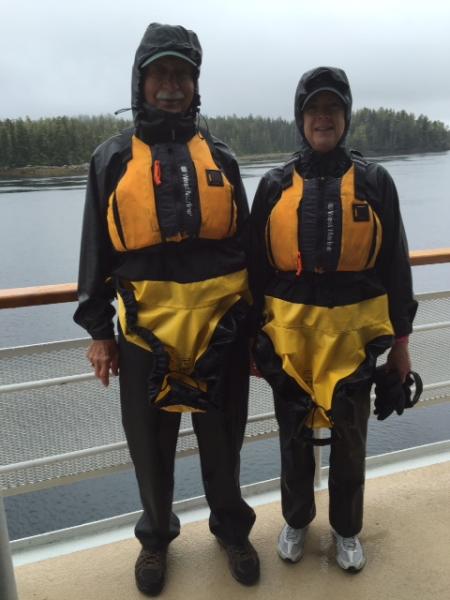 June 12, 2015 -- Having never been on an Adventure Life or Un-Cruise vacation before and not being hard-core hikers or kayakers, we weren't sure what to bring. And although there were all sorts of suggestions on the website, I still wasn't fully prepared.
First of all, typical weather in Alaska in the summer is cold and rainy. Even though temps can get into the 60s (and if you're lucky, the 70s), it's still cold when you're visiting a glacier or kayaking through icy waters.
So, leave the shorts at home, unless you're really hearty. Layering is key.
Also, life on board the Un-Cruise ships is casual, which is exactly what we were looking for when we booked this trip with Adventure Life. Most people wear the same clothes to dinner as they wore all day.
I found that I liked taking a shower before dinner instead of before breakfast, but I typically wore jeans and a casual no-collar shirt, fleece (always a fleece!), and hiking shoes to dinner.
Suggested packing list for an 8-day summer cruise in Alaska
2 pairs lightweight, quick-drying hiking pants (buy the zip-off kind if you want to have a shorts option – Columbia, North Face, Pantagonia are good brands)
1 pair of jeans
Belt
2 pairs long underwear bottoms
4-6 long-sleeved moisture wicking workout-type shirts
2 short-sleeved moisture wicking workout-type shirts
2 casual no-collar shirts or light sweaters (to wear to dinner under your fleece)
2 fleece pullovers or zip ups
6 pairs of lightweight hiking socks, with at least two at mid-calf length
Underwear
Pajamas
Swimsuit for the hot tub and the polar plunge!
Waterproof rain jacket and pants for kayaking, bushwacking, shore excursions, skiff tours (again, Columbia, North Face, Pantagonia, Helly Hansen are good brands)
Tall rubber boots for ALL shore landings (the ship has some for rent, but not enough for everyone)
1 pair sneakers or other lightweight shoes for kayaking
Waterproof gloves for kayaking, bushwacking, skiff tours
Wool or synthetic cap for warmth under your rain gear or for wearing while viewing whales off the bow or stern
Hat for shielding the rain or sun (my Nike dri-fit baseball-style cap worked just fine under my rain hood)
Lightweight day pack for hiking, shore excursions
Insect repellent with DEET (spray-on kind is good, but you may want a rub-on kind for your face as well)
Sunglasses (if you need readers, you can get sporty ones on Amazon)
Sun screen (for those days when the sun does shine!)
Camera
Things you might want to bring, but may not need to bring
Water bottles (our ship had two in each room for guest use; our lodge in Denali also had loaner water bottles)
Waterproof camera for taking pictures while doing stuff on the water or in the rain
Zip-lock plastic bag for putting your smart phone in if you don't want it to get wet
Workout clothes in case you want to do the stationary bike or elliptical while on board
Warm and fuzzy footwear, like Ugg boots for putting on after going in the hot tub or relaxing in the lounge after a wet hike!
Flip flops for wearing to and from the hot tub
Fold-up walking stick (the ship had some for guest use; the lodge had the old fashioned wood kind) if you want a little more balance trekking through the woods
Water-resistant sports watch for keeping track of time when you're on un-guided cruises (if you use your smart phone as my watch and camera you may not need one)
Jewelry (ladies, a few pairs of earrings, rings, and maybe a bracelet or two is all you need)
Fancy make-up (ladies, the basics is all you'll need)