The thing about traveling to Antarctica is, it's a
long
way away. It took two days of flights from Montana just to get to the port city of Ushuaia, at the southernmost tip of Argentina. From there, it was another two days of sailing across the Drake Passage, a notorious body of water between South America and the Antarctic peninsula. At the convergence of the Pacific, Atlantic and Southern Oceans, strong currents cause famously rough seas - sailors even had a typical tattoo design to commemorate a crossing, of a fully-rigged ship. Since this was my very first solo trip, I was a little nervous about all of this travel, but thankfully everything went perfectly - in fact, better even than I had expected.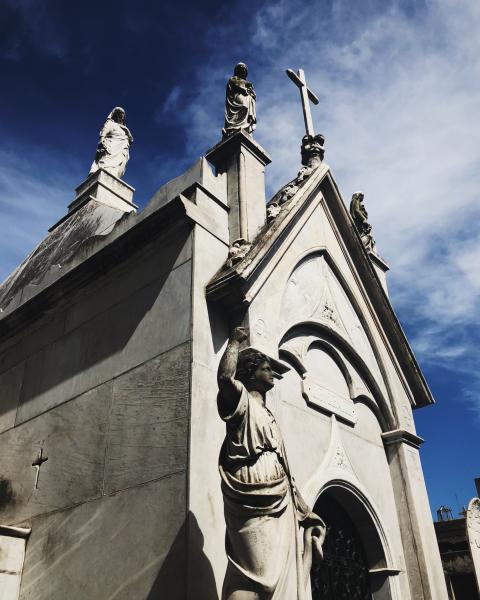 My colleagues recommended that I take some time to enjoy Buenos Aires on my long layover. My plan initially had been to just stay in the hotel to shower and sleep since I had been flying for over 20 hours and had another early flight the next morning, but the glimpses I got of the city from the airport taxi had me changing my mind: I'm not sure exactly what I had expected of Buenos Aires, but it had an energy and charm that was surprisingly infectious. I decided I could catch up on sleep later, and took the afternoon to explore.   
My hotel was in the Recoleta neighborhood, directly across from the famous cemetery of the same name. It's a beautiful, walkable area with the cemetery, sprawling parks, shops and cafes, and museums all close by. I wandered through the cemetery to admire the works of art that are the mausoleums, with their stained glass, sculptures and carefully tended plants: everything in the cemetery was so well cared for, it was obvious that it was a special place to many. I also made a stop in the Museo Nacional de Bellas Artes, since I can never resist a good art museum. It was the perfect size to spend an afternoon, with a great mix of traditional European and contemporary Argentinian and Latin American art. Finally, I sought a bookstore I had seen photos of floating around online: El Ateneo Grand Splendid, a beautiful 1919 theater that had been renovated in 2000 to become the largest bookstore in South America. I wandered around and soaked in the beautiful architecture and live piano music played on the stage-turned-cafe before returning to the hotel for dinner and a relaxing night in.