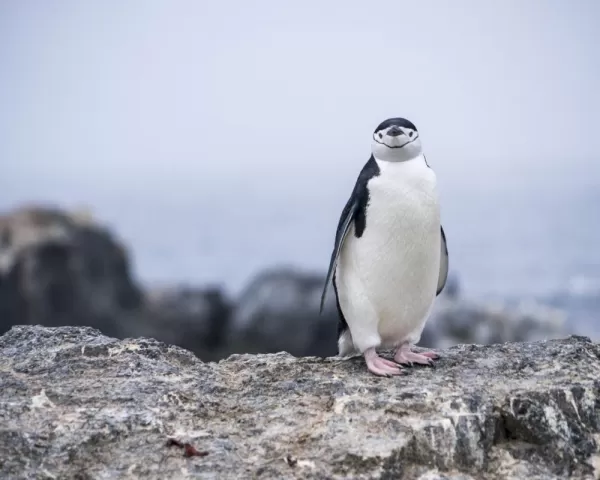 Deception Island was one of the places in Antarctica that I had heard of before, and though I didn't necessarily have expectations of making a landing there, when it was announced that this was our next stop, I was excited to see it. 
Deception Island is so named because it looks like an ordinary island from most of its perimeter, but there is a very narrow opening, called Neptune's Bellows, through which a ship can sail and one will realize that it is in fact not an ordinary island, but a sunken volcanic caldera.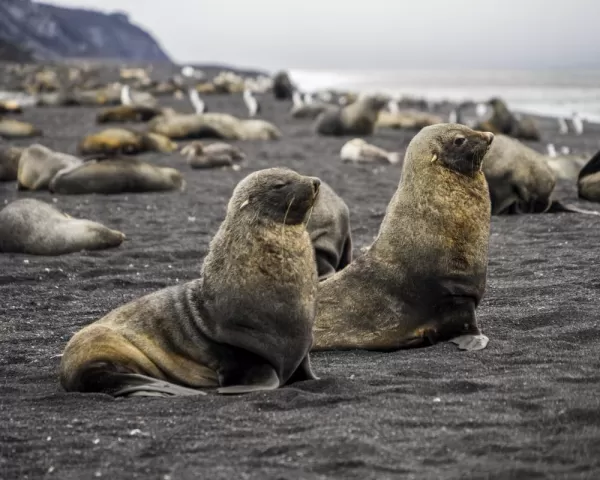 We landed at a point called Baily Head, on the eastern side of the island. It was a difficult landing, with our zodiac getting flooded as we washed up on the steep black beach. The beach was not sand, but tiny black volcanic pebbles: a close look revealed them to be porous, like scoria. Considering we were essentially on the rim of the crater of an underwater volcano, I supposed it made sense! 
On the beach were more elephant and fur seals, thankfully giving us as wide a berth as we gave them. But, the real stars of the show on Deception Island were the penguins.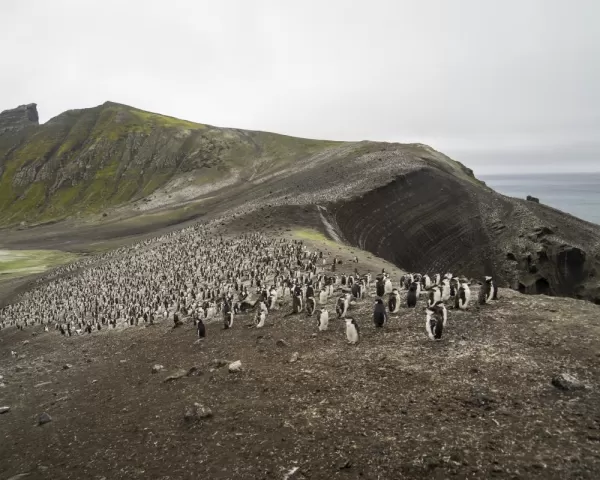 Oh, the penguins! When I think of Antarctica and penguin colonies, I think of nature documentary footage of thousands and thousands of penguins, as far as the eye can see. We hadn't really seen that yet, even at Gourdin Island, and the naturalists warned us it might be too late in the season to see many penguins. But there at Baily Head was a colony of chinstrap penguins that one of the naturalist guides said likely consisted of over 100,000 breeding pairs, plus their chicks, plus an unknown number of single penguins: anywhere from 250,000 to 500,000 penguins, they claimed. And I'd believe it! They had marked out a hiking route for us from the beach, up a ravine, up the side of a hill, to a clifftop overlook to another beach below. It was not a particularly long or difficult hike, but took a while because we had to keep a certain distance from the penguins - you're not allowed to approach them, but they sure like to approach you. Constant penguin crossings meant constant pauses to yield, since Antarctica's residents, of course, get right of way. And since there were so many, and they were so entertaining to watch, it was slow going.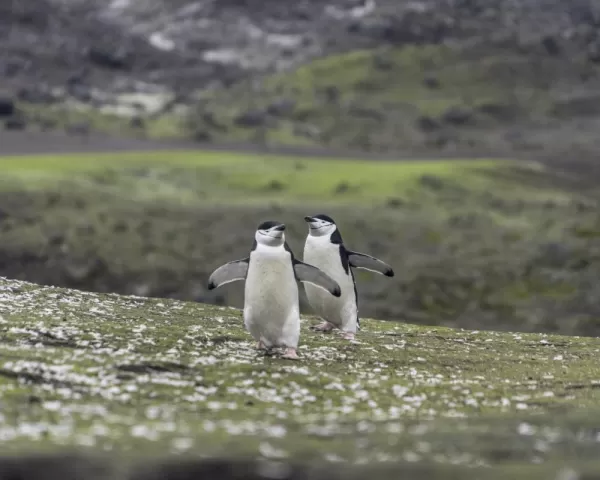 The noise and smell were incredible, and not in a good way. The squawking and calling made quite a cacophony - penguins aren't known as songbirds - and the smell of penguin guano is a distinctive one, a uniquely awful cross between an overfull litter box and rotting fish. On an island with such an enormous colony, the stench was eye-watering. But the island was so beautiful, the penguins so charming, and the entire experience so unique that one could put it out of mind and simply marvel.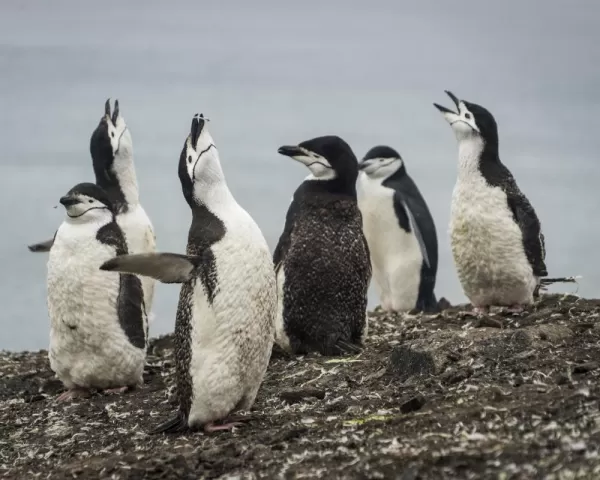 Back aboard the ship, our expedition leader and captain took us through Neptune's Bellows, which were indeed very narrow, the jagged rock walls unsettlingly close in the building fog. Inside was Whaler's Bay and we could see the ruins of whaling stations. We also passed another ship inside: the
Magellan Explorer,
a brand new small expedition ship built by Antarctica21 specifically for exploring the region. I had seen photos of it, but it was interesting to see it out and about.