Day 5 brought a pleasant surprise: We would be going ashore to Vernadsky Research Base, a Ukrainian station on the peninsula, where we could send postcards from Antarctica! Not only that, but we would also get our passports stamped. I hadn't realized either of these things would be possible, as they are never guaranteed as part of the itinerary. But if the weather and schedule allow, it's a wonderful treat!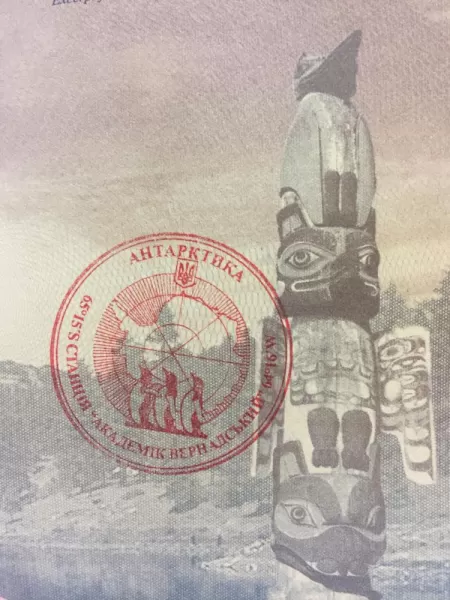 As we approached shore on the zodiacs, we got our first sight of penguins! So surreal these creatures seemed at first that you could hear many people asking "Are those real?" They were, in fact, very real gentoo penguins hanging out around the base. We were then taken on a tour of the facility, which was filled with history. While the accommodations were adequate and everyone was quite friendly, I can't say I'd want to spend a dark winter there.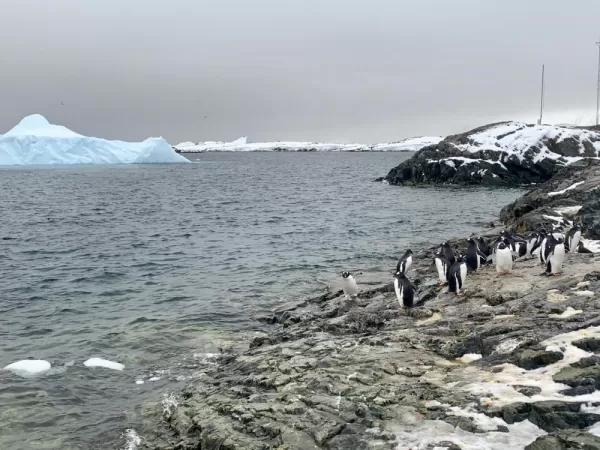 Upstairs, we were able to purchase postcards from a friendly Ukrainian gentleman who said he'd previously been the commander of the base. The "post office" accepted US dollars and euros. Many IOUs were exchanged as not everyone had brought one of those two currencies. There was also a small gift shop where you could purchase t-shirts, stickers, and handmade magnets. Of course, you could only buy what you could fit in your dry bag, in order to get it back to the ship.
That evening, during "tall tales from the bar," our resident artist on board, Clare Dudeney, shared a fascinating story. Her father, John Dudeney, had actually spent several years at Vernadsky, back when it was a British station, and this was the first time she had been able to visit the base and see where her father had worked. Clare showed us an old photograph of the group at "Base F" in 1968, which included Brian Gardiner, who would later be a part of the team who discovered the hole in the ozone layer.