As we made our way up the Beagle Channel and neared the port of Ushuaia, it became clear that the weather would give us a hard time here as well. It was announced that it was too windy to attempt to pull into port, so we would be waiting it out until the wind died down. We spent the day losing our minds a bit, playing Monopoly, drinking lots of cocktails, and staring longingly at the oh-so-close-yet-so-far-away shore. Around 5 o'clock, the captain made the call and finally managed to swing us skillfully into the dock. Karen and I were the first ones off the ship.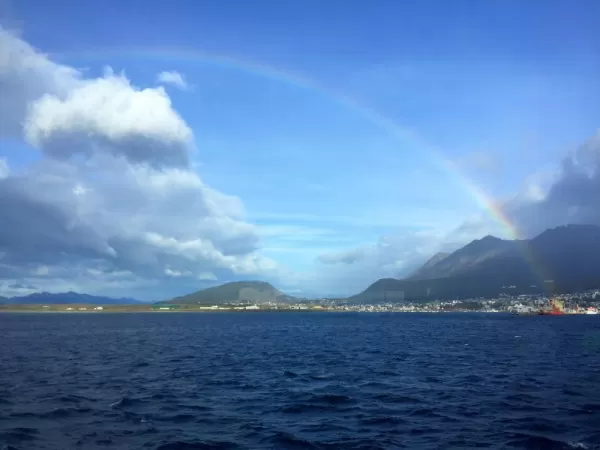 The next day, One Ocean arranged a day tour for us out to Tierra del Fuego National Park. We hopped on a minibus with our guide and headed out on National Route 3, which he informed us is actually the last stretch of the Pan-American Highway. Where this highway ends in the heart of the national park is actually the southernmost point that you can drive a motor vehicle. Not a bad place to end a road trip, I'll say.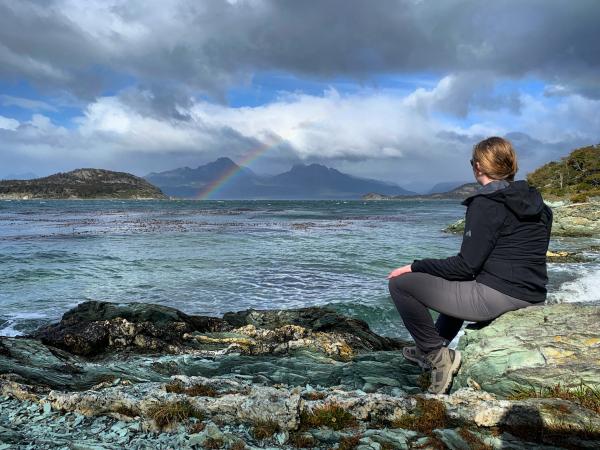 It felt SO GOOD to stretch our legs and do a bit of wandering. It's a beautiful area with gorgeous views of the Beagle Channel.
Our guide was extremely knowledgeable about all the flora and fauna in the area, pointing out different types of trees and explaining why they grow in certain areas of the island. He also mentioned the invasive nature of beavers in Tierra del Fuego, just as our 4x4 guide had many days before. Brought in during the 1940s in the hopes of establishing a fur trade, the beavers quickly settled in. Because they have no natural predators on the island, their population has grown unchecked, and they have caused a lot of damage to the forest. Our guides pointed out numerous places with obvious beaver damage, and these areas can take a long time to recover.