I recently listened to a podcast about the moments of "total, world-shaking bliss" in our lives. While they are usually quite fleeting, we endlessly strive to grasp those ephemeral moments of pure happiness. When I saw that someone had captured this image of me just feet away from a leopard seal in the heart of the Antarctic Peninsula, I was thrilled; this was one of those blissful moments. Even just thinking about it now, my heart starts beating a little faster, and my mouth involuntarily turns up at the corners. It's difficult to fully describe the magical feeling of being that close to such a strange and powerful animal, but you get a sense of your lack of control; you are just a lucky visitor in its home, and it's allowing you to be there.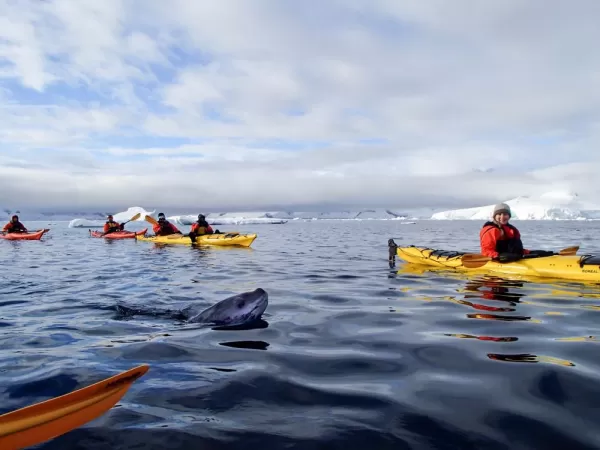 You are in the territory of the penguins, the seals, and the whales, and they will continue on with their lives after the ship sails away. It's very humbling. And yet, it's an interesting juxtaposition to consider how powerless you personally feel when you're in the heart of such wilderness, while humanity as a whole has an immense impact on these seemingly remote environments. Receding sea ice and warming water temperatures are dramatically altering finely balanced ecosystems. It's devastating to think that someone visiting Wilhelmina Bay 20 years from now might have an entirely different experience, lacking the thriving marine mammals that we were so fortunate to see and interact with. It makes me grateful to have had this opportunity but also motivated to preserve the peninsula for future visitors and their own moments of bliss.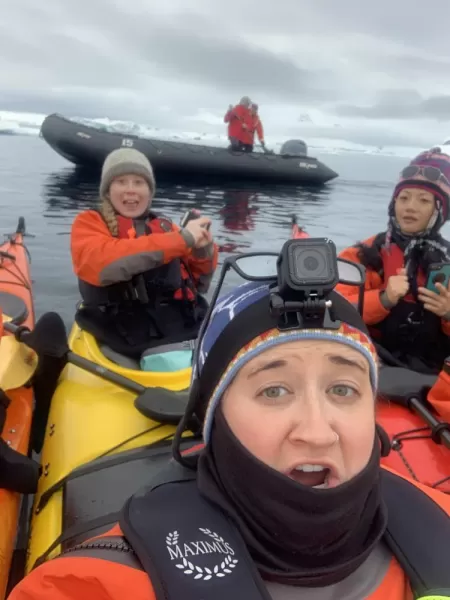 At the time, we were unaware that our magical morning in Wilhelmina Bay would be our last excursion. But, dang, what a brilliant last excursion to have. Many of the passengers in zodiacs had amazing up-close encounters with humpbacks, and our kayaking crew spent the better part of an hour being investigated by a curious leopard seal. Gentoos were porpoising past every few minutes, and pairs of fur seals were scratching themselves on various icebergs as we paddled around the bay. As I think back on this enchanting day, I still can't believe it was entirely real.