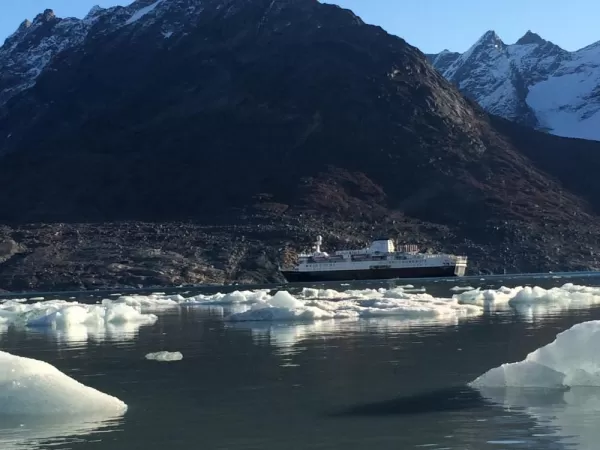 The next morning, we awoke to the voice of our expedition leader Jason over the ship's intercom, a calming voice we would grow very accustomed to in our travels. A tri-tone beep would always precede: "Good morning, ladies and gentlemen…good morning." A brief overview of the day's first activity was announced, followed by a quote relevant to our experiences thus far, or a message to inspire us for the day ahead. Dad particularly liked the
Wind in the Willows
quote chosen by Jason one morning: "…there is nothing — absolutely nothing — half so much worth doing as simply messing about in boats."
That day, we did get to "mess about in boats" for the first off-ship excursion of the trip; after breakfast, we wandered out on deck to watch the zodiacs efficiently lifted away from their neat stacks and into the water. We had come overnight into an impressive fjord, and Dad and I paused to enjoy the early morning sunshine touch the edges of its rocky formations.
Our zodiac driver for that morning's cruise was a memorable fellow with a rolling Labrador accent. We learned later that he was the resident storyteller of the trip, with a talent for hilarious recitations! After asking us all if we had our "woolies" on, we motored out into the cold, quiet water freckled with chunks of ice, and to the foot of the Evighedsfjord Glacier. The ice dotting the foot of the glacier was crystal clear, and one of the naturalist guides accompanying us in our zodiac scooped one of the "bergy bits," as he called them, out of the frigid water. We passed it around the boat and held our private piece of the glacier up to the sun, which shone through the ice like glass.
After a hot cup of coffee and a hearty lunch, we cruised out of Evighedsfjord and onward to our next landing, the small Greenlandic community of Kangaamiut. Stepping off onto the dock from the zodiacs, we received a warm welcome by the community members—a woman in traditional dress chanted and drummed for those gathered near the village entrance, and we observed a special seal flensing demonstration: two locals shared the task of butchering the animal with a single Inuit
ulu
knife tool. Dad and I decided, after taking a look around the town and greeting the locals, to walk up to the high place overlooking the community for a few photos. The afternoon sunshine made the colorful red, yellow, and blue painted homes of Kangaamiut look like little gemstones nestled in the rocky ground.