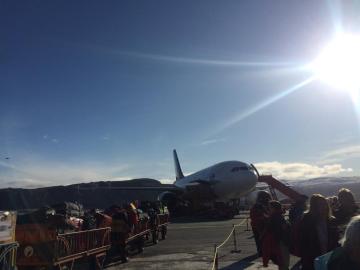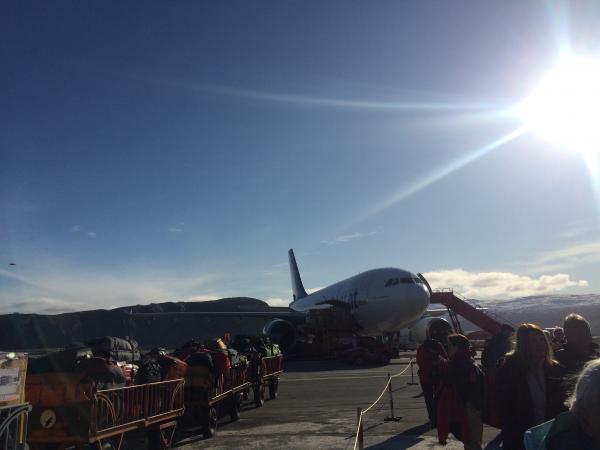 After a long day of travel from Missoula, we joined the expedition team for a pre-cruise briefing and overnight stay in Toronto. This was our first taste of what living on the
Ocean Endeavour
would be like, with a generous overview of the itinerary and onboard procedures. I could immediately sense my dad start to relax—this is not a man fond of air travel, and after spending most of the day navigating airports and the Toronto customs kiosks, he seemed happy that the rest of our trip would be organized every step of the way.
We were up and at it early the next morning for our 7AM charter flight to Greenland, and I was glad to get a few more hours of dozing on the plane before we began our descent into Kangerlussuaq. Dad nudged me as we started to drop below the cloud layer and land appeared—jagged, treeless, rocky land, without a breath of green. As we came to an abrupt landing and exited the plane for the outpost's tiny airport, I was further transfixed by the alien landscape; we'd certainly come to another planet.
Dad and I pulled on our waterproof gear inside the airport, as we were told that we'd need it for our first ride in the zodiacs. Before the zodiac ride, though, we were in for a short journey to the docks along a bumpy gravel road—and waiting outside the terminal was the transport to get us there. As we made our way to meet the other passengers outside, my dad excitedly pointed to the big trucks parked next to the cushier tour coaches, one of which looked like a big white refrigerator box. Tundra buses! "The
real
expedition vehicles," Dad said, with an approving smile. Climbing into the back of our grumbling refrigerator box, we bumped along the desolate road from Kangerlussuaq, feeling like we were on an adventure already.
The afternoon sun was shining low and bright when we reached the docks, and I had to shield my eyes as we zipped across the water to meet the
Ocean Endeavour
anchored in the fjord. The ship loomed large above us as we approached the gangway platform and boarded, our floating home for the next two weeks. Dad and I were greeted warmly by the staff and led to our cabin by a friendly porter named Tomas, who informed us that our bags would be delivered shortly. The cabin was large, with two portholes to peer from, and even had a nice sitting area with lots of cabinets and storage. Dad and I settled in with a cup of hot tea, already spoiled beyond belief!