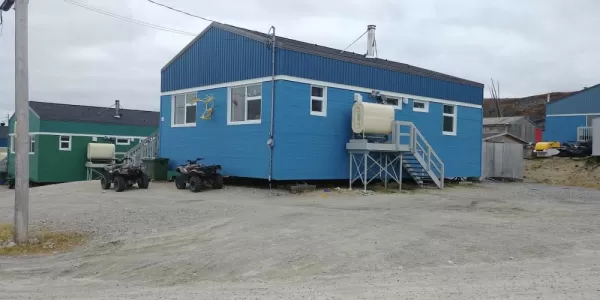 It was a rough crossing over the Davis Strait toward Canada, and Dad and I spent the first afternoon at sea confined to our cabin. Nothing really helped that first night—not even the combination of wristbands and Dramamine—except simply lying horizontal. I hated to miss some of the lectures happening during the sea crossing, but thanks to a camera set up in the common lounge and our cabin TV, we were still able to watch the talks live from the comfort of our beds. The 24-hour camera gave us a pretty good idea of who onboard could stomach the rough seas—Dad and I incredulously watched some of the passengers stroll through the lounge with a cup of tea steadily in hand, even as the ship rocked and rolled with the angry swell.
It was well into the next day of open water crossing when we finally got our "sea legs" and were able to keep a meal down. The dining room was still far emptier than normal, but Dad and I were ravenous after missing lunch and dinner the day before and piled our plates high with food. We spent the rest of the day looking for seabirds and other wildlife out on deck, thankful for some fresh air and a little unscheduled time.
We were able to step foot on land again shortly for our next stop at the remote community of Kangiqsualujjuaq, also known as George River, where we received an overwhelming welcome by the local Inuit residents. The guests of the
Ocean Endeavour
were free to wander the village and tour the elementary school and community center. Everywhere we went, we received a welcoming smile or generous offering; at the border of the village, residents had set up tents, serving bannocks and tea inside and assembling handmade items for sale such as beautiful pairs of caribou mittens. The warmth and resilience of the people here was clear, as well as their pride for their way of life closely tied to the vast surrounding land and water. As we walked back to the landing site and boarded the zodiacs, the comforting smell of spruce and wood smoke lingered.