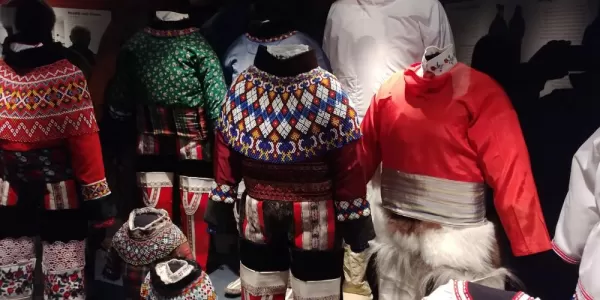 Visiting Nuuk, Greenland's capital, was made all the more engaging with our bright and spunky guide Vivi, who led our group on a walking tour of the city's waterfront. Vivi, a resident of Nuuk who had also cruised with us on the
Ocean Endeavour
prior to our landing in her home city, had a great sense of storytelling and lent a personal perspective to the places we were visiting by sharing anecdotes from her childhood. We learned the Greenland legend behind the sculpture of the Mother of the Sea, the sculpture itself a part of the tides of Nuuk's bay. The legend, a tale told to teach the responsibility the Greenland people have to nature, was only one of many examples we would find demonstrating the importance of Inuit connection to their lands and its species.
We wandered farther into Nuuk's Old Harbour, visiting some of the historic buildings, Lutheran church, and checking out the excellent Greenland National Museum. The museum told the story of the native peoples inhabiting Greenland, as well as the history of Greenland as a Danish colony and later an autonomous province of Denmark. A haunting exhibit also houses the world-famous 500-year-old Qilakitsoq mummies, discovered by hunters in the 1970s and remarkably preserved by nature, frozen in time.
Our exploration of Nuuk ended at the local grocery, where Dad and I picked up some Danish treats (butter cookies!!), and the post office, to send my mom a Greenland postcard. Our expedition leader marveled at the bitterly cold, but sunny day—according to Jason, he had experienced sunshine in Nuuk on only one other visit! We returned to the
Ocean Endeavour
feeling that we had really lucked out, and left sparkling Nuuk, along with Greenland, full of its stories.