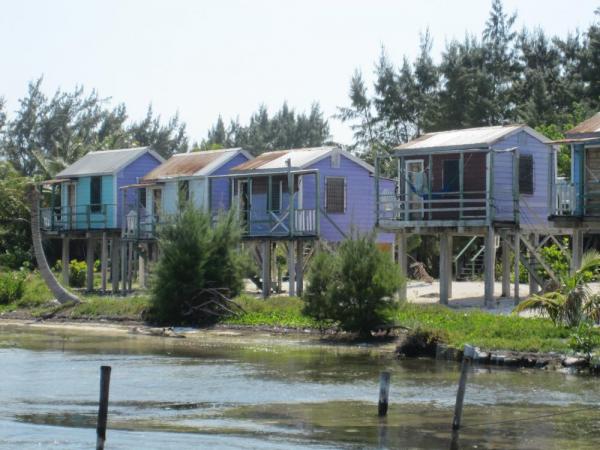 Our guide today was Hector and he was fabulous! He had lots of energy and was full of information on birds, plants, and Mayan history and culture. This was a full-day event, not for the faint of heart! We started with a short drive to the trailhead, and then hiked through the jungle for about 1 hour. During the hike, you must wade through a few rivers/creeks to get there.
We arrive the entrance to the cave! Here, Hector helps gather our gear - He has a dry-bag that he packs in his backpack, so you can put your camera in there if you'd like. (Our camera had a waterproof housing, so we kept it out at all times.) You don't take anything with you inside the cave except maybe your camera. We wore sneakers, socks (a must), bathing suits/trunks....I wore board shorts and my rash guard to help keep me warm and protected (in case I scrape up against any rocks).
What can I say about the ATM cave?! Lots of history here...It was amazing to see some of the remains of human sacrifices. The journey through the cave was fun and challenging, but mostly adventurous! There were stalagmites, stalactites, and other interesting rock formations. We even saw some small plants growing in the cave - In complete darkness! We doggie-paddled through water and did some scrambling on the rocks. You definitely need to be an active person to get through this cave.
The ATM cave is a magical place and also a sacred place. Hector did such a great job making sure we were safe, and he was so knowledgeable about the cave. What an exhilarating day!
This evening, after an amazing dinner, Francisco took us on a night hike through the jungle. (And there were almost no mosquitoes!) Francisco is so good at spotting animals, that he can recognize an animal by the rustling sounds it makes in the jungle! We saw 3 armadillos, 1 skunk, some frogs, bats, kinkajou and wolf spiders (which glow when you shine your light on them). This night hike was really spectacular, and it's complementary at Pook's.