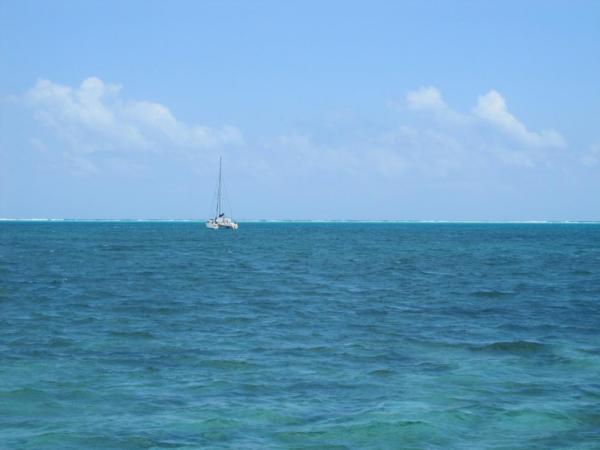 Today was a great day! Joe fished off of our dock and caught a bonefish! Very exciting!
We had breakfast at Sobre Las Olas and I had fried jacks for the first time. (Pretty much like fried dough) Of course, I had some rice and beans too!
We also did a full-day snorkeling tour with Ragamuffin Tours. Their tour stood out because they take you out on a sailboat to do the snorkeling, not a motorboat. The boat ride was relaxing and we chatted with other people on the boat. We went to the Hol Chan Marine Reserve and Shark Ray Alley. It was great! We saw nurse sharks, a bull shark, spotted eagle rays, a moray eel and a family of green sea turtles! Couldn't get much better!
Lunch and fresh fruit was included in the tour, and on the way home, we were given shrimp ceviche and rum punch! I think this the most relaxing day of the entire trip!
One thing I could not live without on this trip was my surf shirt / rash guard top. It was THE best item that I brought on the trip. It kept the sun off while snorkeling, and I even wore it under my wetsuit one day while diving. (I also wore it in the caves towards the end of our trip.)