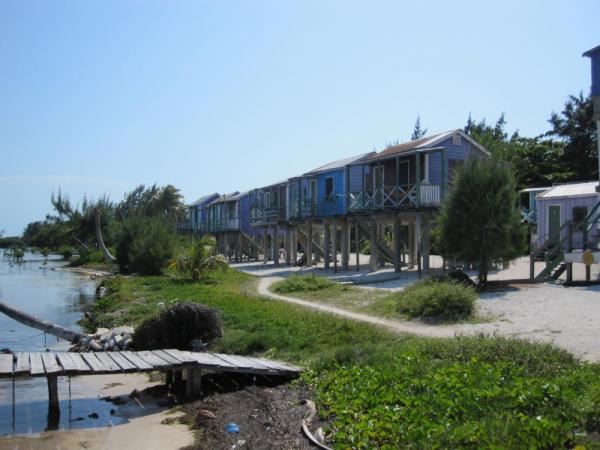 Sad day, but I'm ready for the next adventure. We took the water taxi back to Belize City and waited for our bags to arrive...(They ended up on a separate boat.) We shared a taxi with 4 other people plus the diver (that makes 7 of us in a relatively average-sized car). The driver was a bit scary and didn't even stop to let a disabled man cross the street! Good thing we weren't in that car for long! We were headed to the bus station, and paid about $5 for the 2 of us.
There were some bus station attendants who were helpful in deciphering what bus would get us to Belmopan. We were on our way to Pook's Hill Lodge outside of Belmopan, and the lodge agreed to pick us up in Belmopan for free. The bus was an old school bus, a little worn, but the ride was pleasant. The ride took about 1 hour (give or take) and we were in Belmopan before we knew it! It was a nice way to take in the scenery. Belmopan is now the capital of Belize, though it's a relatively small town.
When we arrived to the bus station, we went across the street to the Caladium restaurant to wait for Cat from Pook's. Joe and I had a nice meal, and then Cat from Pook's arrived and joined us.
Driving into Pook's was a beautiful drive. The forest is lush and there are many different birds. Our cabana at Pook's was amazing! Quite the step up from our cabin on Caye Caulker. The first thing we did was explore the property. There's a loop that you can walk through the jungle, and on that loop there are a few gorgeous swimming holes on the Roaring River....I waded a little but Joe went right in (of course).
After the stroll. I took a nice hot shower! (They burn the Cahune Palm Tree nuts to heat the water.) Cat made us some mean rum drinks at the bar, and we went down to the dining room (under the main lodge) for dinner. The food at Pook's was amazing! Seating is family-style, so you get to chat with the other guests, staff, etc.