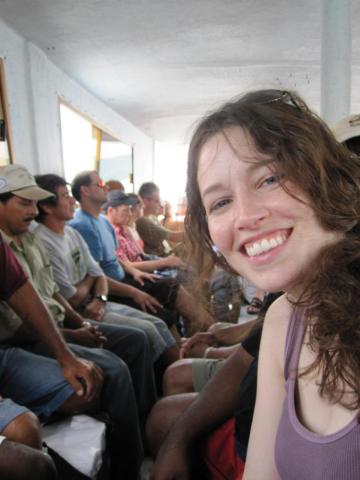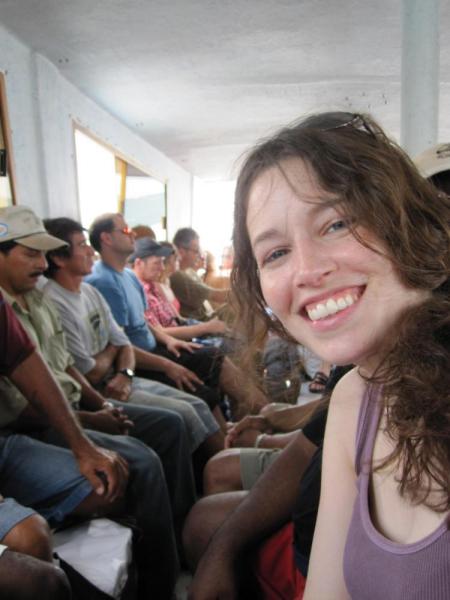 After taking 2 days to fly from Montana to Belize City, Joe and I finally arrive! So long snow....Hello sun!
Arriving into Belize City was a snap. The airport is quite small (a handful of gates), so it was relatively quiet. Our bags arrived quickly and we went through customs. Outside of the airport, the heat hit us! Not as humid as I thought it was going to be! I think the first thing I did was remove my sneakers and put on my flip-flops! There were men outside of the airport exit offering to take us into Belize City (about 10 miles away). We agreed on a price ahead of time, although we had already read that a taxi from the airport usually runs about $25 to $30 one-way. We paid about $30 with tip.
Our driver was pleasant, and the drive didn't take long. Some travelers choose to take a small airplane to the cayes off of mainland Belize, but Joe and I were excited to see the turquoise water. And, 3 plane rides to get to Belize City was plenty! So, our taxi driver took us to the Caye Caulker Water Taxi dock. There, we were met warmly. Someone grabbed our bags (and gave us a receipt for them) and we were lead to an office where we could buy our tickets for the water taxi to Caye Caulker. The ride would take about 45 minutes, and cost $10 per person, one-way. I definitely recommend buying only a one-way ticket, as there are 2 water taxi companies on Caye Caulker.....And you might not have a choice on which one you use coming back.
We were herded into the taxi: One separate taxi went to Ambergris Caye, and ours to Caye Caulker. The water was beautiful and the boat ride, calm. We arrived to what looked like something out of a move: a tropical paradise! Palm trees, sand and sun.
After getting our bags, we walked the 15 minutes or so to our beach cabin. At the dock when you arrive, there are a handful of "taxi" drivers offering to drive you to your accommodations. The cost is only $5 per ride (one-way), or they will drive just your luggage for about $1 per bag. We chose to walk. Make sure your bags can make the trip as all of the roads are made of sand....So wheeling a wheeled bag could prove difficult!
We arrived at Ignacio's Beach Cabins, one of the lower priced options on the island (about $23 per night). It was on the south end of town so it was quiet and more remote. Not that Caye Caulker is too busy, but if you lodge in town, I could see how there might be some noise (music) from the bars or restaurants that might bother you. But overall, Caye Caulker is a quiet, tranquil easy-going island.
Ignacio's was a bit rustic, but very cool. The cabins sit high up on stilts right on the beach, close to the water. The owner, Ruben, was terrific and the cabins come equipped with their own hammocks for lounging.
Caye Caulker gets a nice breeze each day, so that helps with the humidity. It wasn't too bad actually....But at night we definitely used the fan in our room.
After checking in to our cabin, Joe and I walked around. Caye Caulker is small, with about 1,000 inhabitants. I felt very safe at all times. The people were friendly and the vibe is so relaxed. We got dinner at the Rainbow Grill (fresh fish, rice and beans...) and had some drinks before heading to the Belize Diving Service office to sign up for my open water scuba certification dives. One of my main goals on this trip was to finish the scuba certification that I started in Montana. I could have done my open water dives in Flathead Lake in Montana in October, so I think this was the better choice!